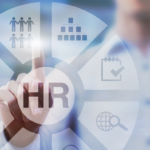 Human Resources man­age­ment is always evolv­ing. Over the years, it has become a more promi­nent part of every busi­ness because it is prin­ci­pal­ly respon­si­ble for recruit­ing and retain­ing the tal­ent that allows the orga­ni­za­tion to achieve goals and flourish.
No longer mere­ly an admin­is­tra­tive depart­ment, Human Resources pro­fes­sion­als align tal­ent man­age­ment and hir­ing deci­sions with busi­ness objec­tives. They are wel­come in the C‑suite, and their reach con­tin­ues to expand beyond over­see­ing hir­ing, ben­e­fits, and com­pa­ny regulations.
Talent Management
Tal­ent man­age­ment refers to the strat­e­gy of HR. In oth­er words, this role is about recruit­ing the right tal­ent, get­ting them onboard­ed, retain­ing them, and help­ing them grow their careers. This is at the core of an HR pro­fes­sion­al's duties. How­ev­er, much goes into the process of find­ing and retain­ing top tal­ent. It requires aplomb, cre­ative think­ing, and rela­tion­ship building.
Recruiting and Talent Acquisition
The first step in Human Resources is recruit­ing and tal­ent acqui­si­tion. It is the job of HR pro­fes­sion­als to find top tal­ent by look­ing either inter­nal­ly or exter­nal­ly, con­duct­ing inter­views and tests, and nego­ti­at­ing com­pen­sa­tion and ben­e­fits. Cre­at­ing a pos­i­tive work­place cul­ture and offer­ing com­pen­sa­tion and ben­e­fits pack­ages, along with perks, that entice job appli­cants and win over top tal­ent are among the tasks at hand.
Compensation and Benefits
Obvi­ous­ly, a big part of the work that HR pro­fes­sion­als con­duct is man­ag­ing com­pen­sa­tion and ben­e­fits. This task includes deter­min­ing the val­ue of dif­fer­ent peo­ple in dif­fer­ent roles and seek­ing ben­e­fits like health insur­ance, retire­ment sav­ings, loan for­give­ness, paid time off (PTO), sick days, men­tal health days, and more.
Employee Engagement and Experience
Employ­ee engage­ment and expe­ri­ence cov­er a vast array of efforts to ensure peo­ple are hap­py enough at work to stay. Get­ting employ­ees to focus on work, har­ness their cre­ative pow­ers, and ful­fill their oblig­a­tions to their teams is a major com­po­nent of HR's role.
This task requires demon­strat­ing grat­i­tude, help­ing bring out the best in employ­ees, and mak­ing job sat­is­fac­tion a pri­or­i­ty. It could include host­ing the hol­i­day par­ty, tak­ing feed­back from employ­ees and respond­ing with cor­re­spond­ing action, or cre­at­ing an atmos­phere fer­tile for collaboration.
Learning and Development
HR often over­sees all train­ing from onboard­ing and ori­en­ta­tion to learn­ing oppor­tu­ni­ties designed for career growth or skills devel­op­ment. Learn­ing and devel­op­ment has become para­mount as orga­ni­za­tions make them­selves future ready and try to win the war for tal­ent. Many job appli­cants and employ­ees are look­ing for employ­ers to help them gain skills and become fit for pro­mo­tion or more attrac­tive in the job market.
Succession Planning
Cre­at­ing tal­ent pipelines, both inter­nal and exter­nal, is the goal of Human Resources. An impor­tant role the depart­ment plays in orga­ni­za­tions is ensur­ing con­sis­tent lead­er­ship with­out gaps. Suc­ces­sion plan­ning, the strat­e­gy for replac­ing lead­ers as they leave and cre­at­ing men­tor­ship and prepa­ra­tion for pass­ing the baton, is vital to any orga­ni­za­tion's success.
Diversity, Equity, and Inclusion
In the mod­ern work­place, HR pro­fes­sion­als must spear­head efforts to build a diverse team and then ensure these dif­fer­ent indi­vid­u­als unite and gain a sense of belong­ing that fos­ters col­le­gial­i­ty. Includ­ed in this role is clos­ing pay and oppor­tu­ni­ty gaps. The respon­si­bil­i­ty is great. It may require pro­vid­ing train­ing, com­mu­ni­ca­tion, and per­sis­tence. Keep­ing the top­ic front of mind and demon­strat­ing need to lead­er­ship are also big parts of DEI efforts.
Mental Health and Wellness
Increas­ing­ly employ­ees expect Human Resources to demon­strate empa­thy and care for indi­vid­u­als by pro­vid­ing access to men­tal health­care, help­ing them relieve stress, and pro­mote bet­ter work-life bal­ance through poli­cies and reg­u­la­tions. This task has meant that many HR pro­fes­sion­als are edu­cat­ing them­selves, con­sid­er­ing new ben­e­fits for employ­ees, and guid­ing man­agers and lead­ers to con­nect on a deep­er, more per­son­al lev­el with employees.
Expansion of Human Resources Management
Human Resources is no longer an admin­is­tra­tive task or an arm of a com­pa­ny's exec­u­tives. In the mod­ern work­place, HR pro­fes­sion­als are builders of com­mu­ni­ty. They con­nect with employ­ees, nur­ture rela­tion­ships with them, and con­stant­ly work to improve the employ­ee expe­ri­ence both to recruit and retain top tal­ent. HR lead­ers are now essen­tial to the C‑suite, and align their tal­ent man­age­ment efforts with those of the busi­ness' over­ar­ch­ing goals.
By Francesca Di Meglio
Orig­i­nal­ly post­ed on HR Exchange Network