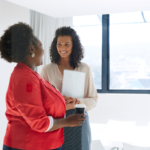 First came the pan­dem­ic, which was fol­lowed by The Great Res­ig­na­tion and the labor short­age, and now qui­et quit­ting. Employ­ers are chal­lenged to attract and retain employ­ees among all these upheavals, keep them engaged, and main­tain a psy­cho­log­i­cal­ly safe work environment.
High­er wages, hir­ing bonus­es, increased ben­e­fits pack­ages all sound like pos­si­ble solu­tions. If your cur­rent reten­tion strat­e­gy is not hav­ing the impact you want, it's time to think beyond tra­di­tion­al finan­cial incen­tives. Con­sid­er explor­ing emo­tion­al com­pen­sa­tion, which Michael Lee Stal­lard, cofounder and pres­i­dent of E Pluribus Part­ners, a think tank and con­sul­tan­cy, believes will be increas­ing­ly impor­tant and val­ued by employees.
Emo­tion­al com­pen­sa­tion is based on meet­ing sev­en uni­ver­sal human needs that allow peo­ple to thrive at work. They are respect, recog­ni­tion, mean­ing, belong­ing, auton­o­my, per­son­al growth, and progress. Stal­lard says that the result­ing sense of con­nec­tion from hav­ing these needs met engen­ders pos­i­tive emo­tions and makes us feel con­nect­ed to our work and our col­leagues. Devel­op­ing this con­nec­tion dra­mat­i­cal­ly increas­es an organization's chance of retain­ing employees.
Let's look at each of these uni­ver­sal needs with a focus on what man­agers can do. Since they work close­ly with their team on a dai­ly basis, they are well posi­tioned to take action. There are so many things that lead­ers in orga­ni­za­tions can do to cre­ate a cul­ture of respect. It starts, of course, with liv­ing the val­ues. Beyond that:
Show Interest
Pre­cise­ly, show your cur­rent staff the kind of inter­est you took in them when you were recruit­ing them to join your orga­ni­za­tion regard­less of their tenure or how well you think you know them. Ask sin­cere, open-end­ed ques­tions and lis­ten care­ful­ly to their respons­es. You will prob­a­bly be amazed at what you learn.\
Ask Their Opinion
Since they are clos­est to the work, ask about pos­si­ble solu­tions to real prob­lems. Lis­ten to their answers and give feed­back. If you can't adopt their idea, let them know the busi­ness rea­sons why. If you can use it, give them cred­it pub­licly and if pos­si­ble, reward them too. Being asked lets employ­ees know you val­ue their knowl­edge and intelligence.
Recognition
One of the sim­plest things a man­ag­er can do to express employ­ee appre­ci­a­tion and recog­ni­tion is to say thank you—and it costs noth­ing to do so. With all the hand wring­ing over employ­ees quit­ting their jobs, employ­ee recog­ni­tion should be para­mount on every manager's task list.
Let them know their work mat­ters. Let peo­ple know often how much val­ue they and their work bring to your orga­ni­za­tion. Let them know they make a dif­fer­ence. Send per­son­al, hand­writ­ten notes. You'd be sur­prised how pow­er­ful that can be. Silence, on the oth­er hand, can send a neg­a­tive message—that the work and the work­er has no value.
Meaning
We all want to do work that matters—that has a pur­pose. Every employ­ee wants to feel a con­nec­tion to their organization's mis­sion and values.
Explain where they fit. Let each employ­ee know how their work fits into the work of your depart­ment, and how the department's work fits into the organization's strate­gic goals, mis­sion, and val­ues. For exam­ple, describe to sup­port staff, like pro­cure­ment or account­ing, how their work sup­ports the sales and engi­neer­ing depart­ments, which bring in the organization's revenue.
Talk more about why you do cer­tain things in your depart­ment. It can make a big dif­fer­ence if peo­ple know not just that some tasks must be done but why those tasks are sig­nif­i­cant to the big picture.
Belonging
Make room for light-heart­ed fun in the work­place. When peo­ple are hav­ing fun, they are hap­pi­er, friend­lier and open, fos­ter­ing work­place friend­ships. Work­place friend­ships taps into the basic need for a sense of belong­ing and removes any feel­ing of being in com­pe­ti­tion with coworkers.
Light-heart­ed fun has such a pos­i­tive impact on pro­duc­tiv­i­ty, engage­ment and reten­tion. It lets employ­ees know that they belong—belong to a team and an orga­ni­za­tion that val­ues their emo­tion­al well-being. It also unleash­es cre­ativ­i­ty, which can result in high­er productivity.
Autonomy
Auton­o­my and flex­i­bil­i­ty are crit­i­cal for retain­ing staff, espe­cial­ly now. In this world of vir­tu­al work, auton­o­my allows for a degree of con­trol over one's work­ing con­di­tions and process­es. It includes the flex­i­bil­i­ty of where work and when is per­formed. Man­agers must exam­ine what work hours, sched­ul­ing, and pat­terns are best for indi­vid­u­als and their teams; how work is orga­nized and accom­plished; and how flex­i­bil­i­ty impacts pro­duc­tiv­i­ty and out­comes to meet the needs of all.
Employ­ees must still be account­able to get the work accom­plished and be avail­able for meet­ings, calls, and oth­er col­lab­o­ra­tive efforts.
Assum­ing you can offer your employ­ees more auton­o­my, lis­ten to them and under­stand their needs. One thing we learned dur­ing the pan­dem­ic: If employ­ees are treat­ed in a sup­port­ive and humane way, pro­duc­tiv­i­ty doesn't suffer.
Personal Growth
Employ­ees want the oppor­tu­ni­ty to learn and grow. It's one rea­son cit­ed for them leav­ing their jobs. And it's so much eas­i­er to recruit inter­nal­ly than exter­nal­ly, espe­cial­ly in tight labor markets.
Create a Learning Culture
Encour­age your employ­ees to be life­long learn­ers. It starts by mod­el­ing life­long learn­ing behav­iors, such as shar­ing pod­casts, TedTalks, and YouTube videos. Con­sid­er devel­op­ing a resource library includ­ing books, arti­cles, web­casts, pod­casts, and Mas­sive Open Online Cours­es (MOOCs). Encour­age employ­ees to con­tribute to this resource and to share the things they are learn­ing. It will keep them engaged and expand their pro­fes­sion­al and per­son­al interests.
Progress
You've made growth oppor­tu­ni­ties avail­able to your employ­ees, but how do you know if progress is being made? Fol­low up with an employ­ee once they've tak­en advan­tage of an oppor­tu­ni­ty. Ask them what they've learned, what needs clar­i­fi­ca­tion, if oth­ers might ben­e­fit, and how they might apply what they learned.
Such ques­tions and feed­back pro­vide man­agers an oppor­tu­ni­ty to con­sid­er new assign­ments, projects, or tasks—perhaps a growth assignment—that could help pre­pare the employ­ee for future roles with the orga­ni­za­tion, a way for an employ­ee to progress.
Of course, employ­ees must take respon­si­bil­i­ty for their growth and progress, but man­agers guide them through this jour­ney and help set real­is­tic career goals.
Accord­ing to Gallup, employ­ee engage­ment has declined for the first time in more than a decade, from 36% engaged employ­ees in 2020 to 34% in 2021—and now 32% in 2022. What bet­ter time for orga­ni­za­tions to focus on how to cre­ate the con­nec­tions peo­ple want and orga­ni­za­tions need?
By Cor­nelia Gam­lem and Bar­bara Mitchell
Orig­i­nal­ly post­ed on HR Exchange Network