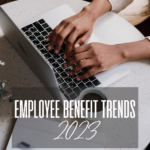 A hot labor mar­ket that has seen scores of employ­ees leave their jobs for new and bet­ter oppor­tu­ni­ties has HR and ben­e­fits lead­ers plan­ning to up the ante when it comes to ben­e­fits that sway work­ers to stay. But at the same time, employ­ers also are aware of soar­ing costs and infla­tion con­cerns and are look­ing to make sure any ben­e­fits invest­ments are worthwhile.
For 2023, employ­ers are unique­ly posi­tioned to offer more than just a health care plan, includ­ing perks and resources that today's work­ers are seeking.
Vol­un­tary Benefits
You can please some of the peo­ple some of the time, but you can't please all the peo­ple all the time – unless you embrace vol­un­tary ben­e­fits, that is. Vol­un­tary ben­e­fits are option­al perks that are offered to employ­ees at a dis­count­ed group rate which their employ­er has nego­ti­at­ed with providers. While employ­ees still need to pay to use these ben­e­fits, the amount is usu­al­ly far less than it would be with­out com­pa­ny subsidies.
These types of ben­e­fits give employ­ees the chance to cus­tomize their ben­e­fits pack­ages to best suit their par­tic­u­lar needs. Whether it's afford­able vet­eri­nary insur­ance for pet own­ers, sub­si­dized pre‑K child­care for par­ents, or stu­dent loan repay­ment pro­grams, offer­ing these types of poli­cies can direct­ly improve the qual­i­ty of life for employ­ees who choose to take advan­tage of them.
Finan­cial Well­ness Benefits
Employ­ees wor­ry and stress about their finances espe­cial­ly today due to record-high infla­tion and are search­ing for finan­cial well­ness edu­ca­tion and guid­ance. Near­ly 80% of employ­ees say a finan­cial well­ness ben­e­fit is an impor­tant part of a com­pre­hen­sive ben­e­fits pack­age. Some of the pop­u­lar finan­cial well­ness ben­e­fits are:
Retire­ment Plan Options with Match­ing Contributions
Health Sav­ings Accounts
Flex­i­ble Spend­ing Accounts
Finan­cial Plan­ning Assistance
Flex­i­ble Paydays
Employ­ee Dis­count Program
Finan­cial Reim­burse­ments (Ie. stu­dent loan repay­ment plans, child-care sup­port funds and pro­fes­sion­al devel­op­ment stipends)
Fam­i­ly-Friend­ly Benefits
Employ­ers are increas­ing­ly look­ing to expand their fam­i­ly-friend­ly ben­e­fits for employ­ees in 2023.
Paid fam­i­ly leave is not guar­an­teed by law in the U.S. but it is a high­ly sought-after perk. A parental leave pol­i­cy – one that con­sid­ers both par­ents and accounts for adop­tion and fos­ter­ing in addi­tion to child­birth – can show your employ­ees you care about sup­port­ing their home lives.
Child­care assis­tance sup­ports work­ing par­ents fac­ing ris­ing costs of liv­ing. While some larg­er employ­ers may offer on-site child­care, small­er busi­ness can show their com­mit­ment to work­ing par­ents by help­ing to sub­si­dize the cost of child­care through employ­er con­tri­bu­tions or pre-tax deductions.
Fer­til­i­ty assis­tance sup­ports employ­ees who are going through cost­ly infer­til­i­ty treat­ments, sur­ro­ga­cy, and IVF.
Inclu­sive and Flex­i­ble Care
The diverse work­force of 2023 is pri­or­i­tiz­ing a bet­ter work-life bal­ance. It's impor­tant to devel­op a ben­e­fits pack­age that rec­og­nizes a healthy envi­ron­ment for your employees.
Men­tal health ben­e­fits are in demand since men­tal health is a cru­cial part of over­all health. Offer­ing an employ­ee assis­tance pro­gram (EAP) is a great way to sup­port work­ers in tough situations.
Work flex­i­bil­i­ty includes not only remote or hybrid work options, but you can also con­sid­er flex­i­ble start and stop times, a four-day work week or unlim­it­ed PTO to attract top tal­ent and increase retention.
Over­all, your ben­e­fits offer­ings for 2023 should reflect your organization's val­ues. Remem­ber, your com­pa­ny depends on being able to keep your employ­ees hap­py, healthy, and pro­duc­tive. Ben­e­fits that show respect for employ­ees and pro­mote a strong, vibrant cul­ture are worth the investment.