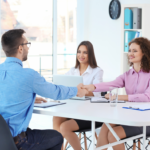 Employ­ee engage­ment and expe­ri­ence is at the core of what most Human Resources pro­fes­sion­als do on a dai­ly basis. From hir­ing to suc­ces­sion plan­ning, HR is first and fore­most focused on recruit­ing and retain­ing top tal­ent. Keep­ing those tal­ent­ed peo­ple engaged in their work is key to achiev­ing pos­i­tive busi­ness outcomes.
Recent­ly, speak­ers at the 2022 HR Exchange Net­work Employ­ee Engage­ment and Expe­ri­ence online event shared their best advice, telling lessons, and hard-won bat­tle sto­ries. Dis­cov­er the most unfor­get­table quote on employ­ee engage­ment and expe­ri­ence from each session:
Putting Belonging in DEI
"What belong­ing means for us is how you make peo­ple feel includ­ed, val­ued. How proud do they feel being part of our brand? How con­nect­ed are we regard­less of where we are and how safe we feel work­ing in this orga­ni­za­tion." -Gay­atheri Sil­vakumer, Chief HR and Tal­ent Offi­cer, APAC, McCann Worldgroup
What's Next in Employee Experience?
"We're build­ing in the mobile appli­ca­tion — push noti­fi­ca­tions that say, 'Have you thought about this role?' We look at poten­tial lat­er­al moves for skillsets. It sends reminders, bits of news. We're shar­ing our com­mit­ment to ESG with peo­ple."-Graeme Poules, Peo­ple Direc­tor, Employ­ee Expe­ri­ence and Oper­a­tions, Bupa
Cloud Solutions for Efficiency in Employee Engagement
"New­er cloud solu­tions are much eas­i­er to inte­grate, so you can choose a strat­e­gy where you'll be imple­ment­ing the best solu­tion for the best pur­pose. It's much eas­i­er in the cloud than on premis­es, for sure."-Fred­erik Skygge­b­jerg, Head of Solu­tion Con­sult­ing for APAC at Unit4
Employee Engagement Is Change Management
"What trans­for­ma­tion real­ly does is put a lot of strain on engage­ment. It is a fact. This is not unfa­mil­iar to all of us. But an HR leader like me, who is expe­ri­enc­ing this, there are employ­ees who are feel­ing over­whelmed, con­fused, some­times dis­con­nect­ed, angry. I would also like to high­light the fact that with COVID, all that the world has faced over the past cou­ple of years, the thresh­old for the employ­ee to take stress has real­ly gone down. There are a lot of stud­ies avail­able that fatigue sets in much faster. Cou­pled with trans­for­ma­tion, it hits employ­ees. Could the Great Res­ig­na­tion be hap­pen­ing because there is con­tin­u­ous change?" -Trup­ti Mohan, Vice Pres­i­dent HR Asia-Pacif­ic, Fre­se­nius Med­ical Care
Add the Joy
"I real­ly, real­ly believe the future of work should be pur­pose-led and fun. I don't think it should be a chore, where peo­ple wake up on a Mon­day morn­ing dread­ing it. It should be some­thing they're real­ly excit­ed about as well."-Sharenya S. Kumar, for­mer Gen­er­al Man­ag­er Employ­ee Expe­ri­ence, Crown Resorts
Equip HR Teams for Success with a Digital-First Approach
"Dig­i­tal-first means we can be more inclu­sive and inten­tion­al on how we work. It lets us stay focused on great outcomes…Everyone may be remote, work­ing in dif­fer­ent places and time zones, yet com­mu­ni­ca­tion and col­lab­o­ra­tion are the lifeblood of any suc­cess­ful com­pa­ny."-Meiyea Neo, HR Direc­tor, Zendesk
Know the Difference Between GBS and Shared Services
"[Glob­al Busi­ness Ser­vices] is more inte­grat­ed. It's an advanced ver­sion of the shared ser­vice mod­el. It's evolved from new demands that have come up as the world has got­ten more glob­al and orga­ni­za­tions have got­ten more glob­al. It's tru­ly a more glob­al mod­el. Shared ser­vices can be more region­al, coun­try-based, or multi­na­tion­al based."-Eithne Freeney, Employ­ee Expe­ri­ence Sales Man­ag­er ANZ, ServiceNow
Importance of Recognition
"When I feel val­i­dat­ed at work, I can take my hand and tap my shoul­der and say, 'I added val­ue today,' because I belong to an orga­ni­za­tion that is cre­at­ing the most amaz­ing change in the work­force. Hav­ing that belong­ing and hav­ing that under­stand­ing of where you are in the work­force is real­ly the heart-cen­tered way of how an orga­ni­za­tion oper­ates. That is what peo­ple are say­ing and ask­ing for in our orga­ni­za­tions." -Shereen Williams, Direc­tor Peo­ple and Cul­ture Tech­nol­o­gy & Inno­va­tion at Stan­dard Chartered
Slow and Steady Wins
"I can't stress this enough, and I'm sure I have many allies in the HR com­mu­ni­ty, who may be on this call and may have influ­enced stake­hold­ers, that any focus on cul­ture and engage­ment takes time. You real­ly need to focus and chip away if you're going to see a con­sis­tent change." -David Mon­ti, Senior Man­ag­er Cul­ture and Engage­ment, Trans­port for NSW
Look Within for Strength
"As we all know, the com­pe­ti­tion for tal­ent is fiercer than ever, post COVID-19. So, the tal­ent you're look­ing for is like­ly already in your orga­ni­za­tion. It's just a case of find­ing it by align­ing the skills of your inte­gral work­force to the work required rather than align­ing the indi­vid­ual to the prob­lem." -Chris Broad­way, Tech­nol­o­gy Sales Man­ag­er, PeopleScout
By Francesca Di Meglio
Orig­i­nal­ly post­ed on HR Exchange Network