The typ­i­cal fam­i­ly in the US looks quite dif­fer­ent today than it did 30 years ago. School, sports, church, clubs and activ­i­ties, and longer work hours have changed the way we allo­cate our time as well as how we eat. With fam­i­lies get­ting busier and busier, how do you make healthy eat­ing a pri­or­i­ty? It's actu­al­ly pret­ty easy!
New Look/Old Concept
Do you remem­ber the food pyra­mid that your health teacher showed you in ele­men­tary school? It looked a lit­tle some­thing like this: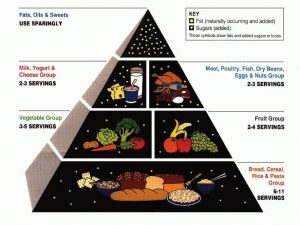 Grains were depict­ed as the largest food group, tak­ing up the most room on the pyra­mid. We were encour­aged to eat 6–11 serv­ings a day! Dairy and meats com­prised less than ¼ of the rec­om­mend­ed foods. Today, the food pyra­mid has been com­plete­ly reworked to now look like this: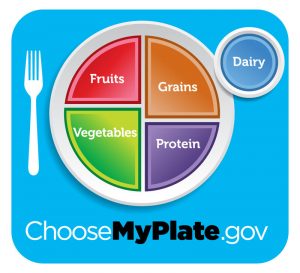 Gone is the illus­tra­tion that sug­gest­ed one food group was more impor­tant than anoth­er. New guide­lines encour­age a bal­anced plate of food and help users visu­al­ize what their actu­al plate should look like. Here are some sim­ple tips for busy fam­i­lies to fol­low to achieve bal­anced nutrition.

Make a Meal Plan
Sit down with your fam­i­ly and brain­storm some meals that every­one likes. After you have a good-sized list of fam­i­ly favorites, make a menu of what you are going to make for din­ner this week. When you go gro­cery shop­ping, buy only the items you need to make these din­ners and stick to it. Not only will this cut down on mak­ing mul­ti­ple trips to the gro­cery store each week (who has time for that?) but it also allows you to plan a bal­anced meal and ensures you have the ingre­di­ents to keep it bal­anced. Few­er trips to the store also means less mon­ey spent on impulse items!

5 Food Groups & Being Sneaky
Instead of plac­ing a greater empha­sis on one type of food, like in the old food pyra­mid, the Unit­ed States Depart­ment of Agri­cul­ture now encour­ages an almost even dis­tri­b­u­tion of food groups. Fruits, veg­eta­bles, grains, pro­tein, and dairy should be near­ly equal­ly rep­re­sent­ed on your plate. Have a picky eater who just will not eat veg­gies? Sneak them in! Grate car­rots to include in your lasagna sauce or throw a hand­ful of spinach leaves in your child's break­fast smooth­ie. Be cre­ative to keep that plate a bal­anced one.

Meal Prep = Saved Minutes
The num­ber one excuse busy fam­i­lies make for not eat­ing healthy is that it takes too much time to cook at home when they need to be on the go. It's just eas­i­er and faster to grab a meal in the dri­ve-thru ver­sus mak­ing one in the kitchen. That doesn't have to be so! When you make your week-long meal plan, you can choose the amount of time you can allot to meal prep. Don't choose labor-inten­sive meals when you have a short win­dow of time to cook and eat. Also, set aside a cou­ple hours on the week­end and prep as much of the meals as you can for the week. Grill all the chick­en you need at one time. Chop all the veg­eta­bles for the week and mea­sure them out into bag­gies for each recipe. Por­tion out healthy snacks for the week so they are quick to grab on the way to the next activ­i­ty. By spend­ing a small amount of time plan­ning ahead for the week, you will save your­self from bad food choic­es when you are at your busiest (and hungriest).

Cre­ativ­i­ty is Key
Food bore­dom is real. We are all guilty of say­ing "noth­ing looks good to eat" when we stare mind­less­ly into the pantry or refrig­er­a­tor while search­ing for a snack or try­ing to fig­ure out a meal. To keep a busy fam­i­ly from get­ting bored of eat­ing the same old stuff, be cre­ative with your meals! And being cre­ative doesn't have to mean mak­ing flower shaped sand­wich­es or tak­ing extra time to cook. Cre­ativ­i­ty is as sim­ple as a Google search for "Grab and Go Break­fasts" or "Quick Healthy Meals."
Eat­ing healthy doesn't have to be out of reach for a busy fam­i­ly. By fol­low­ing these very basic and very sim­ple tips, you can cook up a bal­anced plate of food for your loved ones each week. Your waist­band and your wal­let will both thank you for adopt­ing some new nutri­tion habits. Your friends at your favorite fast food dri­ve-thru may miss see­ing you every­day, but you can always stop by and drop off a healthy snack to share.