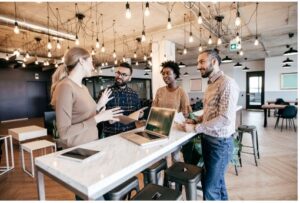 Today's offices poten­tial­ly span five full gen­er­a­tions rang­ing from Gen­er­a­tion Z to the Silent Gen­er­a­tion. A cowork­er could just as eas­i­ly be raised with a smart phone in hand as they could have used a type­writer at their first job. Some see dif­fer­ences between gen­er­a­tional col­leagues as an annoy­ance ("kids these days!") and many rely on gen­er­a­tional stereo­types as fact. Truth of that mat­ter is that gen­er­a­tional stereo­types have about as many holes in them as a piece of Swiss cheese. Cur­rent research ques­tions the valid­i­ty of gen­er­a­tional stereo­types. This series uncov­ers top gen­er­a­tional myths as a strat­e­gy to sup­port a diverse and healthy employ­ee population.
Next, we progress to a group whose eldest mem­bers reached adult­hood in the year 2000: Mil­len­ni­als (also known as Gen­er­a­tion Y). This cohort was born between 1981 and 1996. The top three myths of Mil­len­ni­als include:
They are the lazi­est gen­er­a­tion at work. Mil­len­ni­als have been called the "tro­phy" gen­er­a­tion with the impli­ca­tion that they receive acco­lades for just show­ing up. The impres­sion this leaves in the work­force is that they are lack­ing moti­va­tion to go above and beyond, and may be com­fort­able phon­ing it in. The data doesn't sup­port this crit­i­cal gen­er­al­iza­tion! Most Mil­len­ni­als are inspired by big, hairy goals at work. In fact, 59% of Mil­len­ni­als report­ed that com­pe­ti­tion is "what gets them up in the morning."
Mil­len­ni­al employ­ees need life instruc­tions on "adult­ing." Chil­dren of the '80s and '90s were raised with a teacher, coach, or par­ent near­by to instruct or help them fig­ure out a solu­tion. For that rea­son, they often get labeled as inca­pable. This may lead you to believe that this gen­er­a­tion is lack­ing smarts, and this couldn't be fur­ther from the truth. Close to 40% of adults aged 25 to 37 have a bach­e­lor's degree, a per­cent­age that over­shad­ows both Baby Boomers and Gen­er­a­tion Y at this same point in their life. Mil­len­ni­als are more edu­cat­ed and more tech­nol­o­gy savvy than pri­or gen­er­a­tions. One sign of their life skills apti­tude? Check out their retire­ment accounts. Dave Ram­sey, per­son­al finance guru, summed it up like this: "Even though Mil­len­ni­als have had less 20 years to build their retire­ment wealth, they are not that far behind many of those who are clos­est to retire­ment." Yes, they may ask a lot of ques­tions, but don't let this fool you.
They are job hop­pers. They don't com­mit to com­pa­nies. They leave jobs at the drop of a hat. This tune may sound famil­iar because you have heard it before. A Pew Research study showed that when you freeze data for age, Gen­er­a­tions X and Mil­len­ni­als had sim­i­lar tenures at work. Work­ers in the first few decades of their career are more open to look­ing for new oppor­tu­ni­ties to explore new jobs and learn. The data show that this sen­ti­ment is more close­ly aligned with a stage in life that all gen­er­a­tions have expe­ri­enced. So, let's give Mil­len­ni­als a break here. Just because they don't intend to stick around at one com­pa­ny to receive a glass retire­ment plaque doesn't mean they have any less val­ue than oth­er generations.
Despite what you may have heard, Mil­len­ni­als are hard work­ers with the know-how to quick­ly pick up new knowl­edge or skills. They val­ue sta­bil­i­ty just as much, or more, than pri­or generations.