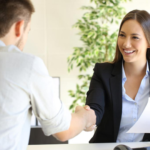 As busi­ness­es big and small strug­gle with high infla­tion and an eco­nom­ic down­turn that may turn into a reces­sion, recruit­ing and tal­ent acqui­si­tion often gets pushed aside. Human Resources lead­ers are doing more with less and try­ing to han­dle the addi­tion­al stress­es of the times. As a result, strate­giz­ing for the future — when the econ­o­my may be bet­ter — is not a priority.
Recent­ly, HR Exchange Net­work put hir­ing back at the front burn­er at the Recruit­ing and Tal­ent Acqui­si­tion online event. Dur­ing the ses­sions, experts shared their advice for pur­su­ing tal­ent, deal­ing with lay­offs, and posi­tion­ing one's self for a brighter future. Here are the main takeaways:
Flip the Old Layoffs Script on Its Head
Once upon a time, peo­ple got laid off and it was their prob­lem. Now, com­mu­ni­ties come togeth­er to help. Recruiters are among them. Ky Cun­ning­ham, Direc­tor of Tal­ent Acqui­si­tion at Hair Cut­tery Fam­i­ly of Brands, men­tioned how she appre­ci­ates the fact that peo­ple unite to help those who have been laid off to find a new job. While she found this fact to be a beau­ti­ful ges­ture, she also wants peo­ple to real­ize that the appli­ca­tion process is challenging.
"It's not just rain­bows and kit­tens, but it's also mak­ing sure you're well-informed through­out the process," said Cun­ning­ham, who lat­er in the ses­sion sug­gest­ed that those seek­ing a job call peo­ple inside the orga­ni­za­tion and try to get the real deal about the cul­ture, trans­paren­cy, and mission.
Recognize the Depth and Breadth of the Talent Pool
In the age of remote work, employ­ers are no longer lim­it­ed by geog­ra­phy, and peo­ple have a range of new options avail­able to it.
"So we can say that tal­ent no longer nec­es­sar­i­ly needs to move to get a world-class job in a world-class com­pa­ny," said Bar­ry Rud­den, Glob­al 3rd Par­ty Direc­tor at G‑P. "Said anoth­er way, we can say that tal­ent no longer needs to move for oppor­tu­ni­ty. In many cas­es, oppor­tu­ni­ties now fol­low tal­ent wher­ev­er they may be located."
Use Artificial Intelligence for Efficiency in Hiring
AI has shown the most promise in Human Resources when it comes to recruit­ing. In fact, the advanced tech­nol­o­gy is so good that many peo­ple fear it will replace them even­tu­al­ly. But Vikram Ahu­ja, Man­ag­ing Direc­tor of ANSR and Co-Founder of Talent500, reas­sured the event audience.
"AI and machines are essen­tial­ly good at automat­ing sim­ple and repet­i­tive tasks, mak­ing sense of data, iden­ti­fy­ing trends and pat­terns, enhanc­ing human capa­bil­i­ties, and learn­ing and improv­ing con­tin­u­ous­ly. So, that's real­ly what AI does. What it does­n't do is replace humans."
Handle Layoffs with Care
Lay­offs are hap­pen­ing every day, even at some of the biggest com­pa­nies in the world, includ­ing Microsoft and oth­er tech sec­tor com­pa­nies. Eri­ca Briody, for­mer SVP, Glob­al Tal­ent Acqui­si­tion and Lead­er­ship Hir­ing at REEF, opened up about hav­ing to lay off tal­ent. She offered alter­na­tives to let­ting peo­ple go, and dis­cussed how hard it can be for HR after hav­ing recruit­ed the peo­ple in the first place. An impor­tant part of the process is being transparent.
"The most impor­tant thing you can do is con­sult with your employ­ees and explain to them what's hap­pen­ing, and be trans­par­ent and get them to feel part of the process, and not telling them what's hap­pen­ing," said Briody. "Get them involved. No down­siz­ing alone, and it's been proven over and over again."
Being Human Never Goes Out of Style
Kurt Web­ster, Direc­tor of Recruit­ment & Work­force Plan­ning at Main­Gener­al Health, remind­ed the audi­ence that some things nev­er change regard­less of the unique chal­lenges pre­sent­ed to the work­force in recent years. There are basic truths that can car­ry recruiters into the new world of work.
"You know, as human beings, we're not just a title, a job, a scrip­ture set of tasks," said Web­ster. "We want to be val­ued as human beings. One of the things I think that's impor­tant in this case from our CEO here is we hon­or each per­son for the intrin­sic val­ue as a human being."
By Francesca Di Meglio
Orig­i­nal­ly post­ed on HR Exchange Network