We Can — I Can
4th Feb­ru­ary — Today is World Can­cer Day
#World­Cancer­Day #WeCanI­Can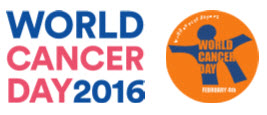 Tak­ing place under the tagline 'We can. I can.', World Can­cer Day 2016–2018 will explore how every­one – as a col­lec­tive or as indi­vid­u­als – can do their part to reduce the glob­al bur­den of cancer.
Just as can­cer affects every­one in dif­fer­ent ways, all peo­ple have the pow­er to take var­i­ous actions to reduce the impact that can­cer has on indi­vid­u­als, fam­i­lies and communities.
World Can­cer Day is a chance to reflect on what you can do, make a pledge and take action. What­ev­er you choose to do 'We can. I can.' make a dif­fer­ence to the fight against cancer.
Every Action Counts
World Can­cer Day is a tru­ly glob­al event. In order to achieve our objec­tive of reach­ing as much of the world's pop­u­la­tion as pos­si­ble, we need your help.
Whether you do some­thing as large as run­ning your own World Can­cer Day cam­paign, or as sim­ple as shar­ing our tem­plate mes­sages amongst your net­works, every action has an impact. Show the world that we can, I can… get involved in the fight against cancer.
We appre­ci­ate that every­one sup­port­ing the Day has dif­fer­ent needs and pri­or­i­ties, so there are a wide vari­ety of ways for your organ­i­sa­tion and mem­bers to get involved. We've list­ed some ideas below.
Vis­it the site today to find out more about ways you can help