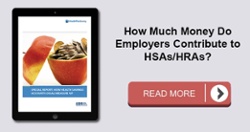 In a world of insur­ance and acronyms, the term "HRA" is thrown around a lot, but it has a vari­ety of meanings.
HRA can mean health reim­burse­ment account, heath reim­burse­ment arrange­ment, or health risk assess­ment, and all of those mean some­thing dif­fer­ent. I want to be clear that in the fol­low­ing arti­cle I am going to be dis­cussing the use of health reim­burse­ment accounts with ful­ly-insured health plans. We can leave the oth­er mean­ings of HRA for anoth­er time.
An HRA can be "wrapped" with a high-deductible, ful­ly-insured health plan and this can lead to sav­ings for an employ­er over offer­ing a tra­di­tion­al health plan with a low­er deductible.
Offer­ing a high-deductible health plan and self-fund­ing, the first $2,000, or $3,000, in claims on behalf of the employ­ees can trans­late to sig­nif­i­cant sav­ings because the employ­er is tak­ing on that ini­tial risk instead of the insur­ance car­ri­er. Unlike a con­sumer-dri­ven health plan (CDHP) that has a high deductible and can be paired with a health sav­ings account (HSA) where an employ­er can con­tribute funds to an employee's HSA account that can be used to pay for qual­i­fied med­ical expens­es, an employ­er only has to pay out of the HRA if there is a claim.
With an HSA that is fund­ed by the employ­er, the mon­ey goes into the HSA for their employ­ees and then those funds are "owned" by the employ­ee. The employ­er nev­er sees it again. Under an HRA, if there are no claims, or not a high num­ber of claims, the employ­er keeps those unused dol­lars in their pocket.
An HRA com­po­nent to a health plan is sub­ject to ERISA and non-dis­crim­i­na­tion rules, mean­ing every­one that is eli­gi­ble should be offered the plan, and the ben­e­fits under the HRA should be the same for every­one enrolled. It is advis­able that an HRA be admin­is­tered by a third-par­ty that pays the claims to the providers, or reim­burse plan enrollees under the terms of the plan, in order to keep employ­ees' and their depen­dents' med­ical infor­ma­tion pri­vate from the employ­er as to avoid poten­tial discrimination.
The HRA com­po­nent of a health plan is essen­tial­ly self-fund­ed by the employ­er, which gives the employ­er a lot of flex­i­bil­i­ty and can be tai­lored to their spe­cif­ic needs or desired out­comes. The employ­er can choose to fund claims after the employ­ee pays the first few hun­dred dol­lars of their deductible instead of the employ­er pay­ing the claims that are ini­tial­ly sub­ject to the high deductible. An employ­er can have a step arrange­ment, for exam­ple, the employ­er pays the first $500, the employ­ee the sec­ond $500, the employ­er pays the next $500, and the employ­ee pays the final $500 of a $2,000 deductible.
If an employ­er has a young pop­u­la­tion that is healthy, they may want to use the HRA to pay for emer­gency room vis­its and hos­pi­tal in-patient stays, but not office vis­its so they can help pro­tect their employ­ees from hav­ing to pay those "large tick­et items," but not blow their bud­get. While an employ­er with a more sea­soned staff, or diverse pop­u­la­tion, may want to include pre­scrip­tion drugs as a cov­ered ben­e­fit under the HRA, as well as office vis­its, hos­pi­tal in-patient stays, out­pa­tient surgery, etc. Or, if an employ­er needs to look at cost-sav­ing mea­sures, they may want to exclude pre­scrip­tions from being eli­gi­ble under the HRA.
Keep in mind, all of these ser­vices are essen­tial health ben­e­fits and would be cov­ered by the insur­ance car­ri­er under the terms of the con­tract, but an employ­er can choose not to allow the HRA to be used to pay for such ser­vices, leav­ing the enrollee to pay their por­tion of the claims. In any case, the para­me­ters of what is eli­gi­ble for reim­burse­ment from the HRA is decid­ed and out­lined at the begin­ning of the plan year and can­not be changed pri­or to the end of the plan year.
If you are think­ing about imple­ment­ing a high-deductible health plan with an HRA for your employ­ees, be sure you are doing it as a long-term strat­e­gy. As is the case with self-fund­ing, you are going to have good years and bad years. On aver­age, a com­pa­ny will expe­ri­ence a bad, or high claims, year out of every four to five years. So, if you imple­ment your new plan and you have a bad year on the first go-round, don't give up. Chances are the next year will be bet­ter, and you will see sav­ings over your tra­di­tion­al low-deductible plan options.
With an HRA, you cap the amount you are going to poten­tial­ly spend for each enrollee, per year. So, you know your worst-case sce­nario. While it is extreme­ly unlike­ly that every one of your employ­ees will use the entire amount allot­ted to them, it is rec­om­mend­ed that you can absorb or han­dle the worst case sce­nario. Don't bite off more than you can chew!
HRA admin­is­tra­tors usu­al­ly charge a month­ly rate per enrollee for their ser­vices, and this should be account­ed for in the bud­get­ing process. Dif­fer­ent HRA third-par­ty admin­is­tra­tors have dif­fer­ent claims process­es, online plat­forms, deb­it cards, and busi­ness hours. Be sure to use one that offers the ser­vices that you want and are on budget.
Anoth­er aspect of offer­ing a high-deductible plan with an HRA that is often over­looked is com­mu­ni­ca­tion. If an employ­ee does not know how to uti­lize their plan, it can cre­ate con­fu­sion and anger, which can hurt the over­all com­pa­ny morale. The plan has to be laid out and explained in a way that is clear, con­cise, and easy to understand.
In some cas­es, the HRA is admin­is­tered by some­one oth­er than the insur­ance car­ri­er, and the plan admin­is­tra­tor has to make sure they enroll all plan enrollees with the car­ri­er and the third-par­ty administrator.
The COBRA admin­is­tra­tor also has to offer the HRA as part of the COBRA pack­age, and the third-par­ty admin­is­tra­tor must com­mu­ni­cate the appro­pri­ate pre­mi­um for the HRA under COBRA. Most COBRA enrollees will not choose to enroll in the HRA with their med­ical plan, as they are essen­tial­ly self-fund­ing their deductible and plan costs through the HRA instead of pay­ing them out of their pock­et, but many plan admin­is­tra­tors make the mis­take of not offer­ing the HRA under COBRA, as it is man­dat­ed by law.
Offer­ing a high-deductible plan with an HRA is a way for small employ­ers to save over offer­ing a low-deductible health plan, and can be a way for an employ­er to "test the waters" to see if they may want to move to a self-fund­ed plan, or lev­el-fund­ed plan, in the future.
To any employ­er look­ing to imple­ment an HRA with a med­ical plan, you want a sea­soned advi­sor, or con­sul­tant, on your side to walk you through the costs, pros, and cons, poten­tial sav­ings, and risks. Your local UBA Part­ner Firm is a great place to start.
For a com­pre­hen­sive chart that com­pares eli­gi­bil­i­ty cri­te­ria, con­tri­bu­tion rules, reim­burse­ment rules, report­ing require­ments, pri­va­cy require­ments, applic­a­ble fees, non-dis­crim­i­na­tion rules and oth­er char­ac­ter­is­tics of account-based plans, request UBA's Com­pli­ance Advi­sor, "HRAs, HSAs, and Health FSAs – What's the Dif­fer­ence?".
For infor­ma­tion on mod­est con­tri­bu­tion strate­gies that are still dri­ving enroll­ment in HSA and HRA plans, read our break­ing news release.
For a detailed look at the preva­lence and enroll­ment rates among HSA and HRA plans by indus­try, region and group size, view UBA's "Spe­cial Report: How Health Sav­ings Accounts Mea­sure Up", to under­stand which aspects of these accounts are most suc­cess­ful, and least successful.
Orig­i­nal­ly pub­lished by www.ubabenefits.com