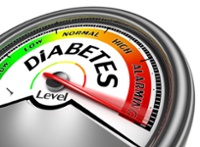 Dia­betes is an expen­sive dis­ease: $322 bil­lon in Amer­i­ca! Costs are com­pound­ed because dia­betes is the lead­ing cause of heart dis­ease, stroke, kid­ney dis­ease, low­er limb ampu­ta­tion, and blind­ness, and also has con­nec­tions with some can­cers, arthri­tis, gum dis­ease and Alzheimer's dis­ease. To add some per­spec­tive, con­sid­er these facts: Today, 3,835 Amer­i­cans will be diag­nosed with dia­betes. Today, dia­betes will cause 200 Amer­i­cans to under­go an ampu­ta­tion, 136 to enter end-stage kid­ney dis­ease treat­ment, and 1,795 to devel­op severe retinopa­thy that can lead to vision loss and blindness.
Near­ly 30 mil­lion Amer­i­cans have dia­betes and 86 mil­lion have pre-dia­betes. While Type 1 dia­betes presents sud­den­ly, Type 2 dia­betes is known as a silent killer. One can have it for years before dis­play­ing symp­toms but, dur­ing that time, dam­age is occur­ring through­out the body. For that rea­son, pre­ven­tion or ear­ly diag­no­sis of dia­betes is imper­a­tive. In Vital Incite's bench­mark data of just under 12,000 indi­vid­u­als with A1c val­ues who have not been diag­nosed with dia­betes, 8 per­cent of those indi­vid­u­als had A1c val­ues greater than 7 per­cent. Those val­ues indi­cate uncon­trolled dia­betes, but these indi­vid­u­als were not yet diag­nosed. In order to reduce risk, and reduce dis­ease bur­den, the goal is to con­trol dia­betes in its ear­ly stages so it does not progress. Yet, in exam­in­ing the con­trol of A1c val­ues, we find that more than 39 per­cent of dia­bet­ics have A1c val­ues that are not controlled.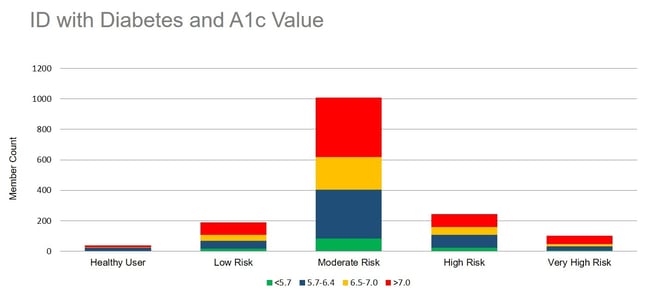 Using the appro­pri­ate resources to con­trol dia­betes is crit­i­cal because, as risk increas­es, cost also jumps. More impor­tant­ly, these indi­vid­u­als expe­ri­ence a sig­nif­i­cant reduc­tion in their qual­i­ty of life.

Accord­ing to Car­ol Dixon, Region­al Direc­tor for Com­mu­ni­ty Health Strate­gies at the Amer­i­can Dia­betes Asso­ci­a­tion Indi­ana, the Amer­i­can Dia­betes Asso­ci­a­tion offers many free resources to sup­port you.
Well­ness Lives Here℠ (wellnessliveshere.org): With year-round oppor­tu­ni­ties, Well­ness Lives Here will help your orga­ni­za­tion edu­cate and moti­vate employ­ees to adopt health­ful habits. For some, it means few­er sick days and high­er pro­duc­tiv­i­ty. For oth­ers, it means look­ing and feel­ing bet­ter. For every­one, the result is empowerment—Americans who are bet­ter able to con­trol or pre­vent dia­betes and relat­ed health problems.
Well­ness Lives Here resources include:
Engage­ment with the local Amer­i­can Dia­betes Asso­ci­a­tion office for lunch and learns and health fairs
Stop Dia­betes @Work – Hand­outs on many health top­ics that can be co-brand­ed, month­ly newslet­ter arti­cles to com­mu­ni­cate healthy lifestyle mes­sages, and a mul­ti­tude of resources to inte­grate health into the cor­po­rate culture
Mis­sion Engage­ment Days – Spe­cial­ly designed, easy to use toolk­its are pro­vid­ed, includ­ing Get Fit, Don't Sit Day (May), and Healthy Lunch Day (Novem­ber)
Health Cham­pi­on Des­ig­na­tion – This spe­cial recog­ni­tion goes to orga­ni­za­tions that inspire and encour­age a cul­ture of wellness.
The CEO Lead­er­ship Cir­cle brings togeth­er invit­ed exec­u­tives for the oppor­tu­ni­ty to work joint­ly with the local Asso­ci­a­tion office toward spe­cif­ic health goals and objec­tives for their company.
For more infor­ma­tion on how the Amer­i­can Dia­betes Asso­ci­a­tion can sup­port your well­ness pro­gram, con­tact your local chap­ter or vis­it their web­site at diabetes.org. Read our recent blog on oth­er cost-effec­tive well­ness strate­gies, par­tic­u­lar­ly for small employ­ers.
Orig­i­nal­ly pub­lished by Unit­ed Ben­e­fit Advi­sors — Read More