By Bill Olson
Chief Mar­ket­ing Offi­cer at Unit­ed Ben­e­fit Advisors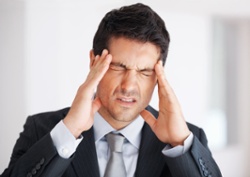 Some­one in the C‑Suite of a com­pa­ny gets sick. I'm not talk­ing about a cold or flu; I'm talk­ing about a major, pos­si­bly even ter­mi­nal, ill­ness. Depend­ing on the lev­el of sever­i­ty, what can the human resources depart­ment do to help com­mu­ni­cate this infor­ma­tion prop­er­ly to the company's employees?
There will always be pri­va­cy con­cerns, but there are also require­ments with the Secu­ri­ties and Exchange Com­mis­sion (SEC) that man­date pub­licly trad­ed com­pa­nies to dis­close infor­ma­tion that may impact an investor's deci­sion to buy or sell stock. A seri­ous ill­ness could be inter­pret­ed as some­thing that needs to be report­ed to the SEC. Oth­er than that, how much infor­ma­tion should a C‑Suite exec­u­tive share with HR, when should he or she share it, and should they dis­cuss any plans for a suc­ces­sor – either tem­po­rary or per­ma­nent? On the HR side, how much of this should they release to the rest of the company?
Based on an arti­cle on Human Resource Exec­u­tive Online titled, "Dis­clos­ing Ill­ness in the C‑Suite," when han­dled cor­rect­ly, the dis­clo­sure of an executive's ill­ness can do more than sat­is­fy SEC com­pli­ance. It can reas­sure employ­ees and investors that the com­pa­ny has a plan going for­ward, it can address impor­tant ques­tions, and it can stop the almost cer­tain spread of false rumors.
Shar­ing infor­ma­tion today is com­mon and rapid, which makes hid­ing a major ill­ness next to impos­si­ble. Rather than let­ting the company's rumor mill dis­close the infor­ma­tion in a way that could be harm­ful to the exec­u­tive and his or her fam­i­ly, detri­men­tal to the com­pa­ny, and poten­tial­ly com­plete­ly false, it's bet­ter to have it come direct­ly from a com­pa­ny rep­re­sen­ta­tive. Cur­rent exam­ples include Gold­man Sachs CEO and Chair­man Lloyd Blank­fein, who sent a memo to employ­ees and the SEC just one day after his lym­phoma diag­no­sis. Con­trast this with Apple CEO Steve Jobs who with­held his can­cer diag­no­sis for an entire year. The lat­ter exam­ple is cit­ed as a text­book case of how not to han­dle this. The "doom and gloom" spec­u­la­tion of what was hap­pen­ing to Jobs was ram­pant both inter­nal­ly at Apple and with investors.
This type of spec­u­la­tion almost always leads to decreased employ­ee morale and pro­duc­tiv­i­ty, which is why HR should com­mu­ni­cate infor­ma­tion as quick­ly as pos­si­ble. That being said, it's up to the C‑Suite exec­u­tive to deter­mine how much infor­ma­tion he or she wants to divulge. The role of HR is to com­mu­ni­cate how this is going to impact the company's dai­ly oper­a­tions, whether some­one will be tem­porar­i­ly assum­ing those respon­si­bil­i­ties, and if the com­pa­ny has a suc­ces­sion plan in place if the exec­u­tive is not able to return to work.
Because this type of news can dis­rupt the oper­a­tions of a com­pa­ny, HR should con­tin­u­al­ly pro­vide updates and put them in a pos­i­tive light. As it states in the arti­cle, you can't draft this type of plan, espe­cial­ly a plan of suc­ces­sion, after a crit­i­cal ill­ness diag­no­sis is announced. This is some­thing that must be thought of ahead of time in order to avoid the tur­bu­lent aspect it can pro­duce. Regard­less of this, HR also needs to empha­size the seri­ous­ness of the issue and that it must be han­dled with respect, sen­si­tiv­i­ty, and professionalism.
Hope­ful­ly, an HR depart­ment will nev­er have to deal with this unfor­tu­nate expe­ri­ence. Strik­ing a bal­ance between the C‑Suite executive's pri­va­cy and every­one else's need to know may be one of the most dif­fi­cult things an HR depart­ment can face. This is why plan­ning ahead can often pro­vide that lev­el of con­fi­dence dur­ing this time of cor­po­rate instability.