By Geoff Mukhtar
Com­mu­ni­ca­tions Man­ag­er at Unit­ed Ben­e­fit Advisors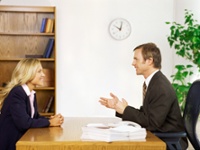 Many employ­ers have done an excel­lent job of inte­grat­ing finan­cial well­ness pro­grams with their employ­ees in order for them to improve their over­all finan­cial well-being. How­ev­er, the most sig­nif­i­cant progress appears to be when employ­ees actu­al­ly speak with a qual­i­fied human being rather than rely­ing on tech­nol­o­gy to man­age invest­ments. The key, accord­ing to an arti­cle on the web­site of Employ­ee Ben­e­fit News titled, "Tech­nol­o­gy Alone Not Enough in Finan­cial Well­ness," is the lev­el of employ­ee engagement.
The arti­cle stress­es that peo­ple who inter­act­ed with a cer­ti­fied finan­cial plan­ner five or more times dur­ing the year had a much bet­ter grasp on their finances, an emer­gency fund, retire­ment con­tri­bu­tions, and cash flow man­age­ment when com­pared to peo­ple who only used online tools. Were employ­ees who talked to a real per­son get­ting bet­ter advice? Were employ­ees who were more wor­ried about their mon­ey doing more to under­stand and solve their prob­lems by actu­al­ly talk­ing to some­one? This was not known, but what was dis­cov­ered was that tech­nol­o­gy can only do so much.
For exam­ple, if you get on a scale, it's going to give you a num­ber. The scale won't tell you what to eat, how many calo­ries you'll need to burn, or what steps you'll need to take if some­thing unex­pect­ed hap­pens. In terms of a person's finan­cial well-being, tech­nol­o­gy over­load can occur and he or she will get bom­bard­ed with infor­ma­tion that's either not under­stood or unusable.
Once employ­ers fig­ure out that tech­nol­o­gy alone is not a viable solu­tion to help employ­ees with their finances, they can shift some of their finan­cial well­ness and retire­ment pro­grams to one-on-one guid­ance with cer­ti­fied finan­cial plan­ners. Fur­ther­more, they can incor­po­rate edu­ca­tion and focused pre­sen­ta­tions, such as work­shops on retire­ment, stu­dent loan repay­ment, tack­ling cred­it card debt, etc., into the mix in order to dri­ve up employ­ee engagement.
The take­away is that there is no sin­gle solu­tion to help employ­ees with their mon­e­tary plan­ning and prob­lems. It takes a com­bi­na­tion of tech­nol­o­gy, edu­ca­tion, and per­son­al face time to ensure that a company's work­force is mak­ing progress toward their finan­cial goals.