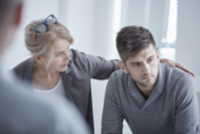 Death and loss touch all of us, usu­al­ly many times through­out our lives. Yet we may feel unpre­pared and uncom­fort­able when grief intrudes into our dai­ly rou­tines. As a man­ag­er, when grief impacts your employ­ees it's help­ful to have a basic under­stand­ing of what they are going through as well as ways you can help.
Expe­ri­enc­ing Grief
Although we all expe­ri­ence grief in our own way, there are behav­iors, emo­tions and phys­i­cal sen­sa­tions that are a com­mon part of the mourn­ing process. J. William Worden's "Four Tasks of Mourn­ing" will be expe­ri­enced in some form by any­one who is griev­ing. These tasks include accept­ing the real­i­ty of the loss, expe­ri­enc­ing and accept­ing our emo­tions, adjust­ing to life with­out the loved one, and invest­ing emo­tion­al ener­gy into a new and dif­fer­ent life.
Com­mon­ly expe­ri­enced emo­tions are sad­ness, anger, frus­tra­tion, guilt, shock and numb­ness. Phys­i­cal sen­sa­tions include fatigue or weak­ness, short­ness of breath, tight­ness in the chest and dry mouth.
Manager's Role
When employ­ees are mourn­ing, it's impor­tant to cre­ate a car­ing, sup­port­ive and pro­fes­sion­al work envi­ron­ment. In most cas­es, employ­ees will ben­e­fit from return­ing to work. It allows them to resume a reg­u­lar rou­tine, focus on some­thing besides their loss and boost their con­fi­dence by com­plet­ing work tasks.
At the same time, bereaved employ­ees may expe­ri­ence many chal­lenges when return­ing to work. They may have poor con­cen­tra­tion, be extreme­ly tired, feel depressed or have a short tem­per and uncon­trol­lable emotions.
As a man­ag­er, the best thing you can do is acknowl­edge the loss and main­tain strong lines of com­mu­ni­ca­tion. Even if you believe some­one else is check­ing in with them, make sure you stay in touch and see if there is any­thing you can do.
Devel­op­ing a Return to Work Plan
In order to help your employ­ees have a smooth tran­si­tion back to work you must lis­ten and under­stand their needs. Some addi­tion­al ques­tions you'll want to answer are:
What are your company's poli­cies and pro­ce­dures for med­ical and bereave­ment leave?
What infor­ma­tion do your employ­ees want their co-work­ers to have and would they rather share this infor­ma­tion themselves?
Do they want to talk about their expe­ri­ence or would they rather focus on work?
Do they need pri­vate time while at work?
Does their work­load and sched­ule need to be adjusted?
Do they need help at home – child care, meals, house work, etc.?
Are there oth­ers at work that may be expe­ri­enc­ing grief of their own?
Help­ful Respons­es for Managers
Offer spe­cif­ic help – make meals, wash their car, walk their pet, or any­thing else that will make their life easier.
Say some­thing – it can be as sim­ple as, "I'm so sor­ry for your loss."
Lis­ten – be kind but honest.
Respect pri­va­cy – hon­or closed doors and pri­vate moments.
Expect tears – emo­tions can hit unexpectedly.
Thank your staff – for every­thing they are doing to help.
Griev­ing is a neces­si­ty, not a weak­ness. It is how we heal and move for­ward. As a man­ag­er, being there for your employ­ees dur­ing this time is impor­tant in help­ing them through the griev­ing process.
Orig­i­nal­ly pub­lished by www.ubabenefits.com