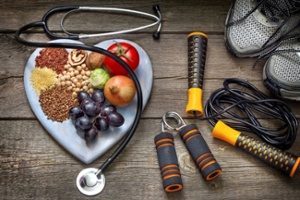 Where to Start?
First, expand the usu­al scope of well­ness activ­i­ty to well-BEING. Include ini­tia­tives that sup­port more than just phys­i­cal fit­ness, such as career growth, social needs, finan­cial health, and com­mu­ni­ty involve­ment. By doing this you increase your chances of see­ing a return on invest­ment (ROI) and a return on val­ue (ROV). Qual­i­ta­tive results of a suc­cess­ful pro­gram are just as valu­able as see­ing a finan­cial impact of a health­i­er population.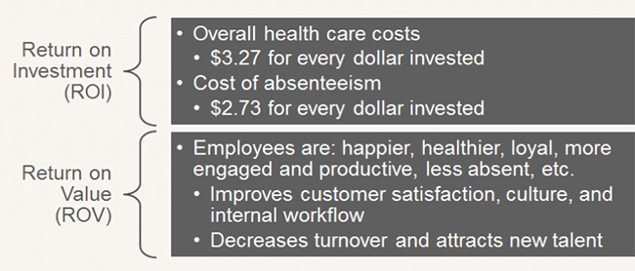 Source: Kather­ine Baick­er, David Cut­ler, and Zirui Song, "Work­place Well­ness Pro­grams Can Gen­er­ate Sav­ings," Health Affairs, Feb­ru­ary 2010, 29(2): pp 304–311
To cre­ate a cor­po­rate cul­ture of well-being and ensure the suc­cess of your pro­gram, there are a few impor­tant steps.
Lead­er­ship Sup­port: Pro­grams with lead­er­ship sup­port have the high­est lev­el of par­tic­i­pa­tion. Gain lead­er­ship sup­port by hav­ing them par­tic­i­pate in the pro­grams, give recog­ni­tion to involved employ­ees, sup­port employ­ee com­mu­ni­ca­tion, allow use of on-site space, approve of employ­ees spend­ing time on coor­di­nat­ing and facil­i­tat­ing ini­tia­tives, and define the bud­get. Even though you do not need a bud­get to be successful.
Cre­ate a Com­mit­tee or Des­ig­nate a Cham­pi­on: Do not take this on by your­self. Cre­ate a well-being com­mit­tee, or iden­ti­fy a cham­pi­on, to share the respon­si­bil­i­ty and nec­es­sary actions of coor­di­nat­ing a program.
Strate­gic Plan: Cre­ate a three-year strate­gic plan with a mis­sion state­ment, bud­get, real­is­tic goals, and mea­sure­ment tools. Cre­at­ing a plan like this takes some work and coor­di­na­tion, but the ben­e­fits are sig­nif­i­cant. You can cre­ate a suc­cess­ful well-being pro­gram with lit­tle to no bud­get, but you need to know what your real­is­tic goals are and have a plan to make them a reality.
Tools and Resources: Gath­er and take advan­tage of avail­able resources. Tools and resources from your bro­ker and/or car­ri­er can help make man­ag­ing a pro­gram much eas­i­er. Addi­tion­al­ly, an employ­ee sur­vey will help you focus your efforts and accom­mo­date your employ­ees' imme­di­ate needs.
How to Remain Compliant?
As always, remain­ing com­pli­ant can be an unplanned bur­den on employ­ers. Whether you have a well­ness or well-being pro­gram, each has their own com­pli­ance con­sid­er­a­tions and require­ments to be aware of. How­ev­er, don't let that stop your orga­ni­za­tion from tak­ing action.
There are two types of pro­grams – Group Health Plans (GHP) and Non-Group Health Plans (Non-GHP). The well­ness reg­u­la­tions vary depend­ing on the type of employ­er and whether the pro­gram is con­sid­ered a GHP or Non-GHP.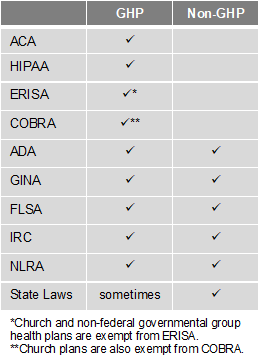 Employ­ers look­ing to avoid some of the com­pli­ance bur­den should design their well-being pro­gram to be a Non-GHP. Gen­er­al­ly, a well-being pro­gram is Non-GHP if it is offered to all employ­ees regard­less of their enroll­ment in the employer's health plan and does not pro­vide or pay for "med­ical care." For exam­ple, employ­ees receive $100 for attend­ing a class on nutri­tion. Here are some oth­er tips to keep your well-being pro­gram Non-GHP:
Finan­cial: Do not pay for med­ical ser­vices (e.g., flu shots, bio­met­ric screen­ings, etc.) or pro­vide med­ical care. Finan­cial incen­tives or rewards must be taxed. Do not pro­vide pre­mi­um dis­counts or surcharges.
Vol­un­tary Par­tic­i­pa­tion: Include all employ­ees, but do not man­date par­tic­i­pa­tion. Make activ­i­ties eas­i­ly acces­si­ble to those with dis­abil­i­ties or pro­vide a rea­son­able alter­na­tive. Make the pro­gram par­tic­i­pa­to­ry (i.e., edu­ca­tion­al, sem­i­nars, newslet­ters) rather than health-con­tin­gent (i.e., require par­tic­i­pants to get BMI below 30 or keep cho­les­terol below 200). Do not penal­ize indi­vid­u­als for not participating.
Health Infor­ma­tion: Do not col­lect genet­ic data, includ­ing fam­i­ly med­ical his­to­ry. Any med­ical records, or infor­ma­tion obtained, must be kept con­fi­den­tial. Avoid Health Risk Assess­ments (i.e. health sur­veys) that pro­vide advice and analy­sis with per­son­al­ized coach­ing or ask ques­tions about genetics/family med­ical history.

Orig­i­nal­ly Post­ed By www.ubabenefits.com
Hope DeRocha