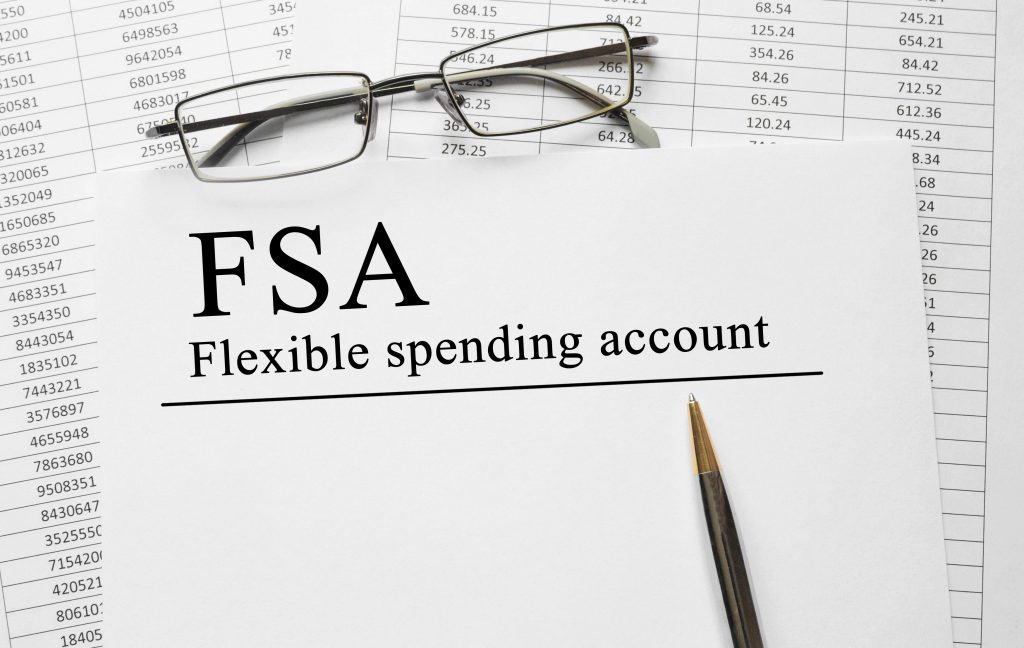 'Tis the Sea­son'. Like most, you 're prob­a­bly in the midst of the "hus­sle and bus­sle" of this hol­i­day sea­son with din­ners, par­ties, and activ­i­ties; Christ­mas shop­ping; and spend­ing those remain­ing FSA dol­lars you have allo­cat­ed this year.
Wait, what? Yes, you read right. Chances are, if you've opt­ed to uti­lize an employ­er-spon­sored FSA account in 2017, you may have remain­ing funds you'll need to spend. This is espe­cial­ly true if your employ­er opt­ed for the $500 car­ry­over rule in lieu of a grace peri­od. Regard­less of what flex­i­ble spend­ing account you have, here are some strate­gies to get the most out of this ben­e­fit before year end.
Med­ical Care
Med­ical FSAs are the most com­mon sup­ple­men­tal flex­i­ble cov­er­age offered under employ­er ben­e­fit plans. If you've elect­ed this cov­er­age for 2017, here are a few things to con­sid­er when spend­ing these funds.
Rou­tine and Elec­tive Med­ical Procedures
Whether rou­tine or not, now's the time to get appoint­ments booked. If your employ­er offers a grace peri­od for turn­ing in receipts, you can book appoint­ments into the first cou­ple of months of the New Year and get reim­bursed from this year's funds with­out affect­ing 2018's con­tri­bu­tions. This has a two-fold advan­tage, as you can also spread next year's deductible over the com­ing year.
Sev­er­al rou­tine and elec­tive pro­ce­dures that are FSA-eli­gi­ble include:
Lasik
Sleep Apnea/Snoring
Her­nia surgery
Colonoscopy
Smoking/Weight Loss Ces­sa­tion Programs
Alter­na­tive Therapies
Under IRS law, cer­tain alter­na­tive ther­a­pies are eli­gi­ble for reim­burse­ment. Acupunc­ture and chi­ro­prac­tic care, alter­na­tive med­i­c­i­nal treat­ments, and herbal sup­ple­ments and reme­dies are a great way to use up your funds for the year and get a lit­tle cash back when you most need it.
Den­tal
Den­tal ben­e­fits often work dif­fer­ent­ly than med­ical cov­er­age. Accord­ing to the Amer­i­can Den­tal Asso­ci­a­tion, this ben­e­fit is often capped annu­al­ly – gen­er­al­ly between $1,000 and $3,000. If you have unused funds remain­ing in your FSA, now may be the time to sched­ule a last-minute appoint­ment with your den­tist, espe­cial­ly if you might need seri­ous work down the road. This way, you can use up the funds remain­ing in your account by year-end, and reduce your out-of-pock­et expense next year by shar­ing the cost of addi­tion­al den­tal ser­vices over a longer peri­od of time.
Pre­scrip­tion Refills
Refill­ing your pre­scrip­tion med­ica­tions at year end are a great way to use up your funds in your med­ical FSA. Take inven­to­ry of your pre­scrip­tion drugs, toss out expired ones, and make that call for a refill to your doc­tor or pharmacy.
Over the Counter Drugs, Med­ical Equip­ment and Supplies
Many OTC med­ica­tions, med­ical equip­ment and sup­plies are eli­gi­ble for reim­burse­ment under a med­ical FSA. First-aid kits, blood-pres­sure mon­i­tors, ther­mome­ters, and joint braces are just a few. Please note that some will require a note or pre­scrip­tion from your doctor.
Mileage and Oth­er Health­care-Relat­ed Extras
Trav­el­ing to and from any med­ical facil­i­ty for appoint­ments or treat­ment are eli­gi­ble for reim­burse­ment under your FSA. This not only includes trav­el­ing by your own vehi­cle, but also by bus, train, plane, ambu­lance ser­vice; and does include park­ing fees and tolls.
In addi­tion, you can get reim­bursed for oth­er health-relat­ed expens­es. These include:
Lodg­ing and meals dur­ing a med­ical event.
Med­ical con­fer­ences con­cern­ing an ill­ness of you or one of your dependents.
Advance Pay­ments on a retire­ment home or long-term care.
Depen­dent Care
If you have opt­ed to con­tribute to a DCFSA, you can get reim­bursed for day care, preschool, sum­mer camps and non-employ­er spon­sored before and after school pro­grams. In addi­tion, funds con­tributed to this type of FSA can be used for elder­ly day­care if you're cov­er­ing more than 50% your parent's main­te­nance costs.
Adop­tion Assistance
If you are con­tribut­ing to an Adop­tion Assis­tance FSA offered by your employ­er, you can get reim­bursed for any expens­es incurred in the process of legal­ly adopt­ing an eli­gi­ble child. Eli­gi­ble expens­es include adop­tion fees, attor­ney fees and court costs, med­ical expens­es for a child pri­or to being placed for adop­tion, and relat­ed trav­el costs in asso­ci­a­tion with the adop­tion process.
Make the most out of your FSA con­tri­bu­tions by using the above strate­gies to your advan­tage as we close out 2017. As you move into 2018, review the max­i­mum con­tri­bu­tion guide­lines for the com­ing year as set by the IRS, and estab­lish a game plan on expen­di­tures next year. Seek your HR department's exper­tise for guide­lines and tips they can give you to max­i­mize this valu­able ben­e­fit package.