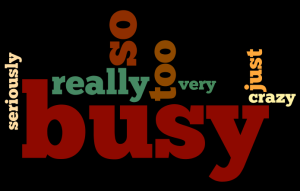 If you desire to have good time man­age­ment then you need to have a strat­e­gy or an action plan. Fol­low­ing these strate­gies will help you get the most out of your days.
First thing to do is Pri­or­i­tize your work.
Start each day by rank­ing the things that you much do. Start­ing with the most impor­tant and unpleas­ant tasks first, then go from there. Those things that can wait for lat­er that day should be list­ed towards the bot­tom of your list. Don't make your list too long because there are only so many hours in a day and you don't want to feel like you will nev­er get it all accomplished.
Sec­ond thing is to Assign Work Time Frame for each task.
At first this might not seem real­is­tic but it is most­ly so that you will have some sort of idea how long it will take to fin­ish each task. You will find that once you start a task, it won't real­ly take very long unless it is a big project. If so, then break it down so that you can see some progress.
Third Be Flexible.
Unex­pect­ed things come up from time to time so if you have to stop to take care of some oth­er mat­ter, do not wor­ry and stress out if you don't accom­plished a cer­tain task in the time frame you set. Just like the say­ing goes, "Rome was­n't built in a day" so make sure you allow for those time when things come up. Don't let these things such as phone calls, impor­tant emails,kids and life in gen­er­al frus­trate you, the impor­tant thing to remem­ber is that you are mak­ing progress on your list.
Fourth thing is to Say No if it isn't important.
Whether you work from home or out of the home there are things that can dis­tract us and waste time. Lim­it small talk with co-work­ers, fam­i­ly, friends, etc. while you are work­ing. Respect your deci­sion to make a plan and stick to it. Oth­ers will need to under­stand that if it isn't some­thing that needs to be tak­en care of right this minute then it can wait.
Fifth is to Delegate.
Remem­ber that you prob­a­bly can't do every­thing your­self so if there is a task that you might not be very good at or like doing and there is some­one that can do the task then by all means pass it on. In this way the task will get done and you won't waste time putting it off because you can't accom­plish it yourself.
Com­pro­mise when necessary.
As your day pro­gress­es the urgency of a task may also change. There may be times when your tasks will need to be re-pri­or­i­tized, resched­uled, post­poned or dropped alto­geth­er, mak­ing adjust­ments if things come up that needs your atten­tion is important.
Every­one has lim­i­ta­tions and if you real­ize what those are then you will know what you can work on lat­er to improve those skills or know in advance what tasks you will need help with.
Learn­ing to man­age your time is not to stress your day so remem­ber to relax and learn as you go. The more you prac­tice man­ag­ing your time, the bet­ter you will get at it. Time man­age­ment is so that you will take con­trol of your days and see how much you real­ly can accom­plish each day and then enjoy some time with fam­i­ly and friends. This is your only viable option no mat­ter where you are work­ing, this is the only way to accom­plish any­thing worthwhile.