The Supreme Court has grant­ed the peti­tion in Gob­eille v. Lib­er­ty Mutu­al Insur­ance Com­pa­ny, a case cen­tered on the issue of whether the Employ­ee Retire­ment Income Secu­ri­ty Act of 1974 (ERISA) pre­empts Ver­mon­t's health care data­base law as it was applied to a third-par­ty admin­is­tra­tor for a self-fund­ed ERISA plan. Ver­mont requires health care providers and pay­ers to pro­vide claims data and infor­ma­tion to a state health care data­base, which informs the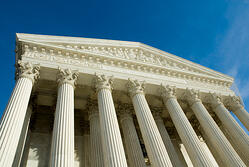 state on health care pol­i­cy. The Sec­ond Cir­cuit held that ERISA con­cerns were intrud­ed on by the state's record­keep­ing require­ments. The Sec­ond Cir­cuit held that under ERISA only a "slight report­ing bur­den" is per­mis­si­ble, and the Ver­mont require­ments were bur­den­some and time-consuming.
The Court will like­ly hear oral argu­ments on the case (or in the alter­na­tive, rely on brief­in­gs only), and ren­der a deci­sion in the Octo­ber 2015 term, which will end in ear­ly sum­mer 2016.
The Supreme Court will also rule in Mon­tanile v. Board of Trustees of the Nation­al Ele­va­tor Indus­try Health Ben­e­fit Plan on whether or not a law­suit by an ERISA fidu­cia­ry against a par­tic­i­pant to recov­er an alleged over­pay­ment seeks "equi­table relief" with­in the mean­ing of ERISA if the fidu­cia­ry has not iden­ti­fied a fund that is in the par­tic­i­pan­t's pos­ses­sion and con­trol at the time the fidu­cia­ry asserts its claims.
The Supreme Court has asked the Solic­i­tor Gen­er­al to file a brief express­ing the views of the Unit­ed States in a third case involv­ing ERISA: Smith v. Aegon Com­pa­nies Pen­sion Plan, which is a case involv­ing ERISA's venue pro­vi­sions, as it relates to litigation.
Anoth­er case relat­ing to report­ing, pay­ment, record­keep­ing, and audit require­ments on ERISA plan admin­is­tra­tors is on a "peti­tion watch list" and was dis­trib­uted for con­fer­ence on June 25, 2015. The case Self-Insur­ance Insti­tute of Amer­i­ca, Inc. v. Sny­der rose out of the 6th Cir­cuit and asks ques­tions regard­ing ERISA pre­emp­tion and whether it encom­pass­es pre­emp­tion against new state laws that "seek to exploit the core func­tions of ERISA plan admin­is­tra­tors." Whether or not the Supreme Court will decide to grant the peti­tion remains to be seen.