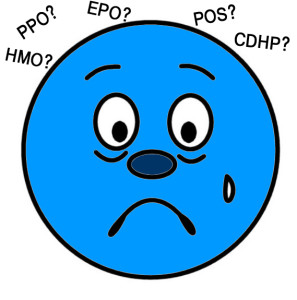 The UBA Health Plan Sur­vey tracks plans offered by region as well as enroll­ment by region. From a preva­lence per­spec­tive, pre­ferred provider orga­ni­za­tion (PPO) plans are most preva­lent in the Cen­tral U.S., though they gen­er­al­ly dom­i­nate nation­wide, except in the North­east where con­sumer-direct­ed health plans (CDH­Ps) are most prevalent.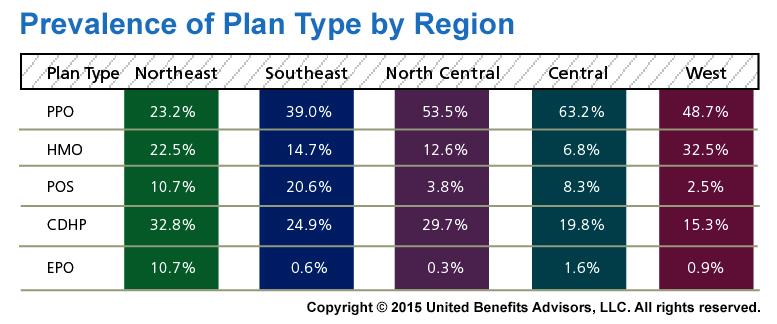 From an enroll­ment per­spec­tive, PPO plans have the great­est enroll­ment in the Cen­tral U.S. The South­east and North­east saw the biggest increase in PPO enroll­ment (7% and 8% respec­tive­ly) this year. Enroll­ment in health main­te­nance orga­ni­za­tions (HMOs) is down across most of the coun­try, but is on the rise in the Cen­tral and West­ern U.S. Point of ser­vice (POS) plan enroll­ment has stayed vir­tu­al­ly flat from last year. CDHP enroll­ment is high­est in the North­east U.S. at 29.2%, an increase of 11.5% over 2014. But the South­east saw near­ly a 23% increase in CDHP enroll­ment from 2014. Con­verse­ly, the North Cen­tral U.S. saw a 23.5% decrease in CDHP enrollment.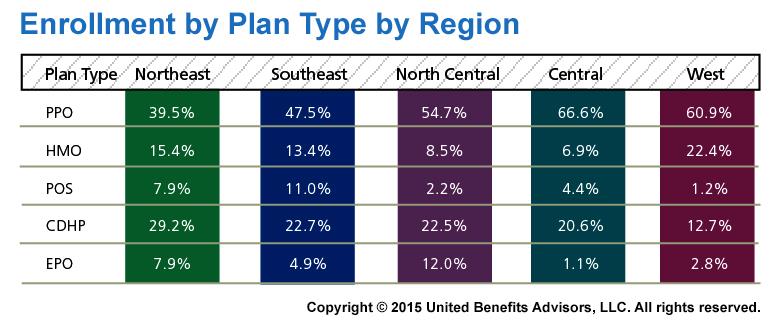 Some­times, plans offered by employ­ers are also equal­ly desired by employ­ees; in oth­er words, what is offered most is also what employ­ees opt to enroll in the most. For exam­ple, CDH­Ps and PPO plans are the most preva­lent plans in the North­east and also the top two plans employ­ees enroll in. But it is inter­est­ing to note that those employ­ees flip the order of their pref­er­ence, favor­ing PPO plans more than CDH­Ps, while CDH­Ps are most pop­u­lar among employ­ers. Employ­ers and employ­ees in the South­east, North Cen­tral and Cen­tral states most­ly see eye-to-eye when pri­or­i­tiz­ing PPO plans, fol­lowed by CDHP plans as a dis­tant sec­ond. In the West, employ­ees enroll in PPO plans at a far greater rate than the preva­lence rate of these plans among employers.
This infor­ma­tion can be very help­ful when choos­ing your plan offer­ings. Down­load the free 2016 Health Plan Sur­vey Exec­u­tive Sum­ma­ry for addi­tion­al infor­ma­tion on health plan cost trends across the U.S., includ­ing employ­er con­tri­bu­tions and costs for employees.
To bench­mark your plan against oth­ers in your region, indus­try or size brack­et, con­tact a UBA Part­ner near you to run a cus­tom bench­mark­ing report.