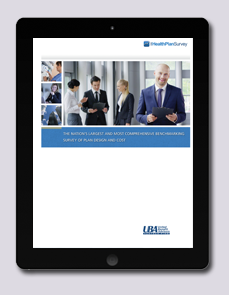 Since 2005, Unit­ed Ben­e­fit Advi­sors® (UBA) has sur­veyed thou­sands of employ­ers across the nation regard­ing their health plan offer­ings, their ongo­ing plan deci­sions in the face of sig­nif­i­cant leg­isla­tive and mar­ket­place changes, and the impact of these changes on their employ­ees and busi­ness­es. The UBA sur­vey rep­re­sents the nation's largest health plan bench­mark­ing sur­vey and the most com­pre­hen­sive source of reli­able bench­mark­ing data.
As always, the sur­vey revealed sev­er­al note­wor­thy trends and devel­op­ments that bear scruti­ny and the ongo­ing atten­tion of employ­ers inter­est­ed in mak­ing the most informed health care plan deci­sions pos­si­ble. For exam­ple, among the most strik­ing trends revealed by the sur­vey, employ­ers have over­whelm­ing­ly opt­ed for ear­ly renewals of their plans—a delay tac­tic that helped them avoid cost­ly Patient Pro­tec­tion and Afford­able Care Act (PPACA)-compliant plans and man­age costs. Anoth­er cost man­age­ment tac­tic employ­ers are using is to increase out-of-pock­et costs for employ­ees, with a "new nor­mal" emerg­ing for these high­er cost thresholds.
Employ­ers typ­i­cal­ly con­tin­ue to offer one pre­ferred provider orga­ni­za­tion (PPO) health plan option to employ­ees, while also still wide­ly offer­ing fam­i­ly cov­er­age. In addi­tion, well­ness pro­gram adop­tion seems to be in a hold­ing pat­tern, as pend­ing lit­i­ga­tion and reg­u­la­to­ry changes swirl on these offer­ings. Among employ­ers pro­vid­ing well­ness pro­grams, health risk assess­ments and incen­tives are increas­ing­ly com­mon offerings.
Plans in the North­east U.S. con­tin­ue to be the richest—and most expensive—and are at risk of being sub­ject to the loom­ing Cadil­lac tax. Gov­ern­ment employ­ees have the most gen­er­ous plans with the high­est costs—and they pay the least toward their over­all cov­er­age costs. Con­verse­ly, con­struc­tion indus­try employ­ees cost the least to cov­er but those employ­ees pay the most toward costs.
Regard­ing cost increas­es, the small­est employ­ers (0 to 49 employ­ees) saw the low­est increas­es, a sur­pris­ing break for them due to an unusu­al option they had over larg­er employ­ers to remain with non-PPACA-com­pli­ant plans. In short, this was a reprieve for a group that usu­al­ly faces the high­est increas­es. Self-fund­ing of plans, par­tic­u­lar­ly among small employ­ers, has not yet surged, but is still antic­i­pat­ed to do so as employ­ers run out of oth­er avoid­ance strategies.
The preva­lence of con­sumer-dri­ven health plans (CDH­Ps) con­tin­ues to grow, as does employ­ee enroll­ment in these plans, despite low­er con­tri­bu­tions to health sav­ings accounts (HSAs)?(which are often tied to CDH­Ps to entice par­tic­i­pa­tion). And, final­ly, pre­scrip­tion drug plans are increas­ing­ly offer­ing four or more tiers, along with ever-increas­ing copays—a trend that might fall off as they must all even­tu­al­ly tie to out-of-pock­et max­i­mums under PPACA.
For more infor­ma­tion to help you bench­mark your health plan, down­load the 2014 UBA Health Plan Sur­vey Exec­u­tive Sum­ma­ry or con­tact a local UBA Part­ner for a cus­tomized bench­mark­ing report.