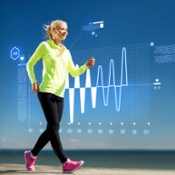 While well­ness pro­grams and offer­ings con­tin­ue to evolve among new trends and reg­u­la­tions, there are sev­en key com­po­nents that tend to dri­ve the most suc­cess­ful and effec­tive pro­grams we have seen with our clients.
Bio­met­ric Data Collection
Whether in the form of a bio­met­ric screen­ing event or annu­al phys­i­cal exam with a pri­ma­ry care provider, col­lect­ing bio­met­ric data (such as height, weight, blood pres­sure, blood sug­ar, hemo­glo­bin and cho­les­terol lev­els) is a key piece to any well­ness pro­gram. Iden­ti­fi­ca­tion of high risk bio­met­rics and poten­tial­ly undi­ag­nosed chron­ic dis­eases are crit­i­cal to get employ­ees engaged with prop­er care and treat­ment, but to also show progress and risk migra­tion over time.
Dis­ease Man­age­ment and Case Management
While many well­ness pro­grams have engaged health coach­es, we have found sig­nif­i­cant mer­it with spe­cif­ic dis­ease man­age­ment or case man­age­ment pro­grams to address the spe­cif­ic needs of the mem­ber pop­u­la­tion. Using col­lect­ed bio­met­rics to iden­ti­fy uncon­trolled chron­ic con­di­tions and get­ting employ­ees engaged with a dis­ease man­age­ment nurse that can assist with con­di­tion and med­ica­tion man­age­ment can have a greater impact on over­all dis­ease con­trol and pro­gres­sion. Sim­i­lar­ly, with case man­age­ment, the goal to engage par­tic­i­pants pri­or to major events such as hos­pi­tal­iza­tion, to bet­ter man­age risk and over­all spend. Tele­phon­ic coach­ing for high-risk indi­vid­u­als is on the rise, accord­ing to the UBA Health Plan Sur­vey. For the lat­est sta­tis­tics exam­in­ing well­ness pro­gram design among 19,557 health plans and 11,524 employ­ers, pre-order UBA's 2016 Health Plan Sur­vey Exec­u­tive Sum­ma­ry which will be avail­able to the pub­lic in late September.
Health Action Campaigns
While in recent years employ­ers have start­ed look­ing for more ways to show hard dol­lar sav­ings with well­ness pro­grams, we have begun see­ing a return to includ­ing com­po­nents of the "soft­er" side of well­ness, such as lunch and learns, phys­i­cal activ­i­ty chal­lenges, or gen­er­al edu­ca­tion top­ics. Although it may be more dif­fi­cult to show the impact and sav­ings asso­ci­at­ed with these pro­grams, the fact remains that employ­ees gen­er­al­ly enjoy and appre­ci­ate these types of pro­grams. Health action cam­paigns can pro­vide an easy entry into well­ness pro­grams for employ­ees that oth­er­wise may be hes­i­tant to join, and it meets the need of pro­vid­ing infor­ma­tion and options for those healthy and low­er risk mem­bers not involved with dis­ease or case management.
Com­mu­ni­ca­tion Portal
A clear com­mu­ni­ca­tion plan, includ­ing con­sis­tent mes­sag­ing and brand­ing and a main source of infor­ma­tion, is a key com­po­nent to keep­ing the well­ness pro­gram mov­ing through­out the year. A well­ness por­tal is often use­ful for this task, as well as hous­ing key par­tic­i­pant infor­ma­tion includ­ing incen­tive track­ing. There are numer­ous options for por­tal ven­dors, and employ­ers have had suc­cess with build­ing a well­ness page as part of an exist­ing Intranet page. Estab­lish­ing a well­ness com­mit­tee or well­ness cham­pi­ons is help­ful for relay­ing com­mu­ni­ca­tion and gen­er­at­ing engage­ment from var­i­ous depart­ments with­in an organization.
Incen­tive Structure
While the goal of every employ­er would be to have its employ­ees intrin­si­cal­ly moti­vat­ed to improve their own heath, employ­ees often need some extrin­sic moti­va­tion to get them start­ed. Whether in the form of health sav­ings account (HSA) con­tri­bu­tions, pre­mi­um reduc­tions or var­i­ous oth­er incen­tives, sim­plic­i­ty is essen­tial. Adding com­plex details, mul­ti­ple dates, and rules com­pli­cates the pro­gram and often dri­ves employ­ees to only seek the details to qual­i­fy for the rewards, instead of mak­ing changes and being invest­ed in their own health. For both par­tic­i­pa­tion-based and out­come-based pro­grams, an easy-to-under­stand and inter­pret incen­tive struc­ture will help to engage employ­ees in the over­all pro­gram. To under­stand legal require­ments for well­ness pro­grams, par­tic­u­lar­ly as it relates to incen­tive struc­ture, request UBA's ACA Advi­sor, "Under­stand­ing Well­ness Pro­grams and Their Legal Require­ments," which reviews the five most crit­i­cal ques­tions that well­ness pro­gram spon­sors should ask and work through to deter­mine the oblig­a­tions of their well­ness pro­gram under the ACA, HIPAA, ADA, GINA, and ERISA, as well as con­sid­er­a­tions for well­ness pro­grams that involve tobac­co use in any way.
Senior Lead­er­ship Support
The one key com­po­nent to any pro­gram that you can't buy – but that could ulti­mate­ly be most crit­i­cal to the suc­cess of the pro­gram – is the sup­port from senior lead­er­ship. This could take the form of com­mu­ni­ca­tion of their com­mit­ment to employ­ee well-being, engage­ment in the pro­grams, and task­ing man­agers to sup­port the pro­gram are all crit­i­cal items to the long-term suc­cess of any pro­gram. With­out clear sup­port and engage­ment, par­tic­i­pa­tion is like­ly to remain with those already com­mit­ted to well­ness and lessen the impact on those who could ben­e­fit most from the programs.
Data Ana­lyt­ics and Pro­gram Evaluation
Every pro­gram should start and end with data ana­lyt­ics. Using data to first iden­ti­fy the risks with­in the pop­u­la­tion and med­ical spend waste with­in the plan sup­ports the devel­op­ment and imple­men­ta­tion of a care­ful­ly thought out strat­e­gy. Clear met­rics and goals for all ven­dor part­ners can be estab­lished and data analy­sis on a quar­ter­ly or annu­al basis allows us to see the progress and suc­cess (or lack there­of) of inter­ven­tions and pro­grams with­in the population.
Orig­i­nal­ly post­ed by Unit­ed Ben­e­fit Advi­sors — Read More