By Bill Olson
Chief Mar­ket­ing Offi­cer at Unit­ed Ben­e­fit Advisors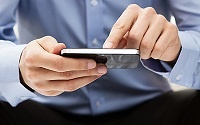 If you haven't noticed, news­pa­pers are shrink­ing in size. Few­er peo­ple, espe­cial­ly the younger demo­graph­ic of 18- to 40-year-olds, read them and this espe­cial­ly applies to when they're search­ing for jobs. Employ­ers who con­tin­ue to use only the old­er meth­ods of recruit­ment – clas­si­fied ads and job boards – may not attract the most cov­et­ed appli­cants due to them not see­ing the post­ing, or worse, feel­ing that the com­pa­ny look­ing to fill the posi­tion is old-fash­ioned and not tech­no­log­i­cal­ly up to date.
Accord­ing to an arti­cle on the web­site of Soci­ety For Human Resource Man­age­ment titled, "The Most Sought-After Tal­ent Pre­fer Mobile Recruit­ment," almost 70% of appli­cants labeled as "high-poten­tials" were attract­ed more to com­pa­nies with mobile recruit­ing options ver­sus just over 50% of oth­er appli­cants. Anoth­er com­par­i­son of high-poten­tials shows that about 75% use mobile devices when search­ing for jobs while only 40% of oth­er poten­tial employ­ees do.
Because most peo­ple tend to do every­thing on their tablets or smart­phones, it makes sense that search­ing for a job would just be anoth­er addi­tion to that list. The arti­cle bears that out, not­ing that con­ve­nience is one of the pri­ma­ry rea­sons that high-poten­tials do this. Besides con­ve­nience, anoth­er ben­e­fit not­ed is that infor­ma­tion can be obtained quick­ly via mobile device and high-poten­tials can respond faster to job postings.
The arti­cle states that every­one, at some point, will use a mobile device when job hunt­ing, but those who are high-poten­tials take it to the next lev­el. Every­thing from research­ing com­pa­nies, receiv­ing job alerts, fill­ing out job appli­ca­tions, and even tak­ing assess­ments was more like­ly to be done by a high-poten­tial can­di­date on a mobile device. Fur­ther­more, high-poten­tials were near­ly two times as like­ly to pre­fer text mes­sages and com­mu­ni­ca­tion through social media (e.g., LinkedIn).
So, what's the mes­sage to employ­ers? If you want to attract top tal­ent, then you must uti­lize mobile recruit­ing. Employ­ers can build such a pro­gram by inte­grat­ing all their job search func­tions, such as list­ings, appli­ca­tions, assess­ment tests, etc. on a mobile plat­form. They also need to make it sim­ple and stream­lined. As the arti­cle states, you don't want a can­di­date who's a high-poten­tial to skip through your job recruit­ing process due to frustration.