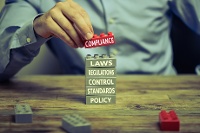 Our Firm is mak­ing a big push to pro­vide com­pli­ance assess­ments for our clients and using them as a mar­ket­ing tool with prospects. Since the U.S. Depart­ment of Labor (DOL) began its Health Ben­e­fits Secu­ri­ty Project in Octo­ber 2012, there has been increased scruti­ny. While none of our clients have been audit­ed yet, we expect it is only a mat­ter of time and we want to make sure they are prepared.
We knew most ful­ly-insured groups did not have a Sum­ma­ry Plan Descrip­tion (SPD) for their health and wel­fare plans, but we have been sur­prised by some of the oth­er things that were miss­ing. Here are the top five com­pli­ance sur­pris­es we found.
COBRA Ini­tial Notice. The ini­tial notice is a core piece of com­pli­ance with the Con­sol­i­dat­ed Omnibus Bud­get and Rec­on­cil­i­a­tion Act (COBRA) and we have been very sur­prised by how many clients are not dis­trib­ut­ing this notice. Our clients using a third-par­ty admin­is­tra­tor (TPA), or self-admin­is­ter­ing COBRA, are doing a good job of send­ing out the required let­ters after qual­i­fy­ing events. How­ev­er, we have found that many clients are not dis­trib­ut­ing the required COBRA ini­tial notice to new enrollees. The DOL has recent­ly updat­ed the COBRA mod­el notices with expi­ra­tion dates of Decem­ber 31, 2019. We are try­ing to get our clients to update their notices and, if they haven't con­sis­tent­ly dis­trib­uted the ini­tial notice to all par­tic­i­pants, to send it out to every­one now and doc­u­ment how it was sent and to whom.
Pre­scrip­tion Drug Plan Report­ing to CMS. To com­ply with the Medicare Pre­scrip­tion Drug Improve­ment and Mod­ern­iza­tion Act, passed in 2003, employ­er groups offer­ing pre­scrip­tion ben­e­fits to Medicare-eli­gi­ble indi­vid­u­als need to take two actions each year. The first is an annu­al report on the Cen­ters for Medicare & Med­ic­aid Ser­vices (CMS) web­site regard­ing whether the pre­scrip­tion drug plan offered by the group is cred­itable or non-cred­itable. The sec­ond is dis­trib­ut­ing a notice annu­al­ly to Medicare-eli­gi­ble plan mem­bers pri­or to the Octo­ber 15 begin­ning of Medicare open enroll­ment, dis­clos­ing whether the pre­scrip­tion cov­er­age is cred­itable or non-cred­itable. We have found that the vast major­i­ty (but not 100 per­cent) of our clients are com­ply­ing with the sec­ond require­ment by annu­al­ly dis­trib­ut­ing notices to employ­ees. Many clients are not com­ply­ing with the first require­ment and do not go to the CMS web­site annu­al­ly to update their infor­ma­tion. The annu­al notice on the CMS web­site must be made within:
60 days after the begin­ning of the plan year,
30 days after the ter­mi­na­tion of the pre­scrip­tion drug plan, or
30 days after any change in the cred­itabil­i­ty sta­tus of the pre­scrip­tion drug plan.
ACA Notice of Exchange Rights. The Patient Pro­tec­tion and Afford­able Care Act (ACA) required that, start­ing in Sep­tem­ber 2013, all employ­ers sub­ject to the Fair Labor Stan­dards Act (FLSA) dis­trib­ute writ­ten notices to all employ­ees regard­ing the state exchanges, eli­gi­bil­i­ty for cov­er­age through the employ­er, and whether the cov­er­age was qual­i­fy­ing cov­er­age. This notice was to be giv­en to all employ­ees at that time and to all new hires with­in 14 days of their date of hire. We have found many groups have not includ­ed this notice in the infor­ma­tion they rou­tine­ly give to new hires. The DOL has acknowl­edged that there are no penal­ties for not dis­trib­ut­ing the notice, but since it is so easy to com­ply, why take the chance in case of an audit?
USERRA Notices. The Uni­formed Ser­vices Employ­ment and Reem­ploy­ment Rights Act (USERRA) pro­tects the job rights of indi­vid­u­als who vol­un­tar­i­ly or invol­un­tar­i­ly leave employ­ment for mil­i­tary ser­vice or ser­vice in the Nation­al Dis­as­ter Med­ical Sys­tem. USERRA also pro­hibits employ­ers from dis­crim­i­nat­ing against past and present mem­bers of the uni­formed ser­vices. Employ­ers are required to pro­vide a notice of the rights, ben­e­fits and oblig­a­tions under USERRA. Many employ­ers meet the oblig­a­tion by post­ing the DOL's "Your Rights Under USERRA" poster, or includ­ing text in their employ­ee hand­book. How­ev­er, even though USERRA has been around since 1994, we are find­ing many employ­ers are not pro­vid­ing this information.
Sec­tion 79. Inter­nal Rev­enue Code Sec­tion 79 pro­vides reg­u­la­tions for the tax­a­tion of employ­er-pro­vid­ed life insur­ance. This code has been around since 1964, and while there have been some changes, the basics have been in place for many years. Despite the length of time it has been in place, we have found a num­ber of groups that are not cal­cu­lat­ing the imput­ed income. In essence, if an employ­er pro­vides more than $50,000 in life insur­ance, then the employ­ee should be pay­ing tax on the excess cov­er­age based on the IRS's age rat­ed table 2–2. With many employ­ers out­sourc­ing their pay­roll or using soft­ware pro­grams for pay­roll, cal­cu­lat­ing the imput­ed income usu­al­ly only takes a cou­ple of mouse clicks. How­ev­er, we have been sur­prised by how many employ­ers are not com­ply­ing with this part of the Inter­nal Rev­enue Code, and are there­fore putting their employ­ees' ben­e­fi­cia­ries at risk.
There have been oth­er sur­pris­es through this process, but these are a few of the more strik­ing exam­ples. The feed­back we received from our com­pli­ance assess­ments has been over­whelm­ing­ly pos­i­tive. Groups don't always like to change their process­es, but they do appre­ci­ate know­ing what needs to be done.
By Bob Bentley
Orig­i­nal­ly pub­lished by www.ubabenefits.com