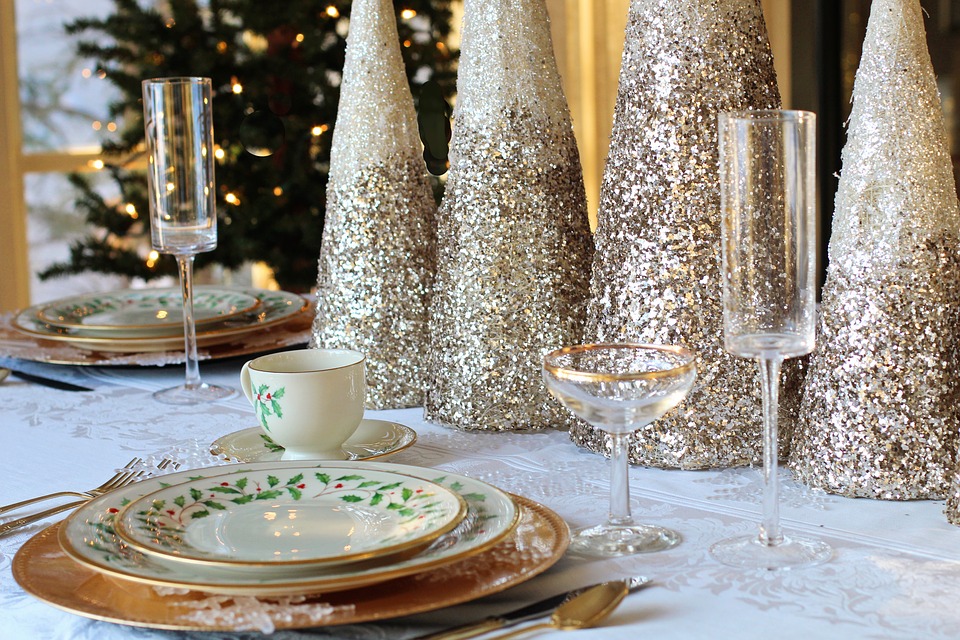 The end of the year is upon us and a major­i­ty of com­pa­nies cel­e­brate with an end-of-year/hol­i­day par­ty. Although the trend of hol­i­day par­ties has dimin­ished in recent years, it's still a good idea to com­mem­o­rate the year with an office perk like a fun, fes­tive party.
BENEFITS OF A YEAR-END CELEBRATION
Hol­i­day staff par­ties are a per­fect way to thank your employ­ees for a great year. All employ­ees want to feel appre­ci­at­ed and val­ued. What bet­ter way to serve this pur­pose, than with an end of the year office cel­e­bra­tion. Host­ing a night out to hon­or your employ­ees dur­ing a fes­tive time of year boosts morale. And if done right, your par­ty can jump start the new year with refreshed, pro­duc­tive employees.
End-of-year cel­e­bra­tions allow employ­ees to come togeth­er out­side of their own team. The aver­age Amer­i­can will spend 90,000 hours (45 years) of their life at work. Unless you have a very small office, most employ­ees only engage in rela­tion­ships with­in their depart­ment. When employ­ees have a chance to min­gle out­side of their reg­u­lar 9 to 5 day, they'll build and cul­ti­vate rela­tion­ships across dif­fer­ent teams with­in the orga­ni­za­tion; cre­at­ing a more loy­al, cohe­sive and moti­vat­ed culture.
Sea­son­al par­ties can pro­vide employ­ers insight on those who work for them. Spend­ing the evening with your employ­ees in a more casu­al and relaxed atmos­phere may reveal tal­ents and ideas you may not have oth­er­wise seen dur­ing tra­di­tion­al work hours.
CREATING THE RIGHT FIT
Regard­less of office size, if planned right, employ­ers can make a hol­i­day par­ty pop, no mat­ter your bud­get. Whether this is your first go at an end-of-year cel­e­bra­tion for your employ­ees, or you host one every year, keep a few things in mind:
Plan ear­ly. Estab­lish a steer­ing com­mit­tee to gen­er­ate ideas for your hol­i­day par­ty. Allow the com­mit­tee to involve all employ­ees ear­ly on in the process. Uti­lize vot­ing tools like Sur­vey Mon­key or Out­look to com­pile employ­ee votes. This engages not only your entire work­force, but serves you as well when tai­lor­ing your par­ty to fit your culture.
Cre­ate set activ­i­ties. Engag­ing employ­ees in some type of orga­nized activ­i­ty not only eas­es any social anx­i­ety for them and their guests, it cul­ti­vates mem­o­ries and allows col­leagues to get to know each oth­er. Con­sid­er a "Casi­no Night", a pho­to booth (or two if your com­pa­ny can jus­ti­fy to size), an escape room outing—anything that will kick the night off with ease.
Incor­po­rate enter­tain­ment dur­ing the din­ner. Have team leads or man­age­ment mem­bers come up with fun awards that empha­size char­ac­ter traits, strengths, and tal­ents oth­ers may not know of. This is a great way to cre­ate cohe­sive­ness, build rela­tion­ships, and have your employ­ees enjoy a good laugh at dinner.
Offer fun door prizes every 15 min­utes or so. Prizes don't have to be expen­sive to have an impact on employ­ees, just rel­e­vant to them. How­ev­er, with the right plan­ning you may be able to throw in a raf­fle of larg­er gift items as well. Just keep in the spe­cif­ic tax rules when it relates to gift-giv­ing. Gift cards asso­ci­at­ed with a spe­cif­ic dol­lar amount avail­able to use at any estab­lish­ment, and larg­er tick­et items, can be sub­ject to your employ­ees hav­ing to claim income on them and pay the tax.
Make the dress code inclu­sive of every­one. Employ­ees should not feel a finan­cial pinch to attend a hol­i­day office par­ty. Estab­lish a dress code that fits your cul­ture, not the oth­er way around.
TAKE AWAY TIPS FOR A SUCCESSFUL HOLIDAY PARTY
Accord­ing to the Soci­ety of Human Resource Man­age­ment, sta­tis­tics show in recent years only 65% of employ­ers have offered hol­i­day parties—down from 72% five years ago. Con­sid­er the fol­low­ing tips when host­ing your next year-end celebration.
Keep it light. Elim­i­nate itin­er­aries and board-room like struc­ture. Choose to sep­a­rate productivity/award cel­e­bra­tions and upcom­ing year pro­jec­tions from your hol­i­day party.
Invite spous­es and sig­nif­i­cant oth­ers to attend the par­ty. Employ­ees spend a major­i­ty of their week with their col­leagues. Giv­ing employ­ees this option is a great way to show you val­ue who they spend their time with out­side of work.
Allow employ­ees to leave ear­ly on a work day to give them time to get ready and pick up who is attend­ing the par­ty with them.
Show how you val­ue your employ­ees by chat­ting with them and meet­ing their guests.
Pro­vide com­fort­able seat­ing areas where employ­ees can rest, eat and talk. Posi­tion these in main action areas so no one feels anti-social for tak­ing a seat somewhere.
Con­sid­er tying in employ­ees that work in dif­fer­ent loca­tions. Have a slideshow run­ning through­out the night on what events oth­er office loca­tions have done through­out the year.
Cre­ate low-key con­ver­sa­tion starters and get peo­ple to chat it up. This is valu­able espe­cial­ly for those that are new to the com­pa­ny and guests of your employ­ees. Incor­po­rate triv­ia ques­tions into the décor and table set­tings. Get them to engage by tying in a prize.
Keep the tastes and com­fort lev­el of your employ­ees in mind. Include a vari­ety of menu items that fit dietary restric­tions. Not all employ­ees drink alco­hol and not all employ­ees eat meat.
Lim­it alco­hol to a 2 tick­et sys­tem per guest. Opt for a cash bar after that to reduce liability.
Pro­vide access to accom­mo­da­tions or coor­di­nate trans­porta­tion like Uber or Lyft to get your employ­ees some­where safe­ly after the par­ty if they choose to drink.
Ulti­mate­ly, hol­i­day par­ties can still be a val­ue-add for your employ­ees if done the right way. Feel free to change it up from year to year so these par­ties don't get stale and con­tin­ue to fit to your company's cul­ture. Con­tem­plate new venues, ideas and activ­i­ties and change up your steer­ing com­mit­tee to keep these par­ties fresh. Employ­ees are more like­ly to enjoy them­selves at an event that fits with their lifestyle, so don't be afraid to get creative!