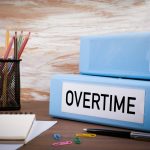 All the hul­la­baloo about the poten­tial new Depart­ment of Labor over­time rules was for naught as the imple­men­ta­tion of the law has been delayed again. Pres­i­dent Trump's Depart­ment of Jus­tice (DOJ) request­ed exten­sions to the appeal process to deter­mine its strat­e­gy and final­ize its stand­point on the pro­posed reg­u­la­tions. Some polit­i­cal experts the­o­rize that the need for an exten­sion is the result of delays in Pres­i­dent Trump's appoint­ment of a Sec­re­tary of Labor. The President's first nom­i­nee, Andrew Puzder, with­drew and con­fir­ma­tion hear­ings for his sec­ond nom­i­nee, Alexan­der Acos­ta, have not been scheduled.
Here's where we are so far:
Decem­ber 2016 was the effec­tive date, but it was delayed by court order in Novem­ber 2016.
Obama's DOJ request­ed expe­dit­ed review to get the law pushed through but Trump's DOJ request­ed an exten­sion; exten­sion granted.
Trump's DOJ request­ed anoth­er exten­sion, unop­posed, and it was granted.
In the legal world the result of these delays is that the appeal will not be ful­ly briefed until May 1, 2017. This means the law is to enact­ment as War­ren Beat­ty is to envelopes — no one knows what's going on (at least until May) and the con­fu­sion may con­tin­ue to go unre­solved with no clear date of resolution.
What to Do Now
In the mean­time, employ­ers should be informed about how the rule, if imple­ment­ed, would impact their work­place. You can read our blog post to learn more. As always, ensure that your com­pa­ny main­tains com­pli­ance with cur­rent over­time rules and reg­u­la­tions, and use this time of legal inde­ci­sion as an oppor­tu­ni­ty to review your prac­tices and poli­cies in accor­dance with state and fed­er­al wage pay­ment laws.
By Saman­tha Yur­man, JD
Orig­i­nal­ly pub­lished by www.thinkhr.com