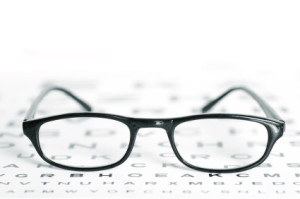 Accord­ing to the Amer­i­can Opto­met­ric Asso­ci­a­tion's (AOA) 2015 Amer­i­can Eye‑Q sur­vey, 41 per­cent of par­ents say their kids spend three or more hours per day using dig­i­tal devices, and 66 per­cent of kids have their own smart­phone or tablet.
It's clear chil­dren's use of dig­i­tal tech­nol­o­gy con­tin­ues to be an inte­gral part of their lives in both the class­room and at home, and it's pre­dict­ed that by 2028 — the year in which kids enter­ing kinder­garten this fall will grad­u­ate high school — many schools will rely heav­i­ly on com­put­er sim­u­la­tions for instruc­tion and will even incor­po­rate vir­tu­al worlds into curriculum.
While these advances in the class­room may enhance learn­ing, many dig­i­tal devices are still rel­a­tive­ly new, and the long-term effects on young eyes are not yet ful­ly known. Most of today's com­mon­ly-used devices give off high-ener­gy, short-wave­length, blue and vio­let light, which may affect chil­dren's vision and even pre­ma­ture­ly age their eyes. Ear­ly research even shows that over­ex­po­sure to this blue light could con­tribute to eye strain and dis­com­fort and may lead to seri­ous con­di­tions lat­er in life, such as age-relat­ed mac­u­lar degen­er­a­tion (AMD), which can cause blindness.
The first step in tak­ing care of chil­dren's eyes is for par­ents to sched­ule a com­pre­hen­sive eye exam for chil­dren pri­or to the begin­ning of each school year to check eye health and vision. Chil­dren now have the ben­e­fit of annu­al com­pre­hen­sive eye exams, thanks to the Pedi­atric Essen­tial Health Ben­e­fit in the Afford­able Care Act, through age 18. The AOA rec­om­mends chil­dren have an eye exam by an optometrist soon after six months of age, again at age three and annu­al­ly thereafter.
With so much time spent on dig­i­tal devices, it is also more impor­tant than ever for par­ents to watch for signs of dig­i­tal eye strain in chil­dren. Symp­toms can include burn­ing, itchy or tired eyes, headaches, fatigue, loss of focus, blurred vision, dou­ble vision or head and neck pain. To pro­tect their eyes and vision while using dig­i­tal devices, par­ents should encour­age chil­dren to take fre­quent visu­al breaks by prac­tic­ing the 20–20-20 rule: when using tech­nol­o­gy or doing near work, take a 20-sec­ond break, every 20 min­utes and view some­thing 20 feet away.
To find an optometrist in your area, or for addi­tion­al infor­ma­tion on chil­dren's vision and the impor­tance of back-to-school eye exams, please vis­it aoa.org.