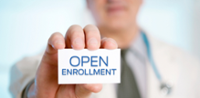 In pre­vi­ous posts, I have talked about sev­er­al aspects of strate­gic ben­e­fits com­mu­ni­ca­tion. Now it's time to put those strate­gies into action. As we approach enroll­ment sea­son, let's look at five key steps to ensur­ing this year's open enroll­ment is suc­cess­ful for you and your employees.
1. Deter­mine your key objectives
What do employ­ees need to know this enroll­ment sea­son? As you review your ben­e­fit plan designs, think once again about your key objec­tives, and for each, how you will make employ­ees aware and keep them engaged. What are the chal­lenges employ­ees face when mak­ing their ben­e­fits decisions?
Are you rolling out new med­ical plan options? Does this include HDHP options? An HSA? Are there changes in pre­mi­ums and con­tri­bu­tion levels?
Are there any changes to oth­er lines of cov­er­age such as den­tal, life insur­ance, dis­abil­i­ty insurance?
Are you adding new vol­un­tary plans this year? How do they inte­grate with your med­ical plans? Do they plug gaps in high deductibles and out-of-pock­et expens­es? Are there exist­ing vol­un­tary plans with low participation?
Are there oth­er impor­tant top­ics to share with employ­ees, like new well­ness pro­grams, or health-dri­ven employ­ee events?
Once you've gath­ered this infor­ma­tion, you can devel­op a com­mu­ni­ca­tion strat­e­gy that will bet­ter engage employ­ees in the ben­e­fits deci­sion-mak­ing process.
2. Per­fect your script
What do you know about your employ­ee demo­graph­ics? Diver­si­ty doesn't refer only to age or gen­der. It could mean fam­i­ly size, dif­fer­ences in phys­i­cal demands of the job, income lev­els, or sim­ply lifestyle. It isn't a one-size-fits-all world any­more. As you edu­cate employ­ees on ben­e­fits, you will want to give exam­ples that fit their lives.
You will also want to keep the expla­na­tions as sim­ple as pos­si­ble. Use as much plain lan­guage as you can, as opposed to "insur­ance speak" and acronyms. Ben­e­fit plans are already an over­whelm­ing deci­sion, and as we have seen in our research, employ­ees still don't ful­ly under­stand their options.
3. Use a mul­ti-faceted com­mu­ni­ca­tions strategy
Sun Life research and expe­ri­ence has shown that the most appre­ci­at­ed and effec­tive strate­gies incor­po­rate mul­ti­ple method­olo­gies. One help­ful tac­tic is to get a jump-start on enroll­ment com­mu­ni­ca­tion. As enroll­ment sea­son approach­es, try dynam­ic pre-enroll­ment emails to all employ­ees, using videos or brochures. Once on-site enroll­ment begins, set up group meet­ings based on employ­ee demo­graph­ics. This will arm employ­ees with bet­ter knowl­edge and pre­pared ques­tions for their one-to-one meet­ing with a ben­e­fits counselor.
Con­sid­er hard-to-reach employ­ees as well, and keep your web­sites updat­ed with help­ful links and pro­vide con­tacts who are avail­able by phone for addi­tion­al support.
Also, look to open enroll­ment as a good time to fill any employ­ee data gaps you may have, like ben­e­fi­cia­ries, depen­dents, or emer­gency contacts.
4. Check your tech!
We have talked in pre­vi­ous posts about lever­ag­ing ben­e­fits admin­is­tra­tion tech­nol­o­gy for effec­tive com­mu­ni­ca­tions. For open enroll­ment, espe­cial­ly when you may be intro­duc­ing new vol­un­tary insur­ance plans, it is impor­tant to check your tech­nol­o­gy. I rec­om­mend this eval­u­a­tion take place at least 6 to 8 weeks before open enroll­ment if possible.
Work­ing with your UBA advi­sor, plat­form ven­dor and insur­ance car­ri­ers, some key considerations:
Pro­vide vol­un­tary prod­uct spec­i­fi­ca­tions from your car­ri­er to your plat­form ven­dor. It is impor­tant to check up front that the plat­form can han­dle prod­uct rules such as issue age and age band pric­ing, age reduc­tion, benefit/tier changes and guar­an­tee issue rules. Also, con­firm how the sys­tem will han­dle evi­dence of insur­a­bil­i­ty pro­cess­ing, if needed.
Elec­tron­ic Data Inter­face (EDI). Con­firm with your plat­form part­ner as well as insur­ance car­ri­ers that there is an EDI set-up process that includes test­ing of file feeds. This is a vital step to ensure seam­less inte­gra­tion between your ben­e­fits admin­is­tra­tion plat­form, pay­roll and the insur­ance carriers.
User Expe­ri­ence. Often ben­e­fits admin­is­tra­tion plat­forms are very effec­tive at mov­ing data and help­ing you man­age your company's ben­e­fits. As we have dis­cussed, when it comes to your employee's open enroll­ment user expe­ri­ence, there can be some chal­lenges. Espe­cial­ly when you are offer­ing vol­un­tary ben­e­fits. Con­firm with your ven­dor what, if any, deci­sion sup­port tools are avail­able. Also, check with your vol­un­tary car­ri­ers. These could range from ben­e­fit cal­cu­la­tors, prod­uct videos, and even log­ic-dri­ven presentations.
5. Keep it going
Even when enroll­ment sea­son is over, ongo­ing ben­e­fits com­mu­ni­ca­tions are a cen­tral tool to keep­ing employ­ees informed, edu­cat­ed, and engaged. The small win­dow of enroll­ment sea­son may not be long enough for peo­ple to get a full grasp of their ben­e­fits needs, and often their deci­sions are dri­ven by what is eas­i­ly under­stood or what they think they need based on oth­er people's choic­es. Ongo­ing com­mu­ni­ca­tions can be about spe­cif­ic ben­e­fits, well­ness pro­grams, or oth­er health and ben­e­fit relat­ed items. This prac­tice will also help new hires who need to make ben­e­fits deci­sions rather quickly.
In sum­ma­ry, work with your UBA con­sul­tant to cus­tomize ben­e­fits and enroll­ment com­mu­ni­ca­tions. Lever­age resources from your provider, who may, as Sun Life does, offer turnkey ser­vices that sup­port com­mu­ni­ca­tion, engage­ment, and enroll­ment. Explore third-par­ty ven­dors that offer plat­forms to sup­port the process. The whole thing can seem daunt­ing, but fol­low­ing these steps and con­sid­er­a­tions will not only make the process eas­i­er for you, it will make a world of dif­fer­ence to your employees.
Orig­i­nal­ly pub­lished by www.ubabenefits.com