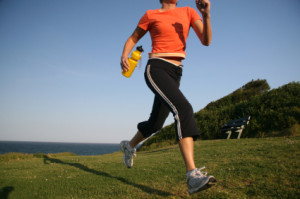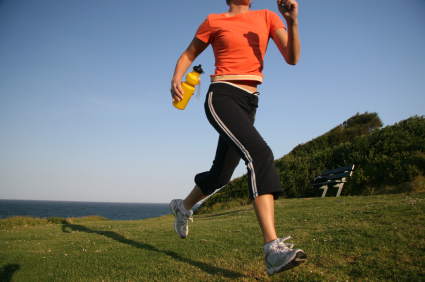 Wel­come to Sep­tem­ber — which if you were not aware is the appoint­ed "Self Improve­ment Month", so we must ask our­selves "Why wait until Jan­u­ary to tack­le and defeat any bad habits that the long hot sum­mer allowed us to indulge in?". Sure the sum­mer was filled with plen­ty of long lazy days and ice cream but with the cool­er and more man­age­able weath­er approach­ing, get­ting our­selves out­side to exer­cise is eas­i­er than ever. The added bonus of being out­side dur­ing this sea­son is being able to watch and expe­ri­ence the chang­ing col­ors of the fau­na — it will make for a super pret­ty back­drop for any stroll or walk.
It's nev­er too ear­ly or too late to be healthy, but not every­one knows where to start. A com­bi­na­tion of diet, exer­cise and healthy sup­ple­ments can go a long way toward improv­ing the qual­i­ty of your life. And the preva­lence of social media means that you're nev­er alone in your efforts.
Fol­low these steps to help get you start­ed on a road to bet­ter health:
Eat Wise­ly and Well
A healthy diet is the foun­da­tion of a healthy lifestyle. In par­tic­u­lar, start­ing the day with a healthy break­fast has many ben­e­fits. Data from mul­ti­ple stud­ies have shown that peo­ple who eat break­fast are less like­ly to overeat and snack lat­er in the day. Break­fast does­n't have to be bor­ing or taste­less either. Gra­nola cere­als, such as Sys­tem LS Rise gra­nola, are high in fiber and pro­tein. In par­tic­u­lar, Sys­tem LS Rise fea­tures organ­ic ancient chia seeds and bar­ley malt. Also, think out­side the box (cere­al box, that is). Break­fast can be a break­fast bar, a pro­tein shake or even left­over piz­za from last night.
Be Smart About Supplements
Some­times diet isn't quite enough, espe­cial­ly for those who eat more meals on the go. In those sit­u­a­tions, a mul­ti­vi­t­a­min designed to help sup­port the immune sys­tem and pro­vide miss­ing nutri­ents can help fill the void. Sup­ple­ments make sure your body is get­ting what it needs to be healthy.
Build Your Sup­port System
Improv­ing your health can be a strug­gle, and a lit­tle encour­age­ment goes a long way. Today's social media out­lets pro­vide mul­ti­ple options for seek­ing advice, as well as shar­ing health tips and infor­ma­tion. For exam­ple, the Sys­tem LS Face­book page pro­vides a place to com­ment on health and nutri­tion, share ideas and get moti­vat­ed by read­ing suc­cess stories.
Get Mov­ing
Mod­er­ate exer­cise can yield a mul­ti­tude of health ben­e­fits, from improv­ing mood, to low­er­ing cho­les­terol, to build­ing bone den­si­ty. Oth­er ben­e­fits of exer­cise include main­tain­ing a healthy weight and boost­ing your ener­gy (because your heart and lungs are work­ing more effi­cient­ly). In addi­tion, exer­cise can enhance your sex life by improv­ing your ener­gy and appear­ance, which will also boost your self-con­fi­dence. Have trou­ble sleep­ing? Exer­cise may be the cure.