By Bill Olson
Chief Mar­ket­ing Offi­cer at Unit­ed Ben­e­fit Advisors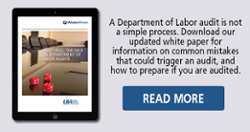 Not many things incite more fear than receiv­ing a notice that you're about to have an audit, espe­cial­ly from the Depart­ment of Labor (DOL). The DOL is a cab­i­net-lev­el depart­ment of the U.S. fed­er­al gov­ern­ment respon­si­ble for occu­pa­tion­al safe­ty, wage and hour stan­dards, unem­ploy­ment insur­ance ben­e­fits, re-employ­ment ser­vices, and some eco­nom­ic sta­tis­tics. It is head­ed by the U.S. Sec­re­tary of Labor.
What can trig­ger a DOL audit? Usu­al­ly it's one of two things — either a com­plaint, which leads to an inves­ti­ga­tion, or it's total­ly ran­dom. While a DOL audit may or may not be trig­gered by the fol­low­ing, there are cer­tain ways in which employ­ers expose them­selves to unnec­es­sary risks:
Not sub­mit­ting Form 5500 reports on time if they have 100 or more participants
Not hav­ing Sum­ma­ry Plan Descrip­tions (SPDs) for each Employ­ee Retire­ment Income Secu­ri­ty Act (ERISA) cov­ered ben­e­fit or not using an SPD wrap doc­u­ment. Read more on the per­ils of neglect­ing writ­ten poli­cies and pro­ce­dures.
Not com­plet­ing all the var­i­ous annu­al employ­ee noti­fi­ca­tions such as Medicare Part D, Children's Health Insur­ance Pro­gram (CHIP), Men­tal Health Par­i­ty Act (MHPA), New­borns' and Moth­ers' Health Pro­tec­tion Act (NMHPA), Women's Health and Can­cer Rights Act (WHCRA), Patient Pro­tec­tion and Afford­able Care Act (ACA), Health Insur­ance Porta­bil­i­ty and Account­abil­i­ty Act (HIPAA), Health Exchange, etc.
Not gen­er­at­ing Sum­ma­ry of Mate­r­i­al Mod­i­fi­ca­tion (SMM) when­ev­er there are mate­r­i­al changes to ben­e­fits and then not sav­ing these SMMs for future reference
Not keep­ing Sec­tion 125 Pre­mi­um Only Plan (POP) and flex­i­ble spend­ing account (FSA) doc­u­ments cur­rent and accurate
Not fil­ing Form 1095/1094 reports in a time­ly fash­ion, or if hav­ing con­flict­ing infor­ma­tion on these reports
Not prop­er­ly fol­low­ing the con­trolled group rules for own­ers of mul­ti­ple organizations
Audit-proof your com­pa­ny with UBA's lat­est white paper: Don't Roll the Dice on Depart­ment of Labor Audits. This free resource offers valu­able infor­ma­tion about how to pre­pare for an audit, the best way to accli­mate staff to the audit process, what the DOL wants, and the most impor­tant ele­ments of com­ply­ing with requests.