http://www.northbaybusinessjournal.com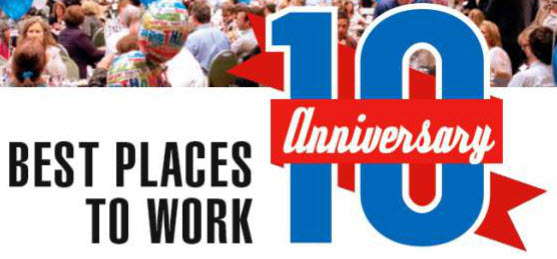 A record 103 com­pa­nies and orga­ni­za­tions have earned a spot in the Busi­ness Journal's 10th annu­al Best Places to Work in the North Bay.
The recip­i­ents, who will be rec­og­nized at an awards recep­tion Sept. 30 and fea­tured in a spe­cial sec­tion of the pub­li­ca­tion, include eight 10-time win­ners and near­ly two dozen first-time win­ners includ­ing such promi­nent North Bay com­pa­nies as Jack­son Fam­i­ly Wines, Rap­tor Phar­ma­ceu­ti­cals, Mike's Bikes, GC Micro and Amer­i­can AgCredit.
"We are over-the-top thrilled with this year's recip­i­ents," said Busi­ness Jour­nal Pub­lish­er Brad Bollinger. "The recip­i­ents cov­er a broad range of indus­tries and range from small com­pa­nies to the region's largest tech­nol­o­gy com­pa­ny, Keysight Technologies.
"This pro­gram start­ed out humbly in 2006 with 24 win­ners and here we are today with more than 100. And once again, it's not because we made it eas­i­er. These win­ners rose to the chal­lenge with an aver­age employ­ee sat­is­fac­tion score that was high­er than last year."
The awards are co-pre­sent­ed by found­ing under­writer Nel­son along with under­writ­ers Exchange Bank and Kaiser Permanente.
The 10-time win­ners are Burr Pil­ger May­er, Exchange Bank, First Com­mu­ni­ty Bank, Ghi­rar­do CPA, Kaiser Permanente's San­ta Rosa Med­ical Cen­ter and San Rafael Med­ical Cen­ter, Red­wood Cred­it Union and Val­ley Tire & Brake.
"These are eight very spe­cial orga­ni­za­tions," Bollinger said. "To be select­ed any year is an achieve­ment. To do so for 10 con­sec­u­tive years through a bru­tal reces­sion and years of rapid change is tes­ti­mo­ny to the endur­ing strength of these organizations."
The recip­i­ents are select­ed based on the results of anony­mous employ­ee sur­veys and a review by the Jour­nal edi­to­r­i­al staff of work­er com­ments and com­pa­ny appli­ca­tions. More than 8,000 sur­veys were sub­mit­ted, and the win­ning com­pa­nies rep­re­sent near­ly 16,800 employees.
The win­ners are, list­ed alphabetically:
Adobe Asso­ciates
All Amer­i­can Containers
Amer­i­can AgCredit
Arrow Ben­e­fits Group
AUL Corp.
Bank of Marin
Bank of Napa
Becom­ing Independent
Best Col­lat­er­al
BKF Engi­neers
Bois­set Fam­i­ly Estates
Bradley Real Estate
Burr Pil­ger Mayer
Carlile Macy
The Cen­ter for Social and Envi­ron­men­tal Stewardship
Cen­tu­ry 21 North Bay Alliance
Chop's Teen Club
Claim­Reme­di
Coast Land­scape Management
Cod­ding
Cold­well Banker Bro­kers of the Valley
Com­mit­tee on the Shelterless
Com­mu­ni­ty Child Care Coun­cil of Sono­ma County
Costeaux French Bakery
Coun­cil on Aging
Dal Pogget­to & Company
DH Wine Compliance
Don Sebas­tiani & Sons
Dri­veSavers Data Recov­ery, eDis­cov­ery and Dig­i­tal Forensics
EO Prod­ucts
EPIC Insur­ance Bro­kers & Consultants
Exchange Bank
First Amer­i­can Home Buy­ers Protection
First Com­mu­ni­ty Bank
Friede­mann Goldberg
GC Micro
George Petersen Insur­ance Agency
Ghilot­ti Bros.
Ghi­rar­do CPA
Glass­door
Health Ser­vices Integration
Hen­nessy Advisors
The Hit­men Ter­mite & Pest Control
Hogan Land Services
Inn Marin and Rickey's Restaurant
Jack­son Fam­i­ly Wines
Kaiser Per­ma­nente San Rafael Med­ical Center
Kaiser Per­ma­nente San­ta Rosa Med­ical Center
KCC
Keysight Tech­nolo­gies
Kiosk
La Tor­tilla Factory
LEMO
Linken­heimer
M.A. Sil­va USA
Mariz­co Land­scape Management
Men­gali Accountancy
Mid­state Construction
Mike's Bikes
Moss Adams
Mr. Root­er Plumbing
Nova Group
O'Brien Wat­ters & Davis
O'Reilly Media
Park­point Health Clubs
Pep­per­wood
Per­ry, John­son, Ander­son, Miller & Moskowitz
Petaluma Health Center
Petaluma Peo­ple Ser­vices Center
Pisen­ti & Brinker CPAs & Advisors
Pri­vate Ocean
ProTransport‑1
Quat­troc­chi Kwok Architects
Rap­tor Pharmaceuticals
Red­wood Cred­it Union
Red­wood Empire Schools Insur­ance Group
The Repub­lic of Tea
San­ta Rosa Cham­ber of Commerce
San­ta Rosa Com­mu­ni­ty Health Centers
Schurter
Scott Tech­nol­o­gy Group
Sequoia Senior Solutions
Smith Dol­lar
Social Advo­cates for Youth
Son­ic
Sono­ma Coun­ty Children's Village
Sono­ma Marin Area Rail Transit
Sono­ma Technology
St. Fran­cis Win­ery & Vineyards
Star Staffing
Sum­mit Engineering
Sum­mit State Bank
Ter­ra Fir­ma Glob­al Partners
Val­ley Tire & Brake of San­ta Rosa
Vantreo Insur­ance Brokerage
Vino­Pro
Vion­ic Group
Volt Work­force Solutions
W. Bradley Electric
Whistlestop
Woodruff-Sawyer & Co.
World Cen­tric
WRA Envi­ron­men­tal Consultants