By Bill Olson
Chief Mar­ket­ing Offi­cer at Unit­ed Ben­e­fit Advisors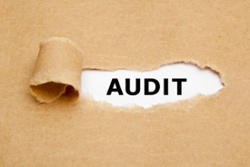 As the like­li­hood of an audit from the U.S. Depart­ment of Labor increas­es, every orga­ni­za­tion should be pre­pared so that this poten­tial dis­as­ter can be han­dled with con­fi­dence. Con­duct­ing a mock audit can be key part of your pre­ven­tion and prepa­ra­tion strategy.
As with any major issue of gov­ern­ment com­pli­ance, it's often nec­es­sary to meet with the appro­pri­ate man­age­ment and staff of a com­pa­ny and famil­iar­ize them with the entire audit process. Those who will meet with the audi­tor should be coached
 to under­stand that they need to answer any ques­tion truth­ful­ly, but don't go any fur­ther. Some­times when peo­ple are ner­vous, they have a ten­den­cy to ram­ble or a need to explain their answer. This should be avoid­ed at all costs. Michael J. Cramer, JD, Com­pli­ance Offi­cer at Bene­flex Insur­ance Ser­vices (a UBA Part­ner Firm), says that a great way to help reduce the poten­tial anx­i­ety dur­ing an inter­view by a DOL audi­tor is to hold a mock inter­view and that the employer's attor­ney and advi­sor go through this with you. This will help most per­son­nel to feel con­fi­dent and com­fort­able dur­ing the process. Also, if the audi­tor asks a ques­tion, or requests infor­ma­tion that does not per­tain to your orga­ni­za­tion, nev­er hes­i­tate to say that it's "not applic­a­ble." This is bet­ter than try­ing to make an answer fit or worse, not answer­ing the ques­tion at all. Dean­na John­son, Direc­tor of Com­pli­ance at Ben­e­fit Insur­ance Mar­ket­ing (a UBA Part­ner Firm), stress­es that if the staff doesn't under­stand a ques­tion on the audit, or is not sure what the ques­tion is tru­ly ask­ing, then they should ask the audi­tor before they arrive to clar­i­fy what they need rather than make an assumption.
Sim­i­lar to just answer­ing the ques­tion and only the ques­tion, Josie Mar­tinez, Senior Part­ner and Gen­er­al Coun­sel at EBS Cap­stone (a UBA Part­ner Firm), notes to nev­er pro­vide more doc­u­men­ta­tion than what is request­ed. She adds that once you have all the doc­u­men­ta­tion in place, iden­ti­fy the spe­cif­ic document(s) that responds to the request and then high­light the exact loca­tion on that doc­u­ment. After all, what good is giv­ing them a box of doc­u­ments and telling the audi­tor, "good luck, it's in there." The goal is to get the audi­tor out of your office as quick­ly as possible.
Whether it's your company's legal depart­ment, senior staff, or any oth­er group of employ­ees, make sure to empathize with their con­cern dur­ing a DOL audit. No mat­ter how well pre­pared you and your com­pa­ny may be, there is bound to be some trep­i­da­tion. Assum­ing you are indeed pre­pared for a DOL audit, remem­ber that con­fi­dence breeds con­fi­dence. Show your employ­ees that the sit­u­a­tion is well in hand and they have noth­ing to fear.
To fur­ther prep your team and min­i­mize resource drain, UBA is offer­ing new white paper that can help employers:
Learn how to audit-proof your company
Avoid the worst mis­take you can make
Con­duct a mock audit
Get an audi­tor out of your office as quick­ly as possible
After down­load­ing the new UBA white paper "Don't Roll the Dice on Depart­ment of Labor Audits", be sure to also request UBA's audit check­list and sam­ple inter­view questions!