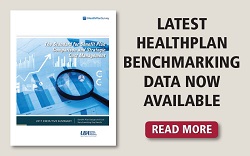 The find­ings of our 2017 Health Plan Sur­vey show a con­tin­u­a­tion of steady trends and some sur­pris­es. It's no sur­prise, how­ev­er, that costs con­tin­ue to rise. The aver­age annu­al health plan cost per employ­ee for all plan types is $9,934, an increase from 2016, when the aver­age cost was $9,727. There are sig­nif­i­cant cost dif­fer­ences when you look at the data by plan type.
Cost Detail by Plan Type

PPOs con­tin­ue to cost more than the aver­age plan, but despite this, PPOs still dom­i­nate the mar­ket in terms of plan dis­tri­b­u­tion and employ­ee enroll­ment. PPOs have seen an increase in total pre­mi­ums for sin­gle cov­er­age of 4.5% and for fam­i­ly cov­er­age of 2.2% in 2017 alone.
HMOs have the low­est total annu­al cost at $8,877, as com­pared to the total cost of a PPO of $10,311. Con­verse­ly, CDHP plan costs have risen 2.2% from last year. How­ev­er, CDHP preva­lence and enroll­ment con­tin­ues to grow in most regions, indi­cat­ing inter­est among both employ­ers and employees.
Across all plan types, employ­ees' share of total costs rose 5% while employ­ers' share stayed near­ly the same. Employ­ers are also fur­ther mit­i­gat­ing their costs by reduc­ing pre­scrip­tion drug cov­er­age, and rais­ing out-of-net­work deductibles and out-of-pock­et maximums.
More than half (54.8%) of all employ­ers offer one health plan to employ­ees, while 28.2% offer two plan options, and 17.1% offer three or more options. The per­cent­age of employ­ers now offer­ing three or more plans decreased slight­ly in 2017, but still main­tains an over­all increase in the last five years as employ­ers are work­ing to offer expand­ed choic­es to employ­ees either through pri­vate exchange solu­tions or by sim­ply adding high, medium‑, and low-cost options; a trend UBA Part­ners believe will con­tin­ue. Not only do employ­ees get more options, but employ­ers also can intro­duce low­er-cost plans that may attract enroll­ment, low­er their costs, and meet ACA afford­abil­i­ty requirements.
By Bill Olson
Orig­i­nal­ly post­ed by www.UBABenefits.com