By Nan­cy Bourque
HR Prac­tice Leader at Unit­ed Ben­e­fit Advisors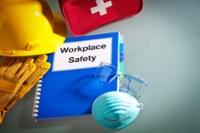 Begin­ning in 2017, cer­tain employ­ers with as few as 20 employ­ees at a sin­gle site will be required to elec­tron­i­cal­ly file infor­ma­tion about employ­ee injuries and acci­dents that occurred in the pri­or year. This means that, for many employ­ers, injuries and ill­ness­es occur­ring in 2016 will be sub­ject to this change.
Employ­ers of as few as one employ­ee have always been required, under the Occu­pa­tion­al Safe­ty and Health Act (OSHA), to report work-relat­ed in-patient hos­pi­tal­iza­tions and deaths. And, employ­ers with at least 10 employ­ees at a sin­gle site have been required to main­tain and annu­al­ly post a Form 300A log with­in their facil­i­ty. These new reg­u­la­tions will place increased demands on hun­dreds of thou­sands of employ­ers, but of greater con­cern is that OSHA intends to make pub­lic the infor­ma­tion it collects.
OSHA's agen­da is, quite sim­ply, employ­er sham­ing. The quote from the OSHA web­site states:
OSHA believes that pub­lic dis­clo­sure will encour­age employ­ers to improve work­place safe­ty and pro­vide valu­able infor­ma­tion to work­ers, job seek­ers, cus­tomers, researchers and the gen­er­al public.
Why should this be a con­cern? One rea­son is that employ­ers are required to report inci­dents that are out­side of their con­trol, includ­ing car acci­dents and heart attacks. These occur­rences can neg­a­tive­ly impact an employ­er's image to appli­cants and cus­tomers. Fur­ther, such inci­dents are reportable even if they are lat­er found to be not attrib­ut­able to the employ­er. A sec­ond issue is that labor unions can mine data and use the infor­ma­tion in orga­ni­za­tion efforts. Sim­i­lar­ly, com­peti­tors will have vis­i­bil­i­ty into rival busi­ness­es. Final­ly, Form 300A report­ing includes mul­ti­ple iden­ti­fiers that may present chal­lenges with HIPAA, espe­cial­ly in less pop­u­lat­ed areas.
View UBA's Com­pli­ance Advi­sor, "OSHA's Final Rule on Elec­tron­ic Track­ing of Work­place Injuries and Ill­ness­es" for sev­en cur­rent prac­tices that are affect­ed as well as key dates relat­ed to this rule.