By Geoff Mukhtar
Com­mu­ni­ca­tions Man­ag­er at Unit­ed Ben­e­fit Advisors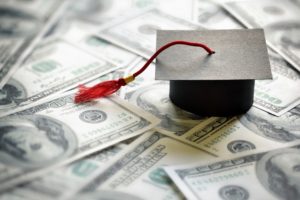 Today, most new full-time hires expect a com­pa­ny to offer cer­tain stan­dard ben­e­fits – health, den­tal, vision, and life insur­ance, paid vaca­tion and sick days, and a 401(k) or pen­sion. Some com­pa­nies go beyond this and pro­vide oth­er ben­e­fits such as prof­it shar­ing, park­ing reim­burse­ment, mobile phone reim­burse­ment, well­ness pro­grams, and even on-site day­care. So what does the future hold for employ­ees when it comes to their expec­ta­tions of a tra­di­tion­al ben­e­fits package?
In an arti­cle titled, "Stu­dent Loan Repay­ment Pro­grams Are 'The Next 401(k)'" on the web­site Employ­ee Ben­e­fit News, it claims that the next big thing in employ­ee ben­e­fits is stu­dent loan repay­ment. In fact, they view this as not just a fad, but some­thing that will stick giv­en the high cost of tuition and its appeal to every­one in the work­force. Yes, you read that last part cor­rect­ly. You may think that tuition reim­burse­ment would only be an attrac­tive ben­e­fit to those who are just enter­ing the work­force, but peo­ple old­er than 39 cur­rent­ly have 35% of all stu­dent debt. Plus, grad­u­ate pro­grams may be cov­ered and so might be loans tak­en by par­ents to help pay for their kid's education.
As of 2015, based on data from the Soci­ety for Human Resource Man­age­ment, only about 3% of employ­ers cur­rent­ly offer the ben­e­fit, but that's expect­ed to increase sharply. Accord­ing to the arti­cle, the rea­son is that tuition reim­burse­ment is a con­cept you don't have to "sell" to deci­sion mak­ers like you would a com­pli­cat­ed health plan. They already know today's grad­u­ates are strug­gling to repay their stu­dent debt.
A side advan­tage of adding tuition reim­burse­ment to a company's ben­e­fits pack­age is that, by remov­ing the stress of repay­ing a stu­dent loan, employ­ees will be more apt to con­tribute to their 401(k) or oth­er cor­po­rate retire­ment plan. As com­pa­nies look for ways to dif­fer­en­ti­ate them­selves when recruit­ing new employ­ees, this ben­e­fit appears to have sig­nif­i­cant traction.