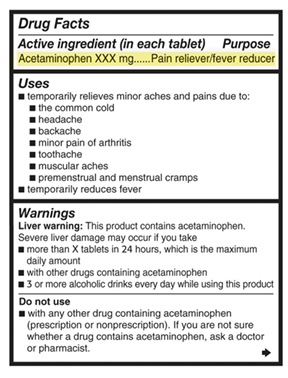 Amer­i­cans catch approx­i­mate­ly 1 bil­lion colds each year, and the Cen­ters for Dis­ease Con­trol and Pre­ven­tion esti­mates that as many as 20 per­cent of peo­ple in the U.S. will get the flu this cold and flu sea­son. A major­i­ty of peo­ple (sev­en in 10) will use over-the-counter (OTC) med­i­cines to treat their symp­toms, and many of these med­i­cines con­tain acetaminophen.
Aceta­minophen is the most com­mon drug ingre­di­ent in Amer­i­ca, found in more than 600 pre­scrip­tion (Rx) and OTC med­i­cines, includ­ing pain reliev­ers, fever reduc­ers and many cough, cold and flu med­i­cines. It's safe and effec­tive when used as direct­ed, but tak­ing more than the max­i­mum dai­ly dose of 4,000 mil­ligrams is an over­dose and can lead to liv­er damage.
The Aceta­minophen Aware­ness Coali­tion (AAC), a group of lead­ing health, health care provider and con­sumer orga­ni­za­tions, is remind­ing con­sumers to dou­ble-check their med­i­cine labels to avoid dou­bling up on aceta­minophen this winter.
"Cold and flu sea­son is a very impor­tant time to remind patients to be dili­gent about read­ing their med­i­cine labels and know­ing the ingre­di­ents in their med­i­cines," said Anne Nor­man, APRN, DNP, FNP-BC, Asso­ciate Vice Pres­i­dent of Edu­ca­tion at the Amer­i­can Asso­ci­a­tion of Nurse Prac­ti­tion­ers, a found­ing orga­ni­za­tion of the AAC. "Peo­ple may use a med­i­cine to treat their cold or flu symp­toms on top of a med­i­cine they are already tak­ing, not real­iz­ing that both might con­tain acetaminophen."
The AAC's Know Your Dose cam­paign reminds con­sumers to fol­low four med­i­cine safe-use steps:
1. Always read and fol­low the med­i­cine label.
2. Know if med­i­cines con­tain aceta­minophen, which is list­ed on the front pan­el of pack­ag­ing and in bold type or high­light­ed in the "active ingre­di­ents" sec­tion of OTC med­i­cine labels, and some­times list­ed as "APAP" or "acetam" on Rx labels.
3. Nev­er take two med­i­cines that con­tain aceta­minophen at the same time.
4. Ask your health care provider or a phar­ma­cist if you have ques­tions about dos­ing instruc­tions or med­i­cines that con­tain acetaminophen.