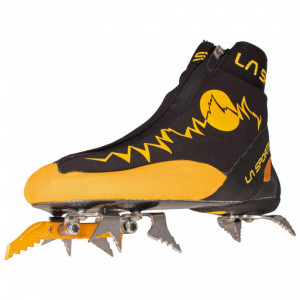 Ques­tion: "Will my sport cause me prob­lems in pur­chas­ing new life insurance?"
Answer: in most cas­es no, but there are some hob­bies that may be a prob­lem for the under­writ­ers in the insur­ance company.
Here is a list of sev­en high-risk sports that are prob­lem­at­ic when it comes to get­ting life insurance.
1. Ice climb­ing. Unlike their moun­tain-climb­ing coun­ter­parts, ice climbers are in con­stant dan­ger of caus­ing a self-inflict­ed stab wound from one of their razor-sharp cram­pons, which is their No. 1 source of injury. Not to men­tion the pos­si­bil­i­ty that the ice they are climb­ing may crack and take them down with it.
2. Free run­ning. Free run­ning is jump­ing from roof to roof at max­i­mum speed. No ropes, no para­chute, no insur­ance. Free run­ning is prac­ticed in urban areas that fea­ture lots of rail­ings and con­crete walls for par­tic­i­pants to jump, flip and tum­ble over in an acro­bat­ic fash­ion. I call it run, jump, bleed.
3. Base jump­ing. Talk about insane! I don't like look­ing down from a tall build­ing, and I cer­tain­ly have no desire to jump into the unknown from any height. Yes, I can remem­ber when I was a kid and want­ed to fly like super­man, but a base jumper? No way. By the way, base-jump­ing is ille­gal in the U.S., unless it's being per­formed by a pro­fes­sion­al at an event, so not only will you not get insur­ance, but you may end up in jail.
4. Heli-ski­ing. A ski­er is dropped from a heli­copter onto fresh white pow­der in a remote sec­tion of the moun­tains, a place where there is no oth­er way to get there. There's a pos­si­bil­i­ty of start­ing an avalanche or falling through an ice patch, and if you do, it may be near impos­si­ble to get rescued.
5. Street luge. Loose­ly described, this is the equiv­a­lent of lying on your skate­board and hav­ing your friend push you down Lom­bard Street in San Fran­cis­co. Rid­ers on street luge boards can reach 70 mph.
6. Big-wave surf­ing. Surfers dream of rid­ing the "big" wave and are will­ing to trav­el around the world to catch one, and by big I mean the 50-foot mon­ster. What are the risks? Bro­ken bones, drown­ing, shark attacks. No thanks. I will watch this on TV.
7. Cliff div­ing. Have you thought about jump­ing off a 90-foot cliff? Into water that will feel like con­crete when you hit it? The biggest issue is not hit­ting the water, because you may hit the side of the cliff on the way down; or slam against the rocks in the ocean below you. You could also break a hip or incur a spinal cord injury by land­ing feet first in the water. If it was me, I would die of a heart attack on the way down.
So yes, there are sports for which only the very brave or fool­ish should par­tic­i­pate in, but if you do, don't expect to buy pre­ferred-rat­ed life insur­ance or per­haps any life insurance.