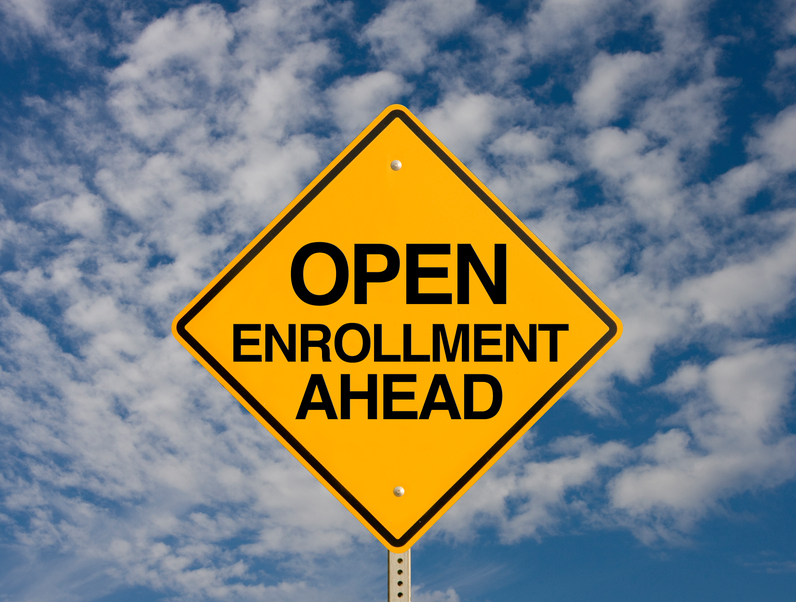 Fall. With it comes cool­er tem­per­a­tures', falling leaves, warm sea­son­al scents like turkey and pump­kin pie, and Open Enroll­ment. It goes with­out say­ing; employ­ees who under­stand the effec­tive­ness of their ben­e­fits are much more pleased with those pack­ages, hap­pi­er with their employ­ers, and more engaged in their work. So, as your com­pa­ny gears up for a new year of nav­i­gat­ing Open Enroll­ment, here are a few points to keep in mind to make the process smoother for both employ­ees and your ben­e­fits depart­ment. Bonus: it will light­en the load for both par­ties alike dur­ing an already stress-induced season.
Com­mu­ni­cate Open Enroll­ment Using a Vari­ety of Mediums
Adver­tise 2018 ben­e­fit changes to employ­ees by using a vari­ety of medi­ums. The more reminders and expla­na­tion of ben­e­fits staff mem­bers have using more than one mode of media, the more like­ly employ­ees will go into Open Enroll­ment with more knowl­edge of your company's ben­e­fit options and when they need to have these options com­plet­ed for the new year.
Con­sid­er explain­er videos to sim­pli­fy the amount of emails and paper­work indi­vid­u­als need to review come Open Enroll­ment time. These videos can increase the bot­tom line as well, elim­i­nat­ing the high cost of print material.
Opt for plac­ards placed through­out your high-traf­fic areas. Com­mu­ni­cate ben­e­fit options and remind employ­ees of Open Enroll­ment dates for the new year by post­ing in such areas as the lob­by, break room and bath­room stalls.
Choose SMS tex­ting. Today, over 97% of indi­vid­u­als use text. Nine­ty-eight per­cent of those that use text open mes­sages with­in the first three min­utes of receiv­ing them; 6–8 times high­er than the engage­ment rate for email. Deliv­er­ing a con­cise mes­sage to employ­ees' mobile devices cre­ates more touch points along the Open Enroll­ment jour­ney. The key, how­ev­er, is mak­ing it quick so as to entice your employ­ees to take action.
Pro­mote apps and in-app tools. Push noti­fi­ca­tions and apps like Remind 101 can help dri­ve employ­ee engage­ment dur­ing Open Enroll­ment sea­son sim­ply by pro­vid­ing short mes­sages remind­ing them to enroll. Noti­fi­ca­tions like these can also be tai­lored to unique employ­ee groups based on loca­tion, job lev­el, eli­gi­bil­i­ty sta­tus and more.
Uti­lize Mobile Apps and Web Por­tals for Open Enrollment
Now that your com­pa­ny has com­mu­ni­ca­tion down pat for Open Enroll­ment, sim­pli­fy the ardu­ous task employ­ees have of enrolling for the com­ing year by going paper­less. Uti­lize web por­tals through ben­e­fit bro­kers and com­pa­nies like ADP to elim­i­nate the has­sle of employ­ees hav­ing to fill out paper­work both at renew­al, and at the time of hire. With near­ly three quar­ters of indi­vid­u­als in the Unit­ed States check­ing their phone once an hour and 90% per­cent of this time is spent using one app or anoth­er as a main source of com­mu­ni­ca­tion, mobile apps can make ben­e­fits engage­ment much eas­i­er due to the anywhere/anytime acces­si­bil­i­ty they offer.
The per­son­al perks are for employ­ees are great too! Staff mem­bers with a major lifestyle event can make ben­e­fit adjust­ments quick­ly with the ease of mobile apps. Employ­ees rec­og­nize this valu­able and time-sav­ing trend and enjoy hav­ing this infor­ma­tion at their fingertips.
Open Enroll­ment sea­son can be a stress­ful time but hope­ful­ly these tips will help for a smoother tran­si­tion into the next year for your busi­ness. Sim­ple things like using explain­er videos, plac­ing reminders in high traf­fic areas and uti­liz­ing mobile apps and text mes­sag­ing can save time and stress in the long run for your employ­ees and ben­e­fit department.