By Math­ew Augus­tine, GPHR, REBC, CEO of Han­na Glob­al Solu­tions, a UBA Part­ner Firm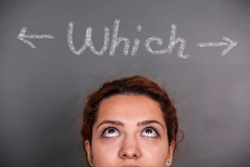 Exit or remain, wel­come refugees or build a wall to keep them out, guns or no guns, black or white, include all or be exclu­sive… the list of extreme posi­tions that peo­ple are tak­ing goes on and on. What is dri­ving this sud­den increase in polar­ized think­ing in the world? The world was get­ting small­er, tech­nol­o­gy was sup­posed to "lev­el the play­ing field," and peo­ple were sup­posed to become more con­nect­ed. What hap­pened to the "it's a small world after all" think­ing we hoped to grow up to realize?
There is a sur­feit of com­plex­i­ty in the world, and we are under more and more pres­sure from this com­plex­i­ty. We can­not live in our sim­ple silos of think­ing any more. There is more trav­el, more migra­tion, more inter­ac­tion between peo­ple who come from dif­fer­ent life sit­u­a­tions and his­to­ry. As these com­plex sys­tems col­lide, it cre­ates even more com­plex prob­lems to which there are no sim­ple solutions.
Yet we search for sim­ple solu­tions. We come to real­ize that there is a lim­it to the com­plex­i­ty that can be tol­er­at­ed by a nor­mal human mind. The reduc­tion of com­plex domes­tic and for­eign pol­i­cy strate­gies into text that scores at a fourth-grade read­ing lev­el, and the nave sound bites that seem to make the world sim­ple and ring with truth, have filled our world pol­i­tics for over a decade. We search for sim­plic­i­ty, and when we find it, are will­ing to pay an addi­tion­al price for it. We pay more for a phone with just one but­ton. We can see that less is more.
How­ev­er, this desire for sim­plic­i­ty can lead to some com­plex prob­lems. The Brex­it vote is an exam­ple of what appeared to be a sim­ple ref­er­en­dum where peo­ple were asked to vote for Britain to exit or remain in the Euro­pean Union. In real­i­ty, it required that sim­ple peo­ple with a lim­it­ed appre­ci­a­tion of the com­plex­i­ty and impli­ca­tions of the sit­u­a­tion make a world-chang­ing deci­sion. Could Britain have found a con­sen­sus-build­ing process that allowed the com­plex issues to sur­face and address the desire for exit? Could it have found a way to work with the rest of the EU and make nec­es­sary adjust­ments to the hard line posi­tion? That sort of com­plex analy­sis and con­sen­sus can­not be done by the aver­age per­son. We rely on and trust elect­ed rep­re­sen­ta­tives and oth­er sub­ject-mat­ter experts to bet­ter engage with the com­plex ques­tions to arrive at the best avail­able option. That is the demo­c­ra­t­ic sys­tem – that uses the will of the peo­ple as a guide, while giv­ing itself the abil­i­ty not to be over­whelmed by it.
What does all this mean to the employ­ee ben­e­fits busi­ness? The issues are too impor­tant for employ­ers and employ­ees to make choic­es about ben­e­fits with­out prop­er study and assess­ment, but the over­whelm­ing com­plex­i­ty of cov­er­age options and reg­u­la­tions make this dif­fi­cult. For this we need experts who can be trust­ed to under­stand all dimen­sions of com­plex­i­ty and present the non-experts with easy-to-under­stand solu­tions. There will be trade-offs and few­er options, but the options would take into account the com­plex under­ly­ing issues.
The rec­om­men­da­tion engine that helps employ­ees choose an appro­pri­ate health plan is an exam­ple. Instead of the employ­ee doing the what-if analy­sis on dif­fer­ent plans for their spe­cif­ic fam­i­ly sta­tus and need for health ser­vices, a bet­ter start­ing point is a tool that looks at their cur­rent plan uti­liza­tion and presents the option that would best suit them if all things stayed the same.
Sim­i­lar­ly, employ­ers have so many options to choose from – ful­ly-insured, self-fund­ed, lev­el fund­ing, unbun­dled stop-loss, cap­tive, dif­fer­ent meth­ods of stop-loss gain shar­ing arrange­ments, so on and on. Short of a sys­tem with arti­fi­cial intel­li­gence capa­bil­i­ties, there is no way to have a sim­ple inter­face to this prob­lem-solv­ing method. Except—if you get help from an advi­sor you can trust, an advi­sor who has the wis­dom, insight and expe­ri­ence to under­stand your sit­u­a­tion, your risk tol­er­ance, busi­ness mod­el, and employ­ee demo­graph­ics and their risk tol­er­ance, and can rec­om­mend the best options for you from among the pletho­ra of those avail­able. Good ben­e­fits advi­sors will embrace this chal­lenge to make com­plex things sim­ple for their clients with­out los­ing integri­ty. It is not easy. Employ­ers should seek out advi­sors who can adapt to the new com­plex­i­ty of this world and rise to the chal­lenge of sim­pli­fy­ing it for their clients.
How do you iden­ti­fy the right advi­sor? You have to avoid being mes­mer­ized by the exag­ger­at­ed­ly sim­ple solu­tion that dis­re­gards under­ly­ing com­plex­i­ty, and look for those who make the com­plex sim­ple for your ben­e­fit, with­out sub­ject­ing you to the com­plex­i­ty that hides the sim­ple solu­tion. A quote attrib­uted to Ein­stein, who grap­pled with the most com­plex of con­cepts, goes "Every­thing should be made as sim­ple as pos­si­ble, but not sim­pler." Eval­u­at­ing employ­ee ben­e­fits options is tough work, but the right employ­ee ben­e­fits advi­sor can make it seem sim­ple. The duck swim­ming across a pond seems to glide across the water effort­less­ly. Under the water, how­ev­er, its feet are pad­dling like mad!
Unit­ed Ben­e­fit Advi­sors is full of such "ducks" – pad­dling tire­less­ly to make the com­plex world of employ­ee ben­e­fits sim­ple for our employ­er clients and their employees.