Once Our Culture Insights Program Launched our Industry Leading Magazine Interviewed Andrew McNeil for an in-depth piece on the program!
With the increasing commoditization of employee benefits, how can companies in tight labor markets win the war on talent?  At least one brokerage known for pushing the envelope believes it has the answer.
Arrow Benefits Group's HR division is rolling out Culture Insights, which develops a personalized plan for employers to operate at their highest potential from six key angles. They include corporate purpose, mission, values, culture, HR and employee benefits. The program, which doesn't have any paid customers yet, was inspired by a 2016 tour of Zappos.com by Andrew McNeil, an adviser with Arrow Benefits Group. Another source of motivation was a survey the firm did of millennials, Gen-Xers and baby boomers.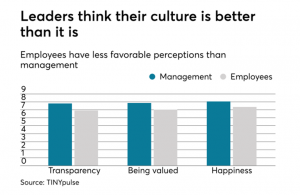 "People want to work for a place where they feel valued and are aligned with the mission and purpose of that organization," he explains, regardless of their age or industry. "They don't just want a paycheck." …There's also a larger purpose behind the Culture Insights program. In all his email correspondence, McNeil now includes the following philosophical statement: "We believe we can build a stronger community by building stronger employers. Stronger employers translate into a stronger local economy and happier, more productive citizens."
Read entire article here.
By Bruce Shelton
Published April 28, 2017