Once Our Cul­ture Insights Pro­gram Launched our Indus­try Lead­ing Mag­a­zine Inter­viewed Andrew McNeil for an in-depth piece on the program!
With the increas­ing com­modi­ti­za­tion of employ­ee ben­e­fits, how can com­pa­nies in tight labor mar­kets win the war on tal­ent? At least one bro­ker­age known for push­ing the enve­lope believes it has the answer.
Arrow Ben­e­fits Group's HR divi­sion is rolling out Cul­ture Insights, which devel­ops a per­son­al­ized plan for employ­ers to oper­ate at their high­est poten­tial from six key angles. They include cor­po­rate pur­pose, mis­sion, val­ues, cul­ture, HR and employ­ee ben­e­fits. The pro­gram, which doesn't have any paid cus­tomers yet, was inspired by a 2016 tour of Zappos.com by Andrew McNeil, an advis­er with Arrow Ben­e­fits Group. Anoth­er source of moti­va­tion was a sur­vey the firm did of mil­len­ni­als, Gen-Xers and baby boomers.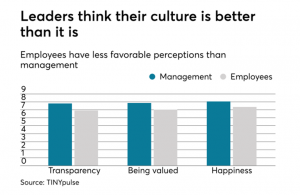 "Peo­ple want to work for a place where they feel val­ued and are aligned with the mis­sion and pur­pose of that orga­ni­za­tion," he explains, regard­less of their age or indus­try. "They don't just want a pay­check." …There's also a larg­er pur­pose behind the Cul­ture Insights pro­gram. In all his email cor­re­spon­dence, McNeil now includes the fol­low­ing philo­soph­i­cal state­ment: "We believe we can build a stronger com­mu­ni­ty by build­ing stronger employ­ers. Stronger employ­ers trans­late into a stronger local econ­o­my and hap­pi­er, more pro­duc­tive citizens."
Read entire arti­cle here.
By Bruce Shel­ton
Pub­lished April 28, 2017