By Mary Drueke-Collins, FSA
Vice Pres­i­dent of Employ­ee Ben­e­fits for Swartzbaugh-Far­ber & Asso­ciates, Inc.
A UBA Part­ner Firm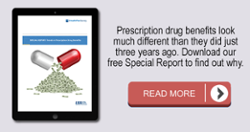 Mail order has always been a con­ve­nient way for indi­vid­u­als to keep their main­te­nance drug pre­scrip­tions filled. Employ­ers often won­der, are there oth­er advan­tages to using mail order oth­er than con­ve­nience? As an employ­er, should we be incen­tiviz­ing mail order? The answers to some of these ques­tions can be found in results from the lat­est UBA Health Plan Sur­vey.
Mail order can pro­vide cost sav­ings to both the employ­ee and the employ­er. In the past, mail order pro­vid­ed much larg­er sav­ings because it allowed for a 90-day sup­ply, some­thing not avail­able through tra­di­tion­al retail set­tings. These days, how­ev­er, more retail phar­ma­cies are offer­ing 90-day sup­plies, so the cost sav­ings achieved by using mail order are slight­ly low­er than they have been his­tor­i­cal­ly. We antic­i­pate those sav­ings will dimin­ish even more as the costs of pre­scrip­tion drugs con­tin­ue to increase.
Many employ­ers pass on these sav­ings to employ­ees by requir­ing few­er copays when fill­ing a pre­scrip­tion for 90 days via mail order. Unfor­tu­nate­ly, not every employ­er has the lux­u­ry of incen­tiviz­ing their employ­ees to uti­lize mail order. Some states, like Nebras­ka, have laws that lim­it an employer's abil­i­ty to do so. These states pro­hib­it ful­ly insured plans from incen­tiviz­ing mail order over retail, thus requir­ing indi­vid­u­als cov­ered by a ful­ly insured health plan to pay the same num­ber of copays for a 90-day sup­ply through the retail and mail order setting.
Those employ­ers that are self-fund­ed, or are not lim­it­ed by state laws, have the abil­i­ty to struc­ture the copays of the mail order plan to encour­age indi­vid­u­als to use mail order. Accord­ing to the UBA Health Plan Sur­vey, nation­al­ly 85% of employ­ers that offer mail order require the indi­vid­ual to pay some­thing oth­er than three copays for a 90-day mail order sup­ply. Near­ly 39% of the respon­dents call for only one or two copay­ments for a 90-day mail order prescription.
As you look more close­ly at the data, you can see trends appear­ing by indus­try. Employ­ers in edu­ca­tion­al ser­vices tend to pro­vide the most incen­tive to uti­lize mail order, with only 4.6% of the plans need­ing three copay­ments for a 90-day sup­ply, fol­lowed close­ly by the pub­lic admin­is­tra­tion and infor­ma­tion industries.

Con­verse­ly, 34.4% of employ­ers in the min­ing, oil and gas extrac­tion indus­try required three copays or the least incen­tive to uti­lize mail order. The agri­cul­ture, forestry, fish­ing and wildlife plans were next in line with 20.3% of the plans of the sur­vey had three copayments.

Even if there is no cost incen­tive to the cov­ered indi­vid­ual, most employ­ers still offer the oppor­tu­ni­ty for their employ­ees to use mail order pre­scrip­tion ser­vices. In 2015, nation­al­ly only 4.9% of plans did not offer the mail order option. As you focus the data into indus­try group­ings, you see 98.5% of employ­ers respond­ing to the sur­vey that oper­ate in the util­i­ties indus­try offer mail order to their employ­ees. The edu­ca­tion ser­vices indus­try fol­lows with 97.3% of the plans offer­ing mail order ser­vices. On the oth­er hand, just over 10% of the plans respond­ing in both the agri­cul­ture, forestry, fish­ing and wildlife indus­try and man­age­ment of com­pa­nies and enter­pris­es offered mail order as an option in the pre­scrip­tion drug plan.
Indus­try dif­fer­ences are like­ly due to the involve­ment of union nego­ti­a­tions, their employ­ees' access to retail phar­ma­cies (or con­ve­nience of non-mail order facil­i­ties), and lev­el of over­all ben­e­fit rich­ness. The util­i­ties and edu­ca­tion­al indus­tries have his­tor­i­cal­ly offered rich­er ben­e­fit plans, and allow­ing the cov­ered par­tic­i­pants a low­er cost mail order option con­tin­ues that trend.
As the pre­scrip­tion drug indus­try evolves, we antic­i­pate the cost ben­e­fits of pro­vid­ing a mail order pro­gram will shrink and even­tu­al­ly the copay incen­tives we see now will dimin­ish. Mail order will con­tin­ue to be a more con­ve­nient method of fil­ing pre­scrip­tions and may actu­al­ly improve the health of indi­vid­u­als on main­te­nance drugs by keep­ing them com­pli­ant with their pre­scrip­tions. For now, if you are an employ­er won­der­ing whether mail order is worth incen­tiviz­ing, the answer is still pri­mar­i­ly "Yes!"
For more infor­ma­tion on pre­scrip­tion drug trends, sub­scribe to the UBA blog, read our break­ing news release or down­load UBA's free (no form!) pub­li­ca­tion: Spe­cial Report: Trends in Pre­scrip­tion Drug Ben­e­fits.