By Jan Sheehan
www.livestrong.com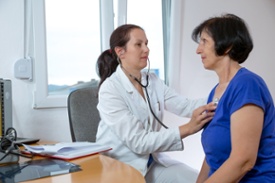 About two-thirds of physi­cians and patients believe adults should have an annu­al check­up, accord­ing to the Amer­i­can Med­ical Asso­ci­a­tion (AMA). The annu­al check­up serves a num­ber of func­tions that might help improve health and main­tain well­ness. Here are five impor­tant rea­sons to have an annu­al exam.
Screen­ings
Rou­tine screen­ings, such as cho­les­terol and dia­betes tests, pap smears and breast exams, can detect signs of dis­eases at their ear­li­est and most treat­able stages. "Ear­ly diag­no­sis of can­cer and heart dis­ease is espe­cial­ly impor­tant," says Patrick Dowl­ing, M.D., chair of fam­i­ly med­i­cine at UCLA's David Gef­fen School of Med­i­cine. Some dis­eases, such as colon can­cer, can even be pre­vent­ed with screen­ings. The annu­al exam is also the time to get any rec­om­mend­ed immu­niza­tions, such as the one-time shin­gles vac­cine for peo­ple 60 and old­er, Dowl­ing says.
Health Mea­sure­ments
Blood pres­sure and rest­ing heart rate are always tak­en at the annu­al check­up. A full check­up should also include mea­sur­ing weight and height, says Dowl­ing. Tak­ing these mea­sure­ments year­ly sets a base­line so you'll know if any­thing changed in the last year. The Amer­i­can Heart Asso­ci­a­tion states that ele­vat­ed blood pres­sure over time is a heart dis­ease risk. A weak or slow pulse could be a sign of heart dis­ease or anoth­er health prob­lem, says Dowl­ing. If you've lost or gained sig­nif­i­cant weight with­out try­ing, that could sig­nal a pos­si­ble health prob­lem that should be inves­ti­gat­ed. Height loss could mean an accel­er­a­tion of osteo­poro­sis if you're 60 or older.
Coun­sel­ing
The annu­al exam is an oppor­tu­ni­ty to receive coun­sel­ing from your doc­tor on weight man­age­ment, smok­ing ces­sa­tion, sex­u­al­i­ty, alco­hol con­sump­tion and oth­er health issues. Your doc­tor might talk to you about risk fac­tors and pre­ven­tive mea­sures you can take to avoid dis­eases. "Even if you're feel­ing fine, there may be issues you'd like to dis­cuss with your doc­tor" says Dowl­ing. The annu­al exam is also an oppor­tu­ni­ty to talk to your doc­tor about emo­tion­al prob­lems that might require treat­ment, such as depression.
Med­ical Records Update
Your clin­i­cal data will be updat­ed dur­ing your annu­al exam. It's impor­tant to have an accu­rate record of past ill­ness­es, lab­o­ra­to­ry tests, immu­niza­tions and pre­scribed med­ica­tions to assist doc­tors in treat­ing you in case you're involved in an acci­dent or have a seri­ous ill­ness. Tell your doc­tor if any imme­di­ate fam­i­ly mem­bers have become seri­ous­ly ill or if there have been deaths in your fam­i­ly from dis­ease in the past year. An accu­rate fam­i­ly med­ical his­to­ry can help detect genet­ic pat­terns that might put you at a high­er than nor­mal risk of disease.
Alle­vi­ate Worries
Know­ing your health sta­tus by hav­ing an annu­al exam can give you peace of mind. "The annu­al exam is some­thing many patients insist on so they know they have a clean bill of health" says Dowling.