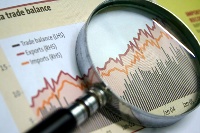 Mea­sur­ing pro­gram val­ue, or return on invest­ment, is crit­i­cal and imper­a­tive in man­ag­ing a healthy well­ness pro­gram. Fur­ther, clear­ly iden­ti­fy­ing and objec­tive­ly eval­u­at­ing the impact helps keep the ven­dor focused on what is crit­i­cal for the employ­er. If these pro­grams are not hav­ing the impact intend­ed, then the cost of those ser­vices is only adding to med­ical spend­ing waste.
When adding well­ness ser­vices to any employ­er ben­e­fits pack­age, it is imper­a­tive to clear­ly iden­ti­fy the intend­ed impact and out­come. Out­comes fall into three gen­er­al categories:
Employ­ee sat­is­fac­tion with the employ­er, which adds to recruit­ment and retention
Reduc­ing bio­met­ric risk and improv­ing the health of the population
Reduc­ing med­ical spending
Employ­ee Satisfaction
In the book, Shared Val­ues, Shared Results by Dee W. Edding­ton, Ph.D., and Jen­nifer S. Pitts, Ph.D., the val­ue of employ­ees appre­ci­at­ing the ben­e­fits an employ­er offers is clear­ly out­lined as a win-win strat­e­gy. If an employer's intent in pro­vid­ing well­ness ser­vices is to improve the sup­port for its employ­ees, then mea­sur­ing the sat­is­fac­tion relat­ed to those out­comes is crit­i­cal. Employ­ee sur­veys are typ­i­cal­ly the best approach to gath­er out­comes relat­ed to these intend­ed pro­grams. Some key ques­tions to ask may include:
Is work­ing at this orga­ni­za­tion ben­e­fi­cial for my health? ("Strong­ly Agree" to "Dis­agree" responses)
Do I trust that my orga­ni­za­tion cares about me? ("Strong­ly Agree" to "Dis­agree" responses)
Which of the fol­low­ing well­ness pro­gram ini­tia­tives do you find to be valu­able? (list all pro­grams offered)
Col­lect­ing employ­ee, or spouse, feed­back on these pro­grams will pro­vide insight to allow an employer/ con­sul­tant to know if pro­grams are appre­ci­at­ed, or if mod­i­fi­ca­tions are required in order to achieve the desired outcomes.
Reduc­ing Bio­met­ric Risk and Con­trol­ling Disease
If the intent of a well­ness pro­gram is to help improve the health of indi­vid­u­als so that future med­ical spend­ing will be reduced, then it is crit­i­cal to deter­mine if the pro­gram is engag­ing the cor­rect mem­bers and then mea­sure the impact on their risk. At Vital Incite, we uti­lize Johns Hop­kins' risk index­ing along with bio­met­ric risk migra­tion to pro­vide feed­back to ven­dors and employ­ers of the impact of their pro­grams. Some sug­gest­ed goals may include:
Engag­ing 80 per­cent of per­sons with high risk biometrics
Reduc­tion in weight of per­sons over­weight or obese by greater than 5 per­cent in 30 per­cent of the engaged population
Of dia­bet­ics with an A1c greater than 7 per­cent, 80 per­cent will reduce their A1c by 1 per­cent in one year
Of per­sons with blood pres­sure in the high-risk range, 40 per­cent will have achieved con­trolled blood pres­sure with­out adding med­ica­tions in one year
Of per­sons who take few­er than 10,000 steps per day, 70 per­cent will increase their aver­age step count by 20 per­cent or more
These goals need to be very spe­cif­ic and tar­get­ed to address the exact needs of your pop­u­la­tion, mea­sur­ing what is most like­ly to have an impact on a person's long-term health. This pro­vides spe­cif­ic direc­tion for your well­ness providers, but allows an employer/consultant to mon­i­tor the impact through­out the year to con­tin­ue to redi­rect com­mu­ni­ca­tion and ser­vices to help pro­vide the best outcomes.
The first step in any pro­gram is to engage the intend­ed audi­ence. UBA's Health Plan Sur­vey finds that 54.6 per­cent of employ­ers with well­ness pro­grams use com­po­nents such as on-site or tele­phone coach­ing for high-risk employ­ees, an increase of 7.5 per­cent from last year. Once you tar­get the intend­ed audi­ence, engage­ment of those at risk is crit­i­cal. Mon­i­tor­ing this sub­set of data can make sure the ven­dor resources are direct­ed appro­pri­ate­ly and, many times, iden­ti­fy areas where the employ­er may be able to help.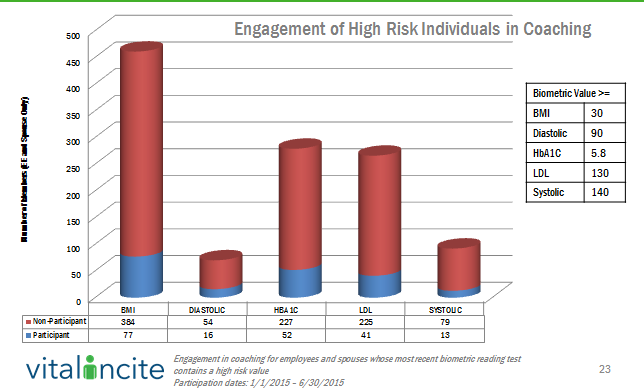 Of course, engage­ment is only the first step and the intend­ed out­come is to reduce risk or slow down the pro­gres­sion of risk increas­ing, that is real­ly the final out­come desired. The fol­low­ing illus­tra­tion allows employ­ers and the ven­dor solu­tion to mon­i­tor the true impact of the pro­gram by review­ing the risk con­trol, or improve­ment based on pro­gram participation.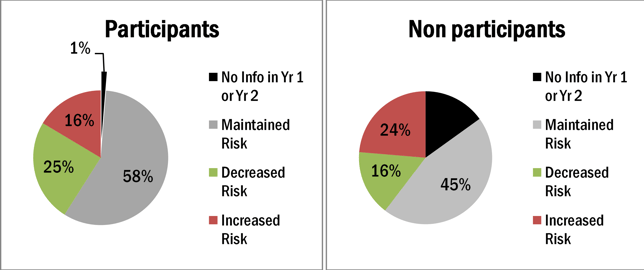 Reduc­ing Med­ical Spending
Although many employ­ers are inter­est­ed in help­ing their employ­ees become health­i­er, the real­i­ty is these efforts have to help reduce med­ical costs or increase pro­duc­tiv­i­ty so these efforts are sus­tain­able. Since, to date, few employ­ers have data on pro­duc­tiv­i­ty, the analy­sis then is focused on reduc­ing med­ical spend­ing. The cor­rect analy­sis depends on the size of your pop­u­la­tion and the tar­get­ed audi­ence, but a gen­er­al analy­sis to deter­mine if those engaged are cost­ing less than per­sons who have sim­i­lar risk on your plan would look some­thing like the analy­sis below.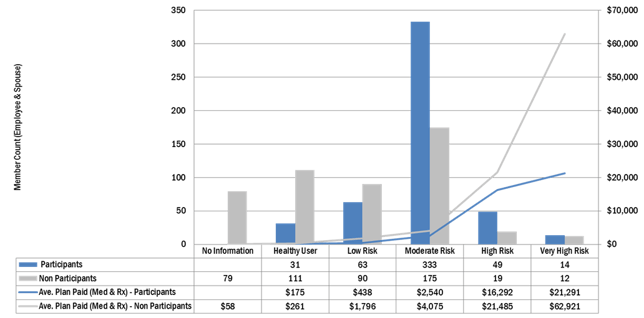 If your pro­gram is tar­get­ed specif­i­cal­ly on a dis­ease state, then the impact on the cost to care for that dis­ease state may be more appro­pri­ate. In the exam­ple below, the employ­er insti­tut­ed a pro­gram to help asth­mat­ics, and there­fore, the analy­sis is relat­ed to the total cost to care for asth­ma com­par­ing the year pri­or to the pro­gram to the year of the pro­gram. In this analy­sis, the impact is very clear.

The employ­er antic­i­pat­ed first year sav­ings due to high emer­gency room (ER) uti­liza­tion for per­sons with asth­ma and the report proved that along with ER uti­liza­tion declin­ing, the total cost of care for asth­ma sig­nif­i­cant­ly declined.
Sum­ma­ry
In sum­ma­ry, hav­ing a clear under­stand­ing of the expec­ta­tion and desired out­comes and mon­i­tor­ing that impact through­out the year, we believe, dri­ves bet­ter out­comes. When we first start­ed ana­lyz­ing out­comes of pro­grams, the impact of many pro­grams were far less impres­sive than ven­dor reports would allow us to believe. That false sense of secu­ri­ty is not because they were try­ing to fal­si­fy infor­ma­tion, but the reports did not pro­vide enough detail to ful­ly illus­trate the impact. Most ven­dor part­ners don't have access to all of the data to pro­vide a full analy­sis and oth­ers will only show what makes them look good. But, if you iden­ti­fy the impact you need in order to achieve suc­cess, all par­ties involved focus on that pri­or­i­ty and con­tin­u­al­ly work to improve that impact. We believe that well­ness pro­grams can have an impact on a pop­u­la­tion cul­ture, health and cost of care if appro­pri­ate­ly managed.
By Mary Delaney, Orig­i­nal­ly pub­lished by Unit­ed Ben­e­fit Advi­sors — Read More