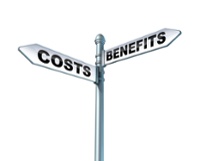 In Part 1 of this series, I took a few shots at some of the hype around pri­vate exchanges, but I still come down firm­ly on the "pro" side of the conversation.
Giv­en the right cir­cum­stances, and by tak­ing the right approach, a pri­vate exchange can deliv­er a tremen­dous amount of val­ue while solv­ing many of the chal­lenges fac­ing employ­ers who wish to offer a sus­tain­able and effec­tive employ­ee ben­e­fits program.
For many large employ­ers, those with thou­sands of employ­ees, this is not news. By deploy­ing pri­vate exchanges, they've been able to achieve excep­tion­al cost and per­for­mance out­comes while gain­ing a strate­gic advan­tage over their competitors.
For small to mid-sized employ­ers, this is big news!
Solu­tions that were once avail­able only to the largest employ­ers are now avail­able to employ­ers of prac­ti­cal­ly any size. And, if you use your pri­vate exchange wise­ly, you too can enjoy a key strate­gic advan­tage over your competitors.
So, let's begin by look­ing at the cir­cum­stances indi­cat­ing that par­tic­i­pa­tion in a pri­vate exchange may be a wise move for a small to mid-sized employer.
The Ben­e­fit Val­ue Grid
For near­ly 100 years, the pri­ma­ry method for peo­ple to access health­care in the U.S. has been through employ­er-spon­sored ben­e­fit plans. Now, we've reached a point where strate­gic think­ing has large­ly been replaced by an annu­al train wreck of tac­ti­cal reac­tion to an ever-increas­ing cost burden.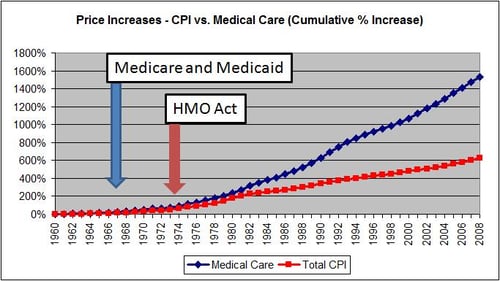 Look­ing back, increas­es in annu­al med­ical spend­ing tracked almost per­fect­ly with the Con­sumer Price Index (CPI) until 1965. Every year since then, the increase in health­care cost has exceed­ed CPI, some­times by two to three times. What hap­pened in 1965? That's the year Medicare was intro­duced. We've been try­ing to tame the beast ever since.
Most of the sub­tleties and oppor­tu­ni­ties have been lost because offer­ing ben­e­fits has been turned into a polit­i­cal talk­ing point. No one ever asks if you should be offer­ing ben­e­fits. We're sim­ply being told, "You must offer benefits."
So, let's begin at the begin­ning by ask­ing, "Does offer­ing ben­e­fits make sense for your business?"
Despite the hype, ben­e­fits are sim­ply a tool – one of many tools you can use – for recruit­ing and retain­ing employ­ees. Which means the use of ben­e­fits has to align with your busi­ness strat­e­gy. Two fac­tors are key here: Are you com­pet­ing for employ­ees with oth­er employ­ers and how much work are you will­ing to do to design, imple­ment and sus­tain an effec­tive ben­e­fits program?
Using these fac­tors and a cou­ple of oth­ers, I've plot­ted a num­ber of ben­e­fit solu­tions on The Ben­e­fit Val­ue Grid. Your first task is to decide where your com­pa­ny lands on the grid.
What's right for your com­pa­ny is sim­ply right for your company
By that I mean, your strat­e­gy should dic­tate your approach. Start­ing with tac­tics first (switch­ing car­ri­ers or plans to reduce ben­e­fits cost or increas­ing cost shar­ing or any of a num­ber of tac­tics used to try to bend the cost curve) is the wrong approach. Don't let any­one tell you otherwise.
So, for the sake of argu­ment (and to make the rest of this blog rel­e­vant!), let's assume you fall in the upper right quad­rant: ben­e­fits are impor­tant to your suc­cess, you're will­ing to do the work, and you have clear out­comes you wish to achieve.
While learn­ing to con­nect wis­dom to tech­nol­o­gy, I have observed what does and does­n't work when it comes to design­ing and main­tain­ing a suc­cess­ful pri­vate exchange. From this, I have devel­oped a very basic "how to" mod­el for you to use if you are con­sid­er­ing mov­ing to an exchange or want to get more out of the one you cur­rent­ly use.
Your first step is to get expert advice
You're look­ing for some­one with the expe­ri­ence and knowl­edge nec­es­sary to help you choose and active­ly man­age the best tech­nol­o­gy avail­able. As I said in Part 1 of this blog, the devel­op­ers of suc­cess­ful exchanges now know that open, flaw­less, and ful­ly mobile tech­nol­o­gy is the cost of entry into the pri­vate exchange game. A good advi­sor can help you find a provider who meets this new min­i­mum standard.
And, here's a key dis­tinc­tion: you're look­ing for some­one who takes respon­si­bil­i­ty for being much more than a bro­ker. You're look­ing for an advi­sor. This is an impor­tant devel­op­ment in the ben­e­fits indus­try. In the tra­di­tion­al world of the ben­e­fit drum­beat­ers, where ben­e­fits are seen as a com­mod­i­ty and one car­ri­er is con­sid­ered to be much the same as anoth­er, the bro­ker has an arms-length rela­tion­ship with ven­dors. Their job is to solic­it bids on your behalf, present the bids to you, and let you decide which fits your needs… or, in far too many instances, which is the less­er of sev­er­al evils.
It's much dif­fer­ent with an "open archi­tec­ture" exchange mod­el; the more inti­mate the rela­tion­ship between your advi­sor and the exchange provider, the greater the oppor­tu­ni­ty to inno­vate and improve. The capa­bil­i­ty to com­plete­ly cus­tomize a solu­tion does not just depend on tech­nol­o­gy; it also requires a col­lab­o­ra­tive part­ner­ship between you, your advi­sor, and the exchange provider.
A good exam­ple of this type of capa­bil­i­ty – one that goes even far­ther and lever­ages the col­lec­tive wis­dom of many advi­sors and the pooled pur­chas­ing pow­er of many employ­ers – is the pri­vate exchange cre­at­ed by Unit­ed Ben­e­fit Advi­sors (UBA) called Ben­e­fits Passport.
You then devel­op a plan that fits your strategy
If you are mak­ing the switch from a ful­ly insured to a self-fund­ed plan host­ed on a pri­vate exchange, the good news is your basic plan design is most like­ly going to look very sim­i­lar to what you've done in the past. That's because offer­ing ben­e­fits that fit your strate­gic needs makes sense regard­less of the fund­ing method or tech­nol­o­gy used (or not used).
Even bet­ter news is that, with an open archi­tec­ture pri­vate exchange, you can weave your strat­e­gy into every ele­ment of the employ­ee expe­ri­ence. You can pur­pose­ful­ly cus­tomize each inter­ac­tion your employ­ees have with the exchange and its asso­ci­at­ed technology.
Sound like a lot of work? There's no deny­ing it does take time, effort, and strate­gic think­ing. But, if you think about the tra­di­tion­al, annu­al rehash of frus­trat­ing cost con­trol tac­tics that slow­ly gut the val­ue and effec­tive­ness of your plan with­out actu­al­ly con­trol­ling costs, then per­haps there is san­i­ty in tak­ing a longer view and doing the work.
If you do take this on, the big promise you real­ize is that next year, instead of going back to the draw­ing board to find new ways to scrimp and save, you can actu­al­ly use the data and infor­ma­tion the exchange pro­vides to build on the foun­da­tion your plan has cre­at­ed. The "lath­er, rinse, repeat" mad­ness of a tra­di­tion­al renew­al becomes a thing of the past. The mon­ster that annu­al­ly emerged from the clos­et is per­ma­nent­ly locked away.
And there is so much more you can do
For exam­ple, dur­ing and after enroll­ment you can con­tin­u­ous­ly rein­force your company's com­mit­ment to its employ­ees. The oppor­tu­ni­ty to brand your ben­e­fits to achieve greater loy­al­ty and engage­ment – not to men­tion greater appeal to would-be employ­ees – can be real­ized by includ­ing edu­ca­tion about the why behind your ben­e­fits plan. Telling your employ­ees why you think ben­e­fits are cru­cial to their (and their fam­i­lies') well-being and suc­cess, and why you want them to have the best pos­si­ble plan, can be eas­i­ly facil­i­tat­ed on an open archi­tec­ture pri­vate exchange platform.
Dur­ing enroll­ment, the best employ­ers pro­vide edu­ca­tion, infor­ma­tion, and sup­port to empow­er employ­ees to make the best choic­es for them and their fam­i­ly. In Part 1 of this blog, I pro­posed new break­throughs occur when employ­ers and their advi­sors adopt an open atti­tude toward the way they and the employ­ees can put the tech­nol­o­gy to use. A sub­tle but impor­tant con­cept here is to be open to the idea that the tech­nol­o­gy, no mat­ter how func­tion­al, may be a poor replace­ment for real, live human interaction.
Tra­di­tion­al­ly, after enroll­ment, employ­ees con­tact insur­ance car­ri­ers direct­ly when they use their ben­e­fits. With a strate­gic, pur­pose­ful­ly designed plan, one includ­ing ongo­ing employ­ee engage­ment, you can help employ­ees not only bet­ter man­age car­ri­er inter­ac­tions, but also help them become aware of and more dis­cern­ing in choos­ing cost-effec­tive care options. You also have a con­tin­u­ous oppor­tu­ni­ty to nur­ture and rein­force an over­all health­i­er approach to life. Which, of course, is a won­der­ful way to reduce plan cost: few­er claims = low­er cost!
A caveat: there is a nat­ur­al sequence to engag­ing employ­ees and cre­at­ing a cul­ture of health and well-being account­abil­i­ty. You must first edu­cate and moti­vate employ­ees to become active par­tic­i­pants in ben­e­fit uti­liza­tion before you can engage them in becom­ing more active in their own health management.
There are two addi­tion­al items to con­sid­er while design­ing your plan.
First, exchange providers have the oppor­tu­ni­ty to have bet­ter, more aligned rela­tion­ships with pre­ferred car­ri­ers. Sim­i­lar to the new, more col­lab­o­ra­tive rela­tion­ship advi­sors have with a pre­ferred exchange provider, with car­ri­ers, it can lead to pref­er­en­tial prod­ucts and ser­vices being made avail­able on the exchange. Guid­ing employ­ees to these pref­er­en­tial options helps you con­trol cost while enhanc­ing the per­ceived and real val­ue of your ben­e­fits program.
Sec­ond, pri­vate exchange tech­nol­o­gy can make it a lot eas­i­er for you to meet reg­u­la­to­ry and report­ing require­ments. Dur­ing plan devel­op­ment, be sure to take advan­tage of as much com­pli­ance automa­tion as possible.
An Open Atti­tude: Two examples
Cit­ed ear­li­er, UBA's pri­vate exchange, Ben­e­fits Pass­port, pro­vides two exam­ples of how an open atti­tude impacts tech­nol­o­gy utilization.
First, UBA's pri­vate exchange gives employ­ees access to live human advice, assis­tance, coach­ing, and advo­ca­cy where it is most needed.
Sec­ond, "open­ly" acknowl­edg­ing where their exper­tise begins and ends moti­vat­ed the Ben­e­fits Pass­port team to form a strate­gic part­ner­ship with a tech­nol­o­gy-based employ­ee edu­ca­tion firm called Touch­points. The inte­grat­ed plat­forms enable employ­ers and their advi­sors to ful­ly cus­tomize the com­mu­ni­ca­tion com­po­nent of every inter­ac­tion employ­ees have with the exchange and with their benefits.
It's your data… use it!
Final­ly, mod­ern pri­vate exchange tech­nol­o­gy gives you the infor­ma­tion you need to accu­rate­ly mea­sure the effec­tive­ness, expense, and impact of your plan design and deliv­ery. Instead of being clubbed each year by trend, the car­ri­ers' favorite cud­gel, and instead of mak­ing deci­sions based on some­one else's infor­ma­tion and opin­ion, you now have the oppor­tu­ni­ty to make sound deci­sions based on facts.
To do so, you must insist on com­plete trans­paren­cy wher­ev­er pos­si­ble. And, per­haps more impor­tant, you must be will­ing to take an open – there's that word again – and hon­est approach to accept­ing what the data is telling you.
The last word… until Part 3!
It is impor­tant to repeat that this is a long-term strate­gic process that begins with cre­at­ing the best pos­si­ble plat­form for progress and then work­ing with your advi­sor and all oth­er key part­ners to learn as you go. I believe the future of health­care deliv­ery lies beyond exchanges, but we must walk before we can run.
Turn­ing the promise of mod­ern, tech­nol­o­gy-empow­ered employ­ee ben­e­fits pro­grams into real­i­ty, now and in the future, requires adopt­ing a mod­ern, three-pronged approach.
Adopt an open atti­tude to the role tech­nol­o­gy and expert advi­sors can play
Step up to the plate when it comes to access­ing and uti­liz­ing your data
Con­tin­u­ous­ly build on the foun­da­tion you cre­ate to expand your strat­e­gy for ben­e­fits deliv­ery and employ­ee engage­ment (remem­ber, this is not a "set it and for­get it" proposition)
Com­ing soon
Part 3: A look at the future of pri­vate exchanges
Orig­i­nal­ly pub­lished by Unit­ed Ben­e­fit Advi­sors — Read More