By Sara Saidi
Mar­ket­ing Coor­di­na­tor at The Wil­son Agency
A UBA Part­ner Firm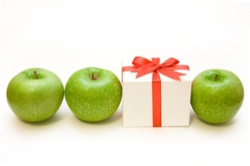 Have you ever heard the quote, "If you take care of your peo­ple, they'll take care of your busi­ness?" It's great advice and goes beyond ensur­ing that they get a pay­check each month. Does your com­pa­ny show that they care about an employee's total well-being? You should, espe­cial­ly con­sid­er­ing that an employee's phys­i­cal and men­tal well-being can affect pro­duc­tiv­i­ty and con­se­quent­ly cost the com­pa­ny mon­ey. One great way to show employ­ees that you are invest­ed in them, and to help them stay healthy, is through a well­ness program.
Once you decide to start a well­ness pro­gram, there are many things that must be con­sid­ered, but one of the most impor­tant is fig­ur­ing out how you are going to moti­vate employ­ees to par­tic­i­pate and invest in liv­ing a healthy lifestyle.
Let's take a look at the psy­chol­o­gy behind moti­va­tion. Behav­ior can be reg­u­lat­ed exter­nal­ly (e.g., gift rewards and pun­ish­ment) or intrin­si­cal­ly (e.g., inter­nal goals). To moti­vate your staff, the goal should be to lever­age both of these meth­ods to help employ­ees devel­op healthy behav­iors that will last a life­time so that it essen­tial­ly becomes sec­ond nature to them. That last­ing change will be felt through­out your orga­ni­za­tion for a long time to come. Those that haven't already incor­po­rat­ed healthy behav­iors into their lifestyle will need the extra push, and that's where an orga­nized well­ness pro­gram comes in.
Here are dif­fer­ent types of incen­tives that well­ness pro­grams typ­i­cal­ly use to give employ­ees that extra push:
Finan­cial (gift card or decreased premium)
Social recog­ni­tion (awards)
Sur­prise incen­tives (every once in a while, sur­prise employ­ees with an addi­tion­al award – the ele­ment of fun will help keep employ­ees motivated)
To real­ly cre­ate a well-designed well­ness pro­gram, we sug­gest incor­po­rat­ing these oth­er tips.
Per­son­al­iza­tion
If you want employ­ees to be engaged and moti­vat­ed, make the well­ness pro­gram per­son­al­ized so that it's fair for all par­tic­i­pants. Under­stand that not all employ­ees are at the same lev­el. It can often be easy to mar­gin­al­ize those who are already doing every­thing right. Try to find a way to rec­og­nize these employ­ees as well. If employ­ees can par­tic­i­pate at their own fit­ness or readi­ness lev­el, they will be more like­ly to participate.
Com­mu­ni­ca­tion
At times, lack of par­tic­i­pa­tion can­not sole­ly be attrib­uted to an unwill­ing employ­ee. It's pos­si­ble that employ­ees are unaware of, or do not ful­ly under­stand, the well­ness pro­gram and the ben­e­fits of par­tic­i­pa­tion. To ensure a greater lev­el of par­tic­i­pa­tion, make sure that you are prop­er­ly com­mu­ni­cat­ing with your employ­ees. Accord­ing to a recent arti­cle in Plan Spon­sor, Robert Kennedy, Health and Wel­fare prac­tice leader with Fideli­ty's Ben­e­fits Con­sult­ing busi­ness in Boston, says "incen­tives will get some employ­ees engaged in the pro­grams, but beyond that, com­mu­ni­ca­tions play a strong role. Com­mu­ni­ca­tions should set the con­text for employees—explaining why the employ­er is offer­ing the pro­grams and what it hopes to accom­plish." The arti­cle goes on to sug­gest, "fre­quent, short reminders about how to take advan­tage of incen­tives, using a vari­ety of channels—emails, the employer's intranet site or employ­ee meet­ings. Short mes­sages should con­tain a click-through for more detail for those employ­ees who want it."
Peer pres­sure
No one wants to be known as the only employ­ee who doesn't par­tic­i­pate. Be care­ful not to call out any employ­ee, but do get employ­ees talk­ing about the well­ness pro­gram. In March, one of the ways in which our employ­ees could obtain points toward a well­ness cred­it (which decreased pre­mi­um costs for those on the health plan) was to moti­vate oth­er employ­ees to par­tic­i­pate. This works out great because most peo­ple want to demon­strate that they are a pos­i­tive influ­ence in the com­pa­ny and par­tic­i­pat­ing in activ­i­ties with cowork­ers is a great way to do that.
Spread incen­tives out over time
To assist employ­ees in devel­op­ing a pat­tern of healthy behav­iors, spread incen­tives out over time. This way they will be less like­ly to just take the mon­ey and run. Some employ­ees will par­tic­i­pate for the incen­tive, but over time the healthy behav­iors will become habit. Some may even real­ize that they enjoy liv­ing a healthy lifestyle more than an unhealthy one as they expe­ri­ence the ben­e­fits of liv­ing well.
Keep in mind that a well­ness pro­gram is not one size fits all and, while turnkey pro­grams should be easy to imple­ment, com­pa­nies should care­ful­ly think about their cul­ture and what they want to achieve. Peo­ple are moti­vat­ed by dif­fer­ent things, so what works for one per­son in your com­pa­ny may not work for anoth­er and what works for your com­pa­ny may not work for oth­er companies.
For infor­ma­tion on well­ness plan trends from the UBA's Health Plan Sur­vey, down­load our Exec­u­tive Sum­ma­ry.