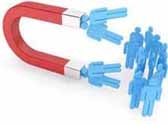 When we hear something's mag­net­ic, it's like­ly the first thought that comes to mind is attrac­tion. By def­i­n­i­tion, a mag­net­ic force is the attrac­tion or repul­sion that aris­es between elec­tri­cal­ly charged par­ti­cles because of their motion. What per­fect fram­ing for an orga­ni­za­tion – the desire to attract (or repel) peo­ple to help advance your orga­ni­za­tion. With this fram­ing comes the assump­tion that there's motion, which is, hope­ful­ly, a result of inten­tion­al action.
If we fol­low the thought of inten­tion­al action, there are sev­en steps (and many more details for each step that would be too lengthy to include here) that attract what's desired and repel what's not desired.
Sev­en Steps to Being a Mag­net­ic Organization
1. Decide what you want for the company
Sim­ple, right? Yes. How­ev­er, often an assump­tion is made that every­body knows what's want­ed. The best way to deter­mine if you know what's want­ed is to ask the ques­tion, "Can I paint a clear, col­or­ful and com­pelling sto­ry of the future?" This is one of the most impor­tant roles of lead­er­ship in an orga­ni­za­tion. Cre­ate, and tell a com­pelling sto­ry wor­thy of the effort it will take to get there.
2. Get 100 per­cent buy-in from top leadership
It's not enough for the CEO or own­er to own the future sto­ry, every top leader who's respon­si­ble for the per­for­mance and expe­ri­ence of employ­ees and cus­tomers needs to be 100 per­cent com­mit­ted to the future. This is per­haps the most telling test of how quick­ly and assured­ly you will achieve the goals to sup­port the future state. It's crit­i­cal to check for this buy-in up front as well as at key mile­stone points along the way.
3. Com­mu­ni­cate
As impor­tant as the first two steps are, a pin­na­cle point in the process is shar­ing with your employ­ees, cus­tomers, and oth­er stake­hold­ers what you intend to do.
This is a step that is often over­looked and under­val­ued. If you ascribe to the rule of sev­en for mar­ket­ing, it takes at least sev­en expo­sures for a per­son to hear some­thing with the like­li­hood of remem­ber­ing the mes­sage. Com­mu­ni­cate often and keep your mes­sage clear and con­sis­tent. Also, keep in mind that peo­ple absorb infor­ma­tion dif­fer­ent­ly. This absorp­tion is rel­a­tive to learn­ing styles. Pre­sent­ing infor­ma­tion will be accept­ed dif­fer­ent­ly if some­one is visu­al, aur­al, ver­bal, phys­i­cal, log­i­cal, social, or soli­tary in their learn­ing style.
As you design your com­mu­ni­ca­tion plan, explore not only what you'll share, but how you'll pro­mote the messages.
4. Build Your Culture
This speaks to the actions nec­es­sary to achieve desired out­comes. It's inten­tion­al­ly ordered after com­mu­ni­ca­tion. Rein­force the mis­sion of the com­pa­ny, or roll it out if it's new­ly cre­at­ed. To move for­ward, you need every employ­ee to be aware of the direc­tion and expec­ta­tions for the orga­ni­za­tion. Share orga­ni­za­tion­al goals and keep lead­ers account­able to cre­ate align­ment for their teams, includ­ing work­ing with each per­son on their team to under­stand how his or her unique role fits into the over­all pic­ture. This will dri­ve inter­ac­tions that con­tribute to, or detract from, success.
Involve employ­ees in the ear­ly phas­es of cul­ture change and share quick wins. Con­sid­er includ­ing sto­ries and tes­ti­mo­ni­als from employ­ees that show how the com­pa­ny is already mak­ing strides to get to the future vision.
Assure the right fit of employ­ees. Clear­ly iden­ti­fy the top three expec­ta­tions for each role and then find peo­ple who will be on fire to do these things well.
David Pink, in his book Dri­ve, explores exact­ly what moti­vates peo­ple and claims that true moti­va­tion con­sists of: 1) auton­o­my, the desire to direct our own lives; 2) mas­tery, the desire to con­tin­u­al­ly improve at some­thing that mat­ters; and 3) pur­pose, the desire to do things in ser­vice of some­thing larg­er than ourselves.
In addi­tion, make a habit of catch­ing peo­ple doing the right things right. Recog­ni­tion of work well done con­tin­u­ous­ly rein­forced will add fuel to build­ing a pos­i­tive cul­ture. Final­ly, allow peo­ple to be who they are and find ways to insert moments of fun.
5. Eval­u­ate
There are many eval­u­a­tion tools to help iden­ti­fy what's hap­pen­ing. Ask­ing for feed­back from employ­ees and cus­tomers can be a high­ly effec­tive way to help under­stand where the best prac­tices exist and where improve­ments are need­ed. Mea­sur­ing what's hap­pen­ing on a reg­u­lar basis offers iden­ti­fi­ca­tion of val­ue in process­es and with products.
Accord­ing to the Pre­dic­tions for 2017 Bersin by Deloitte report, "Dri­ven by the need to under­stand and improve engage­ment, and the con­tin­u­ous need to mea­sure and improve employ­ee pro­duc­tiv­i­ty, real time feed­back and ana­lyt­ics will explode."
6. Assess
The inten­tion of assess­ment is to deter­mine how things are going and then focus on improve­ment. The peo­ple who know the oper­a­tions the best are the ones work­ing the busi­ness. Trust your employ­ees. As you under­stand the frus­tra­tions and bar­ri­ers employ­ees encounter, there's an oppor­tu­ni­ty to reengi­neer how to tai­lor process­es, deliv­er ser­vices, and pro­vide prod­ucts to sup­port the chang­ing needs of the customer.
7. Adjust
When you iden­ti­fy what's work­ing and what needs to be changed – act with a sense of urgency to make the nec­es­sary changes. The orga­ni­za­tions who adapt are the ones who have the great­est longevi­ty. Mar­ket changes are con­stant and the abil­i­ty to under­stand what's hap­pen­ing and move toward what will occur in the future is not only admirable, but nec­es­sary for sustainability.
It's obvi­ous how these steps attract peo­ple with desired tal­ents and atti­tudes to help advance your orga­ni­za­tion, but how will these same actions repel those who don't align? When there's con­sis­tent rein­force­ment of the cul­ture, those who don't fit will have a sense that your com­pa­ny just isn't the right place for them, like try­ing to fit into a jack­et that is too small or too large. This will be true for cur­rent employ­ees and poten­tial employees.
Not get­ting the results you want? Con­sid­er revis­it­ing these actions – one step at a time.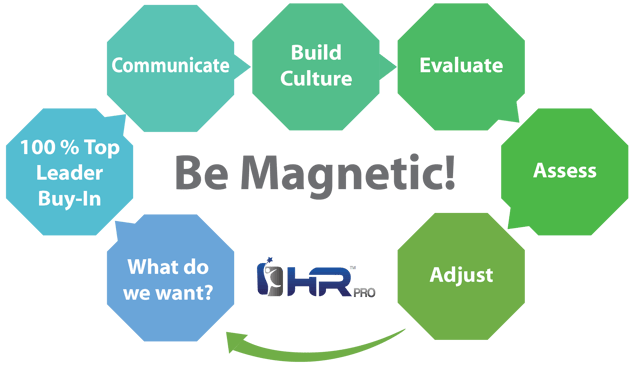 Orig­i­nal­ly pub­lished by www.ubabenefits.com