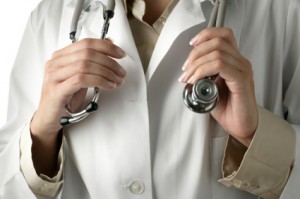 Intro­duc­tion
When apply­ing for life insur­ance, and in some cas­es health insur­ance, cer­tain lifestyle habits may end up cost­ing you more each months in pre­mi­ums. One of these habits is smok­ing or oth­er nico­tine use. Employ­ers who pro­vide health insur­ance as part of their ben­e­fits pack­age may also charge more in pre­mi­ums for smok­ers. Even if you mark non-smok­er on your appli­ca­tion form, many insur­ance com­pa­nies require a med­ical exam before offer­ing cov­er­age. Lying about smok­ing habits on your insur­ance appli­ca­tion can cause an imme­di­ate denial of coverage.
Sam­ples
All nico­tine tests are done using a bod­i­ly sam­ple. Although nico­tine can be test­ed through sali­va and hair, most com­mon­ly nico­tine is test­ed in urine or blood sam­ples. This is because, in most cas­es, a blood or urine sam­ple is a reg­u­lar part of a phys­i­cal exam­i­na­tion for insurance.
Results
Most nico­tine tests are done using com­pet­i­tive immunoas­say. In this test­ing process, test­ing strips are coat­ed with a sub­stance that acts as a coti­nine anti­gen. The urine is mixed with a gold anti­body, which will col­or the anti­gen line once the two come in con­tact with each oth­er. Once the test­ing strip is placed in con­tact with the urine and anti­body mix­ture, the mix­ture will absorb into the strip. If coti­nine is present in the urine, the coti­nine will pre­vent the anti­body from col­or­ing the anti­gen line, result­ing in a pos­i­tive test result. If no coti­nine is present in the urine, the anti­body will freely col­or the anti­gen line, result­ing in a neg­a­tive result.
Length of Time
Although nico­tine can only be test­ed in the blood for a few hours after using, due to its fast metab­o­lism by the liv­er, the result­ing metabo­lite coti­nine can remain much longer in your urine and blood. In fact, accord­ing to the Foun­da­tion for Blood Research, coti­nine can be test­ed in your sys­tem for up to 10 days before drop­ping back to the lev­el of a non-smok­er. For those who have smoked for many years, it may take even longer to drop to normal.
Rea­son­ing
Insur­ance com­pa­nies base their pre­mi­ums off of health risks. The high­er chance you will need to access your cov­er­age (such as through health­care costs or death), the more mon­ey they will even­tu­al­ly have to pay out to cov­er those costs. Accord­ing to the Amer­i­can Heart Asso­ci­a­tion, more than 444,000 deaths in the Unit­ed States alone can be attrib­uted to nico­tine use through cig­a­rette smok­ing. Nico­tine use also increas­es rates for heart dis­ease, and even some forms of can­cer, both of which are expen­sive to treat. To make up for the increased finan­cial risk of using nico­tine, insur­ance com­pa­nies charge more to these indi­vid­u­als for insurance.