FREE Sem­i­nar!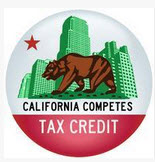 The Governor's Office of Busi­ness and Eco­nom­ic Devel­op­ment (GO-Biz) is host­ing a work­shop on the Cal­i­for­nia Com­petes Tax Credit.
Small, medi­um and large busi­ness­es are encour­aged to attend the work­shop and receive instruc­tion on how to apply for this tax cred­it pro­gram avail­able from the State.
Come and learn how your busi­ness can apply for mil­lions in avail­able tax credits.
The work­shop and the pro­gram are both free and avail­able to busi­ness­es of all sizes.
Loca­tion:
Gov­er­nor's Office of Busi­ness and Eco­nom­ic Devel­op­ment (GO-Biz)
Meet­ing Room A‑D
Date:
Tues­day, Feb­ru­ary 24, 2015
Time:
from 9:00 AM to 10:00 AM (PST
Park­ing:
Free sur­face lot adja­cent to building
Work­shop Co-Hosts:
Sono­ma Coun­ty Eco­nom­ic Devel­op­ment Board
Petaluma Cham­ber of Commerce