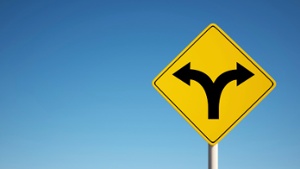 If you are an Applic­a­ble Large Employ­er (ALE), you may still be catch­ing your breath from 2015 Patient Pro­tec­tion and Afford­able Care Act (ACA) report­ing. How­ev­er, in a cou­ple of weeks the process starts all over again as you pre­pare for the 2016 report­ing cycle. As with all new require­ments, the first fil­ing cycle had some bumps as there was lit­tle guid­ance for some of the ques­tions and issues that arose. In prepa­ra­tion for 2017, let's take a look at the "C" forms and dis­cuss areas of the forms that may have been confusing.
To refresh, the C forms are used by ALEs to report infor­ma­tion about their offers of health cov­er­age as required under Sec­tion 6056. For self-insured ALEs, the C forms are also used to report cov­er­age infor­ma­tion for indi­vid­u­als enrolled in the ALE's health plan as required under Sec­tion 6055. All ALEs are required to file 1094/1095‑C forms regard­less of what kind of cov­er­age, if any, they offer. ALEs with self-insured plans or ful­ly-insured plans, as well as, ALEs that offer no plan are sub­ject to Sec­tion 6056 report­ing. See my blog "Mak­ing Sense of Form 1095 Min­i­mum Essen­tial Cov­er­age Report­ing."
The 1094‑C is the trans­mit­tal form that goes along with all of your 1095‑C forms when you sub­mit them to the IRS. It has four parts and in gen­er­al, the 1094‑C is pret­ty straight­for­ward. How­ev­er, Line 22, locat­ed in Part II of the form, deserves some dis­cus­sion. Line 22 is used to indi­cate when an ALE is eli­gi­ble for one or more types of report­ing relief. A response is not manda­to­ry and is only nec­es­sary if an ALE wish­es to take advan­tage of one of the relief options.
It prob­a­bly seems obvi­ous, and this will sound a bit like a tongue twister, but it may be help­ful to review the relief that is pro­vid­ed pri­or to going to the effort of deter­min­ing whether you meet the require­ments of the relief. Said dif­fer­ent­ly, if the relief for meet­ing cer­tain require­ments isn't of val­ue to you, there is lit­tle val­ue in tak­ing the time to deter­mine if you qual­i­fy for the relief. The table below pro­vides a sum­ma­ry of the relief options avail­able for selec­tion on Line 22.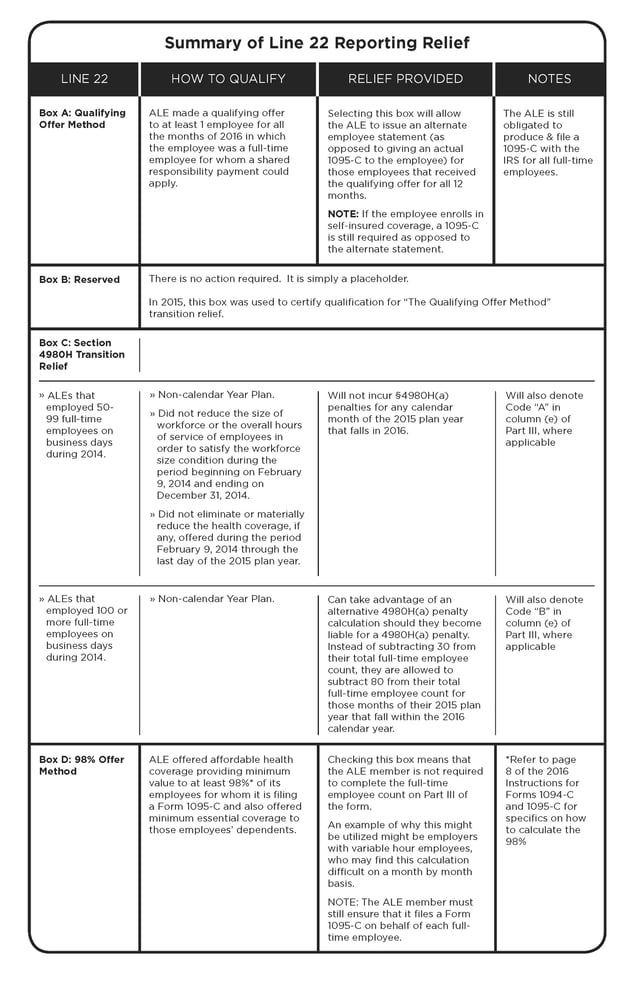 The 1095‑C is employee/participant spe­cif­ic and one is gen­er­at­ed for all full-time employ­ees. In addi­tion, if it is a self-insured plan, a 1095‑C is also gen­er­at­ed for any non-full-time indi­vid­ual who enrolled in the plan.
An area of con­fu­sion on the 1095‑C is Part II. This area requires that you under­stand the dif­fer­ent codes used to report the var­i­ous "offer" sit­u­a­tions that might exist. Deci­pher­ing these dif­fer­ent sit­u­a­tions can be some­what like play­ing a game of Twister as mul­ti­ple codes may be applicable
Line 14 – Offer of Cov­er­age Code
This line cap­tures the code that reflects the offer an ALE made to the employ­ee on a month-by-month basis. For some employ­ees, this may be straight­for­ward. For exam­ple, the employ­ee may have been employed for the entire year and may have received an offer at the begin­ning of the year, which cov­ered all 12 months and no changes occurred with regard to that employee's offer through­out the year. There­fore, one code can be used for all 12 months. How­ev­er, when an employ­ee is hired or ter­mi­nat­ed, the code will not be the same for the entire year. Throw in sit­u­a­tions where employ­ees go from part-time to full-time, or per­haps you have a rehire sit­u­a­tion, and it can become quite complicated.
In 2016, there were 11 dif­fer­ent offer codes. How­ev­er, one of these codes (1I) is not to be used, so essen­tial­ly there are 10 options available.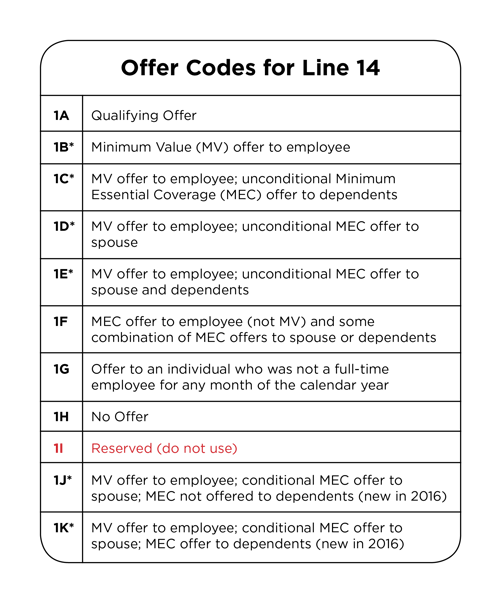 Line 14 is manda­to­ry and should always have a code entered.
*If used on Line 14, then line 15 must be completed.
Line 15 – Employ­ee Required Contribution
This line cap­tures the amount the employ­ee would be required to con­tribute for the low­est cost min­i­mum val­ue cov­er­age that was offered by the ALE. Note: This is not nec­es­sar­i­ly what the employ­ee enrolled in. Line 15 is used by the IRS to deter­mine if the min­i­mum val­ue cov­er­age that was offered meets the afford­abil­i­ty require­ment. NOTE: Line 15 is only to be com­plet­ed when the code on Line 14 is 1B, C, D, E, J or K. When any of the oth­er codes are used on Line 14, line 15 is to be left blank because the IRS does not need to ascer­tain affordability.
Line 16 – Sec­tion 4980H Safe Har­bor and Oth­er Relief Codes
This line is used to pro­vide a rea­son why an ALE mem­ber should not be liable for a 4980H(b) penal­ty. Line 16 pro­vides addi­tion­al infor­ma­tion to sub­stan­ti­ate why a penal­ty should not apply to that par­tic­u­lar employee's offer, or lack of an offer. Line 16 is not manda­to­ry, so depend­ing on the code used on Line 14, you may, or may not, need to pro­vide a code on this line. Exam­ples where you may wish to pro­vide a code include:
Codes 2A, B, D, or E could be used to explain why an offer was not required for an employ­ee. For exam­ple, Code 2A is used for months in which a ter­mi­nat­ed employ­ee has COBRA.
Codes 2F, G, or H might be used in sit­u­a­tions where afford­abil­i­ty of the offer is ques­tion­able based on the fig­ure on line 15.
Code 2C is applic­a­ble if the employ­ee enrolled in the cov­er­age for each day of the month and was full-time for at least one month dur­ing the year.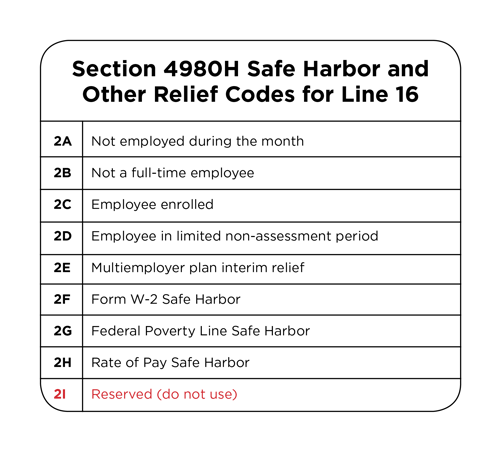 Those are the areas of the 1094‑C and 1095‑C that seemed to be the most con­fus­ing for many ALEs. Although the infor­ma­tion pre­sent­ed here by no means extin­guish­es this con­fu­sion, our intent was to help explain the pur­pose of the more con­fus­ing parts and how cer­tain respons­es can prove ben­e­fi­cial so that deter­min­ing those respons­es is less frustrating.
By Vic­ki Randall
Orig­i­nal­ly pub­lished by www.ubabenefits.com