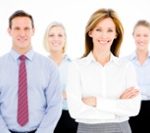 Many employ­ers under­stand the val­ue of hav­ing an Employ­ee Assis­tance Pro­gram (EAP) since the heart and soul of orga­ni­za­tions are employ­ees. Employ­ees who are phys­i­cal­ly and men­tal­ly healthy, high­ly pro­duc­tive, engaged in their work, and loy­al to their employ­er con­tribute pos­i­tive­ly to their employer's bot­tom line. For­tu­nate­ly, most employ­ees are pos­i­tive con­trib­u­tors, yet even the best of employ­ees can occa­sion­al­ly have issues or cir­cum­stances arise that may inad­ver­tent­ly impact their jobs in a neg­a­tive way. Hav­ing an EAP in place that can address these issues ear­ly may mit­i­gate any neg­a­tive impact to the work­place. This is a win-win for both employ­ees and employers.
A key com­po­nent of EAP ser­vices lies in "catch­ing things ear­ly" by assist­ing employ­ees and help­ing them address and resolve issues before they impact the work­place. Most employ­ees will use EAP ser­vices on a vol­un­tary, self-referred basis that is com­plete­ly con­fi­den­tial. Some employ­ers may won­der if ser­vices are even being used by employ­ees because it won't be all that appar­ent, but most EAPs pro­vide a uti­liza­tion or usage report that will show the num­ber of peo­ple served, and pos­si­bly the types of rea­sons ser­vices were requested.
If employ­ee issues do begin to appear in the workplace—related to per­for­mance, atten­dance, behav­ior, or safety—it is impor­tant for man­agers, super­vi­sors, and human resources to also have access to EAP ser­vices. They may wish to con­sult with an employ­ee assis­tance pro­fes­sion­al that can pro­vide guid­ance and direc­tion lead­ing to prob­lem iden­ti­fi­ca­tion and res­o­lu­tion. These issues have the poten­tial to become very cost­ly for the organization—and again, the ear­li­er they can be addressed, the greater chance of suc­cess for both employ­ee and employ­er, with min­i­mal neg­a­tive impact to the company's bot­tom line.
The key to get­ting the most out of an EAP is to make it eas­i­ly acces­si­ble to employ­ees, safe to use, and vis­i­ble enough they remem­ber to use it. It is impor­tant that employ­ees under­stand using the EAP is con­fi­den­tial and their iden­ti­ty will not be dis­closed to any­one in their orga­ni­za­tion. Pro­mot­ing the EAP ser­vices with mate­ri­als such as fly­ers, posters, or web­site infor­ma­tion with EAP con­tact infor­ma­tion will also increase the like­li­hood of employ­ees access­ing services.

Orig­i­nal­ly pub­lished by www.ubabenefits.com
Nan­cy Cannon