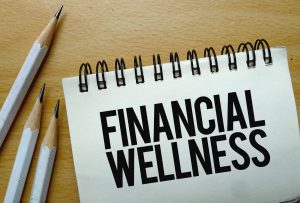 Over the past few years, we've seen tremen­dous growth in Finan­cial Well­ness Pro­grams. Actu­al­ly, as indi­cat­ed in a recent report by Aon Hewitt, 77% of mid- to large-size com­pa­nies will pro­vide at least one finan­cial well­ness ser­vice in 2017; with 52% of employ­ers pro­vid­ing ser­vices in more than 3 finan­cial cat­e­gories. So what are the advan­tages of these pro­grams and how can the cur­rent work­force make the most out of them?
Pro­gram Advantages
They edu­cate employ­ees on finan­cial man­age­ment. It's no doubt, poor income man­age­ment and cash-flow deci­sions increase finan­cial stress. This stress has a direct impact on an employee's phys­i­cal, men­tal and emo­tion­al state—all which can lead to pro­duc­tiv­i­ty issues, increased absen­teeism, and ris­ing health­care costs. Finan­cial well­ness tools in the work­place can not only sup­port employ­ees in var­i­ous areas of their finances by expand­ing income capac­i­ty, but can cre­ate long-last­ing changes in their finan­cial habits as well.
They give a foothold to the employ­er. As more employ­ers are rec­og­niz­ing the effect finan­cial stress has on their employ­ees in the work­place, they're jump­ing on board with these pro­grams. As peo­ple are extend­ing the length of their careers, ben­e­fits like these are an attrac­tive fea­ture to the work­force and new job seek­ers alike. In fact, accord­ing to a recent sur­vey by TIAA, respon­dents were more like­ly to con­sid­er employ­ment with com­pa­nies who pro­vide free finan­cial advice as part of their ben­e­fit package.
Pro­gram Credentials
While finan­cial well­ness ben­e­fits may dif­fer among com­pa­nies, one thing is certain—there are key fac­tors employ­ers should con­sid­er when estab­lish­ing a suc­cess­ful pro­gram. They should:
Give sound, unbi­ased advice. Finan­cial well­ness ben­e­fits should be free to the employee—no strings attached. Employ­ees should not be solicit­ed by finan­cial insti­tu­tions or finan­cial com­pa­nies that only want to seek a prof­it for ser­vices. Employ­ers should research com­pa­nies when shop­ping these pro­grams to deter­mine the right fit for their culture.
Encom­pass all facets. A suc­cess­ful pro­gram should cov­er all aspects of finan­cial plan­ning, and tar­get all demo­graph­ics. These pro­grams should run the gamut, pro­vid­ing resources for those with seri­ous debt issues to those who seek advanced estate plan­ning and asset pro­tec­tion. Ser­vices should include both short-term to long-term options that fit with the company's size and cul­ture. Pop­u­lar pro­grams imple­ment a vari­ety of tools. Employ­ers should inte­grate these tools with oth­er ben­e­fits to make it as seam­less as pos­si­ble for their employ­ees to use.
Detail finan­cial well­ness as a process, not an event. Strength­en­ing finan­cial pros­per­i­ty is a process. When deter­min­ing the right fit for your com­pa­ny, con­tin­ued coach­ing and sup­port is a must. This may require eval­u­at­ing the pro­gram and ser­vices offered every year. Employ­ees need to know that while they have the ini­tial ben­e­fit of mak­ing a one-time change, addi­tion­al tools are at their dis­pos­al to shift their finan­cial mind­set; strength­en­ing their finan­cial habits and behav­iors down the road.
Employ­ees must under­stand the val­ue Finan­cial Well­ness Pro­grams can pro­vide to them as well. If your com­pa­ny offers these ben­e­fits, keep a few things in mind:
Max­i­mize the program's ser­vices. Uti­lize your finan­cial work­place ben­e­fits to tack­le life's finan­cial chal­lenges. Most pro­grams offer finan­cial men­tor­ing through var­i­ous medi­ums. Seek advice on your finan­cial issues and allow a coach/mentor to pro­vide you with prac­ti­cal strate­gies, alter­na­tives and action­able steps to reduce your finan­cial stress.
Take advan­tage of oth­er employ­ee ben­e­fits. Incor­po­rate oth­er ben­e­fits into your finan­cial well­ness pro­gram. Use finan­cial resources to help you run pro­jec­tions and mon­i­tor your 401k. Bud­get your health­care costs with these tools. Research indi­cates those who tap into these finan­cial well­ness pro­grams often are more like­ly to stay on track than those who don't.
Eval­u­ate your progress. Strength­en­ing your finan­cial well-being is a process. If your employer's finan­cial well­ness pro­gram pro­vides var­i­ous tools to mon­i­tor your finances, use them. Weigh your progress year­ly and take advan­tage of any sup­port groups, webi­na­rs, or indi­vid­ual one-on-one coun­sel­ing ses­sions offered by these programs.
As the work­force con­tin­ues to evolve, man­ag­ing these pro­grams and resources effec­tive­ly is an impor­tant aspect for both par­ties. Pro­vid­ing and uti­liz­ing a strong, effec­tive Finan­cial Well­ness Ben­e­fits Pro­gram will set the foun­da­tion for a life­time of finan­cial well-being.