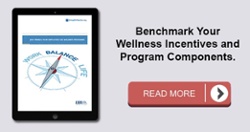 Your well­ness pro­gram seems to have it all – bio­met­ric screen­ings, lunch and learns, and weight loss chal­lenges. So, why do you strug­gle with engage­ment, or to see any real results? While tra­di­tion­al well­ness com­po­nents are still a large part of plans today, emerg­ing trends, cou­pled with gen­er­a­tional dif­fer­ences, make for chal­lenges when design­ing an impact­ful program.
As well­ness pro­grams begin to be viewed as a part of the tra­di­tion­al ben­e­fits pack­age, the key dif­fer­en­tia­tor is cre­at­ing a cul­ture and envi­ron­ment that sup­ports over­all health and well-being. Vis­i­ble engage­ment and sup­port from front-line and senior lead­er­ship dri­ves cul­ture change. By pri­or­i­tiz­ing health through con­sis­tent com­mu­ni­ca­tion, resource allo­ca­tion, per­son­nel del­e­ga­tion, and role modeling/personal health pro­mo­tion prac­tices, employ­ers gain the trust of their employ­ees and devel­op an envi­ron­ment sit­u­at­ed around well­ness. When employ­ees rec­og­nize the impor­tance of well­ness in the over­all com­pa­ny strat­e­gy and cul­ture, and feel sup­port­ed in their per­son­al goals, healthy work­ing envi­ron­ments begin to devel­op, result­ing in health­i­er employees.
Look­ing beyond tra­di­tion­al well­ness top­ics and offer­ing pro­grams that meet the goals of your employ­ees also leads to high­er engage­ment. The Amer­i­can Heart Asso­ci­a­tion CEO Round­table Employ­ee Health Sur­vey 2016 showed improv­ing finan­cial health, get­ting more sleep, and reduc­ing stress lev­els are key focus areas for employ­ees as part of over­all well­ness. More so, employ­ees see the ben­e­fits of unplug­ging and men­tor­ing, two new top­ics in the area of over­all well-being. While most employ­ers feel their employ­ees are over sur­veyed, com­plet­ing an employ­ee needs or pref­er­ence sur­vey will ensure your pro­grams align with your employ­ees' health and well­ness goals – ulti­mate­ly lead­ing to bet­ter engagement.
Well­ness pro­grams are not immune to gen­er­a­tional dif­fer­ences, like most oth­er facets of busi­ness. While mil­len­ni­als are most like­ly to par­tic­i­pate and report that pro­grams had an over­all impact, they pre­fer the use of apps and track­ers along with social strate­gies and team chal­lenges. Con­ve­nience and senior lev­el sup­port are also impor­tant with­in this group. Gen­er­a­tion X and baby boomers show more skep­ti­cism toward well­ness pro­grams, but are more like­ly to par­tic­i­pate when the pro­grams align with their per­son­al goals. Their over­all top health goal is weight loss. Ulti­mate­ly, address­ing the spe­cif­ic needs of your mem­ber pop­u­la­tion and pro­vid­ing well­ness through var­i­ous modal­i­ties will result in the great­est reward of investment.
Eval­u­a­tion and data are the lynch­pins that hold a suc­cess­ful pro­gram togeth­er. Con­sis­tent eval­u­a­tion of the effec­tive­ness of pro­grams to increase par­tic­i­pa­tion, sat­is­fac­tion, phys­i­cal activ­i­ty, and pro­duc­tiv­i­ty – all while reduc­ing risk fac­tors – allow us to know if our pro­grams are hit­ting the mark and allow for addi­tion­al tai­lor­ing as needed.
Orig­i­nal­ly pub­lished by www.ubabenefits.com